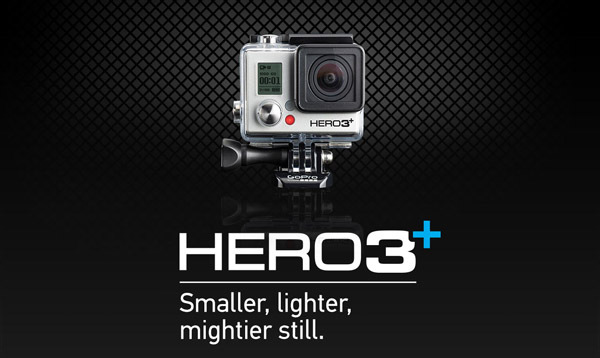 A Smaller, Lighter Evolution of Best Selling Camera
GoPro Enables New Era of Personal Content Capture & Sharing
 SAN MATEO, CA (October 1, 2013) ­­– GoPro today announced the availability of its new HERO3+ line of cameras, featuring a 20% smaller and lighter design and 30% better battery life than previous models. These upgrades, combined with an improved lens and convenient new video capture modes, produce the most advanced and easy-to-use GoPro, yet. In addition, GoPro announced several new mounting accessories that further enable immersive content capture during any activity. The HERO3+ line of cameras and accessories are now available at GoPro.com and at select retailers worldwide.
GoPro is enabling people to capture and share life experiences in a way that was never before possible. Prior to GoPro, it was very difficult for anyone to capture content of themselves doing anything without having the help of someone else to film them. GoPro has enabled a new era of self-documentation whereby people can now easily wear or mount miniature ultra wide-angle GoPro cameras to record themselves doing just about anything, anywhere. The result is a surge of immersive user-generated and professional content made possible by the versatility and affordability of GoPro's cameras and accessories. An average of three GoPro "tagged" videos are uploaded to YouTube every minute, and GoPro is used by the world's leading production companies to help produce some of today's most engaging film and television content.
Continue reading GoPro® Launches HERO3+®: A Smaller, Lighter Evolution of Best Selling Camera