NOS ENERGY DRINK TO POWER CHRIS FORSBERG RACING FOR 2009 FORMULA DRIFT SEASON
NOS Energy Drink 350Z to sport new body and look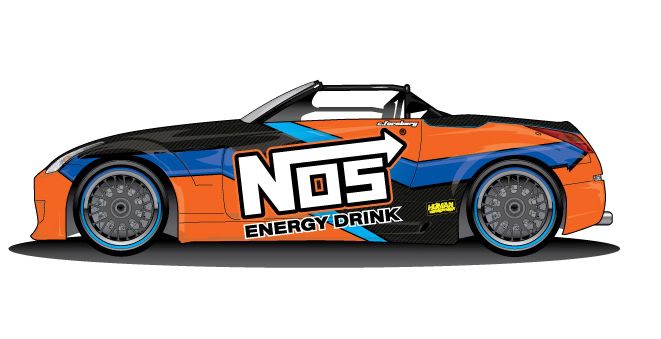 Huntington Beach, California (January 07, 2009) –Chris Forsberg Racing (CFR) announces an extension of its partnership with NOS Energy Drink as primary sponsor for the 2009 Formula Drift season.   The familiar orange and blue NOS Energy Drink 350Z will feature a NOS-ified paint design atop ultra-light body panels, plus more horsepower to deliver maximum performance.
"Continuing the relationship with NOS Energy Drink into 2009 was essential for the team to reach our performance goals," said Chris Forsberg, owner and driver.  "We had a great year in 2008 with the Formula D win at Long Beach and fifth overall in the standings.  But, we are reducing weight and increasing power for faster entry speeds to give us a stronger run for the title next year."
The CFR crew has been busy in the off-season, stripping the Nissan 350Z down to the bare chassis and removing any unnecessary weight.   In addition, new NISMO front and rear bumpers, plus extremely light, carbon fiber body panels provided by Seibon are being installed to clip 100 pounds of total weight off the car. Reconfiguration of the motor is expected to increase power output to at least 500 horsepower.
Follow CFR's rebuild of the NOS Energy Drink 350Z at http://www.NOSDrift.com/.