For Immediate Release
May 10, 2011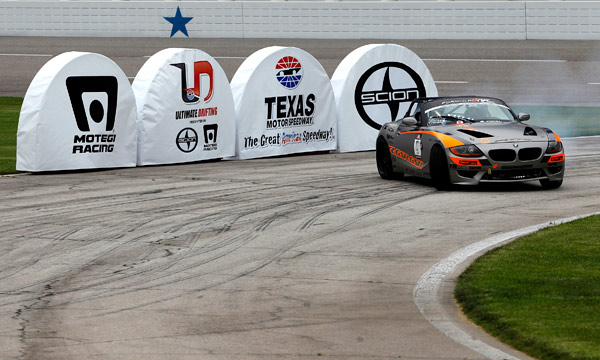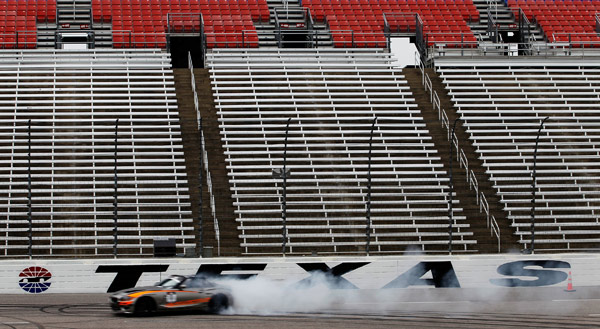 Formula DRIFT Brings 'No Limits' Style of Driving to Texas Motor Speedway for Firestone Twin 275s Pre-Race Show
Long Beach, Calif. – May 10, 2011 – Formula DRIFT has announced a non-championship point competition at the Texas Motor Speedway, "Ultimate Drifting," presented by Scion and Motegi Racing. The drifting competition will proceed the high-speed action of the historic Firestone Twin 275s on Saturday, June 11, that also includes the IZOD IndyCar Series race.
Texas Motor Speedway's pit lane and frontstretch will transform into a winding course for eight Formula DRIFT drivers as they race in a non-points competition spectacle free to Firestone Twin 275s ticket holders. The drivers include: Fredric Aasbo, the 2010 Formula DRIFT Rookie of the Year, Michael Essa, Kyle Mohan, Joon Maeng, Tony Brakohiapa, Patrick Mordaunt, Jeff Abbott, and a final driver to be named for a competition in the traditional bracket elimination format. The competition will begin at 6 p.m. CT.
"No pre-race show defines 'No Limits' better than our Ultimate Drifting presented by Scion and Motegi Racing," Texas Motor Speedway Assistant General Manager and Vice President of Events Kenton Nelson said. "These are some of the most skilled drivers pushing their car to the limit to provide some intense racing, which sets the perfect stage for the excitement that will unfold during INDYCAR's first twin races at Texas Motor Speedway."
Ultimate Drifting sponsors Scion and Motegi Racing have continued to play a major role in Formula DRIFT and one of Texas' largest single-day sporting events provided the ideal avenue to continue the growth of the sport.
"The opportunity to sponsor the Ultimate Drifting pre-race show was a natural fit for Scion," Scion Marketing Manager for Gulf States Toyota Frank Bianchi said. "We are entering our third year as the title sponsor of Scion Drag-n-Brag at Texas Motor Speedway and have been a long-time sponsor in Formula DRIFT. Our current stable of drivers in Formula DRIFT includes Ken Gushi and reigning Rookie of the Year, Fredric Aasbo. This event gives us the unique opportunity to cross-promote those programs to a new fan base at one event."
"Motegi Racing Wheels is excited to be part of another historic night at Texas Motor Speedway," Motegi Racing Wheels President Jody Groce said. "The Firestone Twin 275s and Formula DRIFT on the same night is another example of the fresh and unique events that Eddie Gossage and his team continue to give the fans. The opportunity to leverage relationships with Fredric Aasbo of Formula DRIFT and Paul Tracy in IndyCar in front of 100,000 fans is huge for the Motegi Racing Wheels brand and our customers."
Coupled with Ultimate Drifting presented by Scion and Motegi Racing, TRAFFIK, one of the largest touring car shows in the world, will provide a wide array of unique rides during its car show that will be held from 1-6 p.m. outside Gates 1 through 3.
Tickets, which begin as low as $31, for the historic Firestone Twin 275s and Ultimate Drifting, presented by Scion and Motegi Racing are available by visiting www.texasmotorspeedway.com, or by calling the Texas Motor Speedway ticket office at (817) 215-8500.
For more information visit: www.formulad.com.
For media inquiries about Formula DRIFT: John Pangilinan
The ID Agency
213.802.0863
[email protected]