SBN Member of the Month: Casidi Tanaka-Fixmer, Formula Drift Holdings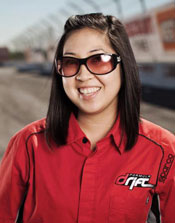 Casidi Tanaka-Fixmer is the manager of ticketing and registration for Formula Drift Holdings in Long Beach, California, and SBN's Member of the Month.
What does your company do?
Formula Drift is recognized as North America's professional drifting championship series. We have seven rounds that travel throughout the United States. We are the first official series in North America that has taken competitive motorsports to the extreme. It is a highly skilled, high-powered motorsport where the drivers maneuver their cars into well executed, controlled sideways slides through a marked course. It is judged on execution and style rather than who finishes the course in the fastest time.
What is the most satisfying aspect of your job?
All the planning of an event from start to finish and watching everything come together at the end.
How long have you been involved with the aftermarket industry?
Six years.
What brought you to the industry?
I always loved motorsports and my husband was a driver at the time. I also really enjoy the organizational side of things.
Who is your industry mentor?
I would have to say both of my bosses at Formula Drift, Jim Liaw and Ryan Sage. They are both great guys to work for.

What is the best piece of advice you've ever received?
"You have to have a backbone to work in this industry." – Andy Luk (my co-worker)
What is your dream car?
Nissan GT-R
What is your favorite pastime?
Spending time with my family and traveling with my husband.