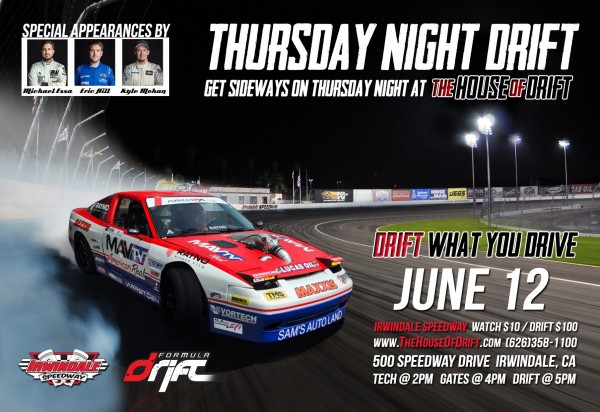 These Thursday night sessions will be open to the public. Admission to the track grandstand will be $10 and parking is free. Fan gates will open at 4:00pm and the Drift sessions will run until 9:00pm
Schedule of Events:
2:00 PM – 10:00 PM – Venue Open
2:00 PM – 9:00 PM – TECH: All vehicles must pass tech before running
4:00 PM – 4:30 PM – MANDATORY: Drivers Meeting
5:00 PM – 9:00 PM – OPEN PRACTICE – Groups C,B,A
10:00 PM                – CLEAR GRID (NOISE ORDINANCE; NO REVVING ENGINES)
Formula DRIFT Pro driver appearances by: Michael Essa, Eric Hill, and Kyle Mohan
If you have any questions please contact [email protected]
Driver Groups:
This section explains the different driver groups we have at all amateur events. Drivers are broken into Groups A, B, and C based on experience. Driving in the right group gives you and all of the other drivers in the group the best experience on track. Trying to drive in a group that you are not ready for is dangerous and will not happen.
Group A is for the drivers that have all the required safety equipment, meaning fire suit, shoes, gloves, appropriate roll cage, etc. These are the guys that have no issues making it around the track and are working on getting closer to other cars and running a better, faster line. Just because you have a roll cage does not put you in Group A.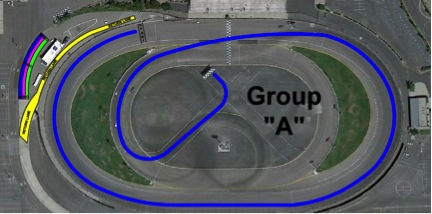 Group B is for the drivers who are making it through the course without issues, i.e. not spinning, not understeering. They are running a good line; it may not be the best line, but they are learning. They are starting to go faster and trying new things. Though they may have the right safety equipment for tandem, but their skill set is not up to the level just yet.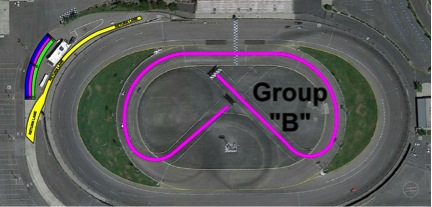 Group C is for the new guys. They may still be learning about their cars, the track, etc. This is where everyone starts. There's nothing wrong with being in Group C – we were all there. These are the guys who are working to link the course and beginning to understand what the right line is. They are figuring out what they need to do in the car to make a good run.