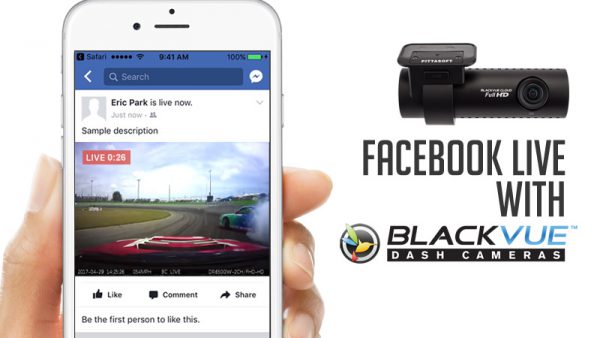 Now you can stream your dashcam footage to Facebook Live straight from your Cloud-connected BlackVue with the BlackVue app!
Along with the newest update of the BlackVue app (released in late April for iOS/Android) comes the feature to livestream your dashcam footage live on Facebook.
As the presenting sponsor of the Formula Drift Championship, we introduced the new feature during the season's second round in Orlando on April 29 (see the Press Release). We were able to stream from over a dozen of dashcams, installed in the drivers' cars, simultaneously to the Formula Drift's official Facebook page. Keep an eye on the future events, as there might be more Facebook Live videos to come.
Now you too can use the Facebook Live feature with your BlackVue dashcam, and share your driving footage as you drive with your friends (private profile) or on your Facebook page!
Of course safety should be the main concern even when streaming to Facebook Live, so make sure not to try starting a broadcast while driving, but instead initiate the Live stream when the vehicle is stopped and out of traffic.
Learn how to stream your dashcam footage live on Facebook below!