1K DRIFT interview the voice of Formula DRIFT, Jarod DeAnda. Check it out.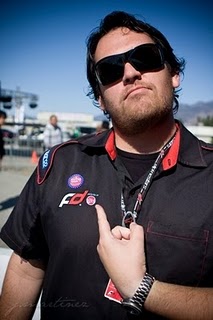 So here at 1K DRIFT we are going for something a little bit different in our interview type deals. Jarod requested to have a traditional interview taken and it was a good move. We all know Jarod from Formula D, Drift Alliance and just about a million other things in the drifting world are linked to him. So here it is, the FIRST exclusive 1K DRIFT interview. With Jarod DeAnda.
1K: Introduce yourself..(just let everyone know who you are in a nut shell)
I'm Jarod DeAnda the man you hear at Formula Drift events in the US of A, Singapore and Malaysia plus a couple DMCC events, soon to be XDC and even X Games Winter (snowmobiling) and Summer (Rally Car Racing) I'm even the voice of "Big J" in Need for Speed Pro Street, take a listen…
1K: When did you fall into the hands of drifting?
I've been banging away in the automotive industry before The Fast &The Furious came out, street racing in San Diego, that's a thing of the past and I made my hobby of this culture into an occupation… I grew an affinity for drifting here in the states when I attended RS-R Drift festival/ Drift Showoff at Irwindale in 2003 or so before the 1st D1GP at Irwindale. I was psyched because at that time the market was stagnant and here's something that EVERYBODY was into…
1K:How did you become such a big part of Formula D?
Ryan and Jim are old friends and when they had the foresight to start Formula Drift because there's a NEED for professional drifting in the U.S. because there's an amazing drivers pool of talent they asked me if I would be interested in MC'ing the events… Here we are at the start of our 7th season of Formula Drift and I couldn't be happier and more proud of Ryan and Jim and the whole Formula Drift family, that includes sponsors, of course drivers, crews, mechanics and of course the FANS young and old, haters and congratulaters!
1K: What was it like being brought into that world?
Like I said I've been in this car game since I was 17 and I was off street racing (don't try this at home!) and worked all aspects of the industry, behind the counter at a shop, on the streets, magazines, selling, marketing at the end of the day, I'm a fan of all young, new and relevant!
1K: How has drifting changed, in America per say, the last 5 years?
Drifting in America has changed obviously the caliber of vehicle, meaning not only chassis changing from Corollas and S13's to 350Z's, Scions and Genesis' but technology like the bumper bash bars, suspension and powerplants…. Also the professionalism of the drivers, the crews and the presentation…
I don't like the haters on forums and websites that just want to see some slammed cars on a sick offset wheel, of course that looks better but there's a time and a place and these "pilots" have to make money doing what they love or they can't do what they love for much longer as a career…
So things might change and be different but at the end of the day it's progression it happens in all sports, motorsports and anywhere technoolgy lives and breathes
1K: How has Formula D changed since you were introduced to it up until this 2010 season?
Formula DRIFT is the BEST International Drifting sanctioning body in the world, all eyes slide onto FD….
Formula DRIFT's office are a revolving door, Ryan and Jim listen to any and all inquiries, questions and concerns and have partnered with people and companies that progress the sport not just line pockets with money for the quick money making fad.
1K: Where do you see Formula D headed in the next few years as far as growth, and expansion, I.E. the over seas series?
Formula DRIFT is getting bigger and badder and I can tell you that seeing the progression of Formula DRIFT ASEAN aka Singaporean and Malaysian drivers, it shows you that theres a lot of talent out there and events will get better and better just as it has all over the world inside and outside of Formula Drift. I didn't attend the Thailand FD event but I saw a lot of the drivers at Malaysia and their killing it even on the innagural year…
1K: What are your goals in part of drifting?
My goal is to do my part, like i say "Actions speak louder than words, I put an exclamation POINT on them!!!!"
1K: What will the future see of Jarod DeAnda?
More events, more blogging, more beer, more good times around the world, more living a blessed life with my family and friends!!!
Drifting, rallying, X Games but it all started thanks to Formula DRIFT and Ryan and Jim in believing in me…
1K: Where do you see drifting headed in the near years to come?
Loopty loops and jumps, just kidding!
Progression= gnarlier cars and just sicker driving…
I see the medium, meaning images, videos and public awareness getting larger and better….
We have some of the best filmers, photographers and media behind the K-Rails at our events…
Linhbergh, Will Roegge, Joshua "Hobo" Herron, Ross Fairfield, Mark/Florida Racing, Jose Martinez, Antonio, even MiGroh Michael Groh, and so many more that i cant recall right now, but there are all soo good! sorry if I forgot somebody!
1K: What are your final thoughts on drifting today, and how you feel about that?
I can't wait for the season to begin and continue to grow and grow!!!
I love Formula Drift, getting the crowd to do waves, cheer, stomp their feet and MAKE SIGNS….
We need more signs and raging fans!!!!!!!!!!!!!!!
Last words……..SEND IIIIIIIIIITTTTTTTTTTT!!!!!!!!!!!!!!!!!!!!!!!
There you go. Jarod DeAnda. The man. Voice of Formula D. Breaking down barriers and building up hype and excitement everywhere he goes. Expect more from Jarod on 1K. Follow Jarod on his blog here, http://www.jaroddeanda.com/blog/. Look out for more exclusive features like this only at 1K DRIFT.
Check out the entire interview HERE