Formula DRIFT 2010 Round 1: Streets of Long Beach Results;
Vaughn Gittin Jr. Takes the Victory and the Lead in the Championship Standings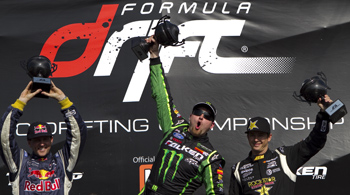 Long Beach, Calif. – April 10, 2010 – Formula DRIFT returned to the Long Beach Grand Prix Street Course to kick off its seventh season. Vaughn Gittin Jr. takes the Round 1: Streets of Long Beach victory and the early lead in the Pro Championship Standings.
The Long Beach Grand Prix Street Course hosted the first competition of the 2010 season of Formula DRIFT. The venue was packed with reserved seating selling out before the main event opened the doors and the crowds filled the grandstands, pits, and paddock. The event also provided plenty of additional features and attractions that included the debut of the new Miss Formula DRIFT, Melyssa Grace, the One of One Car Show produced by Fatlace, and MetroPCS / Sanctioned brought out celebrity guest and world famous tattoo artist Mister Cartoon. The thousands of fans were treated to world class drifting with over 13 countries represented in the competition.
"Currently there is no true world series of drifting, but today's event was as close as you can get," said Jim Liaw, president and co-founder of Formula DRIFT. "With drivers from 13 nations and 12 current and former drifting champions, Formula DRIFT continues to grow drifting globally with the most diverse field of competitors than any other drifting series in the world."
Round 1: Streets of Long Beach started the 2010 season off in exciting fashion with the debut of new drivers, sponsors, and vehicles to the series joining all of the returning teams. 2-time Formula DRIFT champion Tanner Foust piloting the Rockstar Energy Scion TC met rookie Fredric Aasbo in the Japan Auto / FSR Toyota Supra in the consolation round for third place. Foust outmatched the rookie and secured his third place finish. The finals came down to veteran drifters Rhys Millen in the RMR Red Bull Hyundai Genesis Coupe and Vaughn Gittin in the Monster Energy / Falken 2011 Ford Mustang. Gittin secured the victory with aggressive driving of his brand new vehicle to earn the victory and the early lead in the Pro Championship Standings.
"What an insane event!," said Vaughn Gittin, winner of Round 1: Streets of Long Beach. "Big thanks to Falken for providing incredible tires, Ford for the new car and engine, and my team at ASD for putting together a competitive vehicle despite being brand new. This is unbelievable."
For the first time a Live Stream provided by YoParts.com was made available to all fans that could not be at the event in person and gave them the ability to catch a glimpse of all the live action.
"This is the first event to launch the live stream and it was very succesful," said Tom Masiero, founder of YoParts.com. "Over the 2-days the live stream was active we had over 29,000 unique viewers. This does not even include the viewers on mobile applications, which we do not have the statistics for yet. We look forward to bringing all the 2010 Formula DRIFT live action to households across the globe."
The action continues on May 7-8 for Round 2: Road to the Championship at Road Atlanta. Tickets are available on-line. For more information and details visit the Formula DRIFT website at: www.formuladrift.com
Formula DRIFT Professional Championship 2010 Point Standings
1. Gittin, Vaughn Monster Energy / Falken Tire Ford Mustang 108 Points
2. Millen, Rhys RMR / Red Bull Hyundai Genesis Coupe 100 Points
3. Foust, Tanner Rockstar Energy Scion TC 82 Points
4. Aasbo, Fredric Japan Auto / FSR Toyota Supra 72 Points
5. Tuerck, Ryan Mobil 1 / Maxxis Tire / Gardella Racing Pontiac Solstice 65 Points
6. Hubinette, Samuel SHR-Dodge / BF Goodrich Dodge Challenger 64 Points
7. Mordaunt, Patrick Brian Crower / PM Racing Nissan 350Z 62 Points
8. Deane, James Falken Tire Nissan S15 61.50 Points
9. McNamara, Darren Falken Tire Saturn Sky 60 Points
10. Forsberg, Chris NOS Energy Drink / CFR Nissan 350Z 56 Points
11. Miki, Ryuji APEXi / Hankook Tire Mazda RX-7 56 Points
12. Yoshihara, Daijiro America's Tire / Falken Tire Nissan S13 56 Points
13. Brakohiapa, Tony Cooper Tire / Sam's Autoboy Ford Mustang 54.50 Points
14. Verdier, Stephan Royal Purple / Crawford Performace / Cooper / Subaru STI 54.50 Points
15. Wang, Forrest BF Goodrich / K&N Infiniti G35 54.50 Points
16. Takatori, Michihiro BF Goodrich / Exedy Nissan S15 54.25 Points
Round 1: Streets of Long Beach Event Results
1. Gittin, Vaughn Monster Energy / Falken Tire Ford Mustang 1st Place
2. Millen, Rhys RMR / Red Bull Hyundai Genesis Coupe 2nd Place
3. Foust, Tanner Rockstar Energy Scion TC 3rd Place