HORSEPOWER DRIVEN BY STAR POWER 2010 TOYOTA PRO/CELEBRITY RACE DRIVERS ANNOUNCED
2009 Celebrity Winner Keanu Reeves Returns to Compete with the Pros;
Other Stars Behind the Wheel include Adrien Brody, Tony Hawk, Christian Slater, Jesse McCartney and Adam Carolla.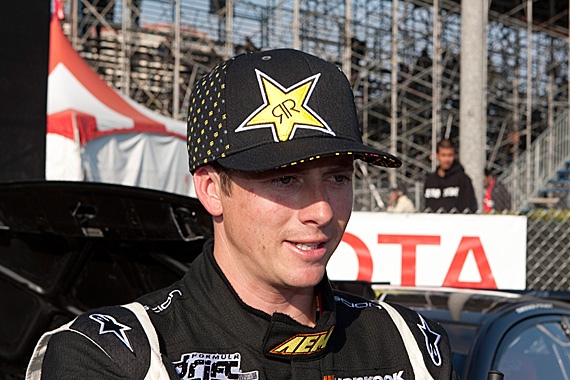 LONG BEACH, Calif. (March 11, 2010) – An eclectic group of Hollywood's stars from film, television, music and sports will put their freshly honed racing skills to the test all in the name of charity on Saturday, April 17 in the Toyota Pro/Celebrity Race, part of the 36th Annual Toyota Grand Prix of Long Beach. The field of drivers will compete in identically-prepared race-ready Scion tCs in what has become the world's longest-running, most prestigious celebrity racing event.
The historic, 10-lap race for charity on a 1.97-mile street circuit through the downtown streets of Long Beach in Southern California is one of six featured events during race weekend. This year's anticipated field of 18 drivers includes the following diverse entertainment and media personalities:
" Adam Carolla Radio and television host, comedian, and actor best known for programs like "Crank Yankers" and Comedy Central's "The Man Show" alongside Jimmy Kimmel. He also was a former contestant on "Dancing with the Stars."
" Adrien Brody Academy Award winning actor in 2002 for his role in Roman Polanski's "The Pianist." Other on-screen credits include, "King Kong," "The Village," "The Jacket," "The Brothers Bloom," "Darjeeling Limited," and "Summer of Sam."
" Anthony Anderson Television and film actor currently starring in the television drama series "Law & Order" as Det. Kevin Bernard. Film credits include "Transformers," "Hustle & Flow," "The Departed," "Me, Myself & Irene," and "Romeo Must Die."
" Brian Austin Green Film and television actor best known for his roles on "Terminator: The Sarah Connor Chronicles," "Beverly Hills 90210" as David Silver and "Freddie."
" Christian Slater Film and television actor currently starring on ABC's new crime drama "The Forgotten" and was the lead role on NBC's "My Own Worst Enemy." On-screen credits include "Windtalkers," "3000 Miles to Graceland," and "Robin Hood."
" Jesse McCartney Recording artist best known for hits including "Beautiful Soul," and "Leavin'." Recipient of the ASCAR Pop Music Award for Song of the Year (2008).
" Keanu Reeves Actor whose films include "The Day the Earth Stood Still," "The Matrix, I, II & III" "The Replacements," "Speed," "Walk in the Clouds," "My Own Private Idaho," "Bill & Ted's Excellent Adventure."
" Patrick Warburton Film and television actor currently starring in the hit CBS comedy "Rules of Engagement". Also most recognized from the hit NBC comedy "Seinfeld" as "Puddy" and the ABC hit comedy "Less than Perfect." Film credits include "Bee Movie," "Underdog," "Scream 3," and "Men in Black 2."
" Tika Sumpter Television and on-screen actress best known for her role as Layla Williamson on "One Life to Live." Tika just completed filming her co-starring role in "Stomp The Yard 2: Homecoming" due out this year.
" Tony Hawk Iconic pro skateboarder who landed the first-ever 900 at the 1999 X-Games. He is also president of Tony Hawk Inc., and regularly appears on television and films. Also hosts a weekly show on Sirius XM satellite radio network.
" Zachary Levi Film and television actor best known for his roles in the action-comedy television series "Chuck" as Chuck Bartowski and ABC's comedy series "Less than Perfect." On-screen credits include "Alvin and the Chipmunks: The Squeakquel" and "Stuntmen."
Vying for a win in the "Pro" category is returning champion of the 2009 "Celebrity" category Keanu Reeves who is set to race against the pros, including Jimmy Vasser, 1996 CART Champion for Target/Chip Ganassi Racing and current IRL Team Owner and Toyota dealer; Steve Millen, Toyota MTEG Champion (1986 and 1988), IMSA GT Champion (1992 and 1994) and founder of STILLEN; Tanner Foust, Formula Drift champion and X Games Rally Gold Medalist; and Marty Nothstein, Olympic gold medalist, American professional road bicycle racer and track cyclist.
The Southern California Toyota Dealer seat is being filled by Chris Ashworth, Vice President & Partner of Toyota of North Hollywood. Rounding out the field are charity auction winners Jerry Westlund and Dave Pasant, who each won the opportunity to race in exchange for donations they made in two different charity auctions.
"As the crown jewel of celebrity race events for more than three decades, the Toyota Pro/Celebrity Race continues to attract the most adventurous celebrities and professional racers," said Les Unger, Toyota's national motorsports manager. "Throughout the history of this event we've managed to transform our favorite celebrities into high-speed racers, while also changing the lives of children in need."
Toyota will donate $5,000 to "Racing for Kids" in the name of each celebrity racer, and another $5,000 to the winning racer's charity of choice. Racing for Kids is a national non-profit program benefiting children's hospitals in Long Beach and Orange County, Calif. On behalf of the race and its participants, Toyota has donated more than $1.8 million to various children's hospitals since 1991.
Finally, a $15,000 donation is made in conjunction with the 13th annual "PEOPLE Pole Award." Sponsored by PEOPLE magazine, the award honors the pole-position winner of the Toyota Pro/Celebrity Race qualifying session on Friday, April 16.