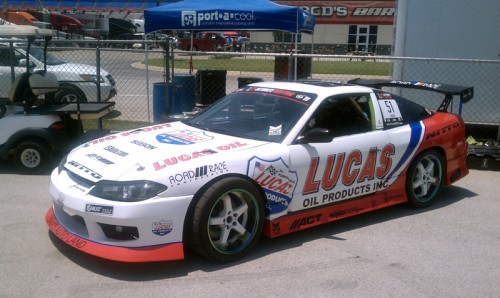 Win a Ride Along with Joon Maeng in his Nitto Tire S13 Thursday, March 8th Adam's Motorsports Park in Riverside, CA.
HOW TO ENTER TO WIN: Follow Joon on Twitter.com/JoonMaeng , LIKE Fan page on Facebook.com/JoonMaengRacing and share how much you want to win this ride along VIA Twitter & Facebook. (The more interest/comment the better chances to win) Share with friends and family they can win and transfer the win to whomever they want to choose.
PARTICIPANT: Needs to be 18 years or older if not need to have a parent or guardian available at Adam's. Parent/Guardian and/or winner need to sign waiver before riding in the vehicle. Winner is responsible to get a ride to and from Adam's Motorsports Park.
INFO: Please arrive by 6:30PM come hang out with team pit area and we'll show you around the drift car, take pictures, give you hero cards/ partners goodies, buckle you in w/ our helmet and give you a ride of your life! Food and Drinks will be provided. Event will end at 9:30PM. This contest will end Wednesday, March 7th 8PM. PST
[Image: Wrecked Magazine]