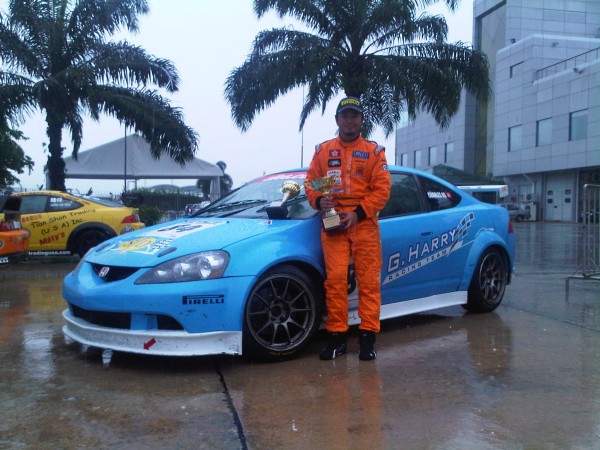 The Asian Touring Car Series continued with Round 6 which was held in Sepang International Circuit during the Malaysia Super Series Round 3 yesterday.
A heavy rain storm hit the Circuit just before the start and although the rain had eased, the decision was made for the race to start behind the safety car in order to allow the drivers to acclimatise themselves and locate the areas of standing water.
Sitting on pole, with the top 6 reverse grid order, was Cheung Chi Sing, Liu Lic Ka, Charles Ng, Lui Man Kit, Eurico De Jesus and Henry Ho Wai Kun. Wet tyres were used, along with lower tyre pressure to better maximise traction on the wet surface.
Towards the end of the third lap, Lei Kit Meng spun into the gravel at the last corner. Lei Kit Meng was running with a replacement engine after his engine blew during the previous round.
As the race progressed, more cars skidded into the gravel at the last corner, including Kuok Lo Keong and two other cars.
At the front of the pack, Cheung Chi Sing and Charles Ng battled for first position from the start of the race. Liu Lic Ka was not present on the grid, which elevated Round 5 winner Henry Ho Wai Kun to fifth position. Ho overtook Eurico on the fourth lap, for fourth position and later overtook Lui Man Kit for third.
Ho was third, 24 seconds behind race leaders Cheung and Charles, a position which he retained to the end of the race.
Charles, who had been biding his time behind Cheung, took a chance and overtook Cheung with two laps to go.
"With wet tyres and lower tyre pressure, we had to take it a little slow. But I had a great battle with Cheung," said Charles.
"I decided to keep my pace and wait for a chance with Cheung, partly because it was a bit difficult to see due to the rain. I took the chance when we were approaching the first turn, overtook him, and maintained my pace after that. It was quite easy after I overtook him," finished Cheung.
A total of four cars did not finish the race, including Belmiro De Jesus Aguiar, Kuok Lo Keong and Fahrizal Hasan.
The Asian Touring Car Series will continue with Round 7 & 8 on July 30th to August 1st 2010 during Round 4 of Malaysia Super Series in Sepang International Circuit.