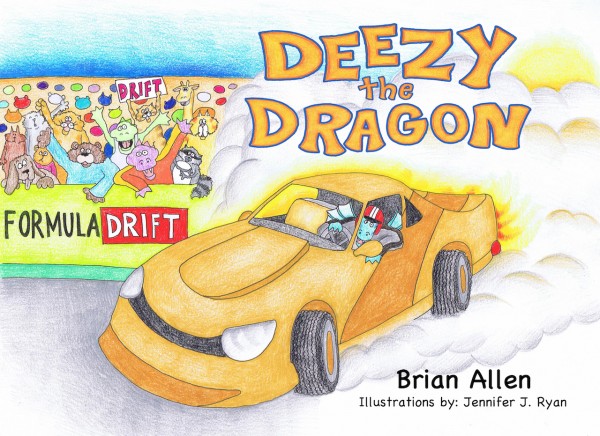 Deezy the Dragon: The First ever Drifting Book for Children!
April 6, 2015 (Los Angeles, CA)— Awesome Zoo Crew and Formula Drift present Deezy the Dragon. The first ever Drifting book for children! The hard-cover, illustrated 32 page picture book (ISBN# 978-0-9852168-6-3) is the perfect gift for any young child ages 0-10 interested in animals, music, racing, and action-sports. This is the fourth release from the Awesome Zoo Crew book series and is available for $14.99 (Hard Cover) pre-order at www.DeezyDragon.com. A $2.99 (E-Book) version can be found on iTunes, iBooks, and Amazon Kindle.
Follow the adventures of Deezy the Drifting Dragon and crew as he learns the ropes of drifting for his first time. Kids will learn valuable lessons along the way such as teamwork, never giving up, sportsmanship, and facing your fears. The hard cover comes with stickers, and a souvenir flyer of Deezy Dragon. The #DeezyDragon theme song can be purchased for $0.99 on iTunes and Amazon.
You can also follow, and watch Deezy Dragon on his YouTube channel www.youtube.com/DeezyDragon or Facebook www.facebook.com/DeezyDragon and Instagram www.Instagram.com/DeezyDragon
Deezy the Dragon is much more than a children's book character. Aside from a theme song, App, coloring book, video game, music video, and merchandise line in development, we have a life size dragon costume of Deezy who meets, interacts, and plays with the children. Be on the lookout for Deezy at a Formula Drift event near you!
For pricing, events, merchandise and more information contact
Brian Allen
323-364-3361