Check out this interview from LAT34.com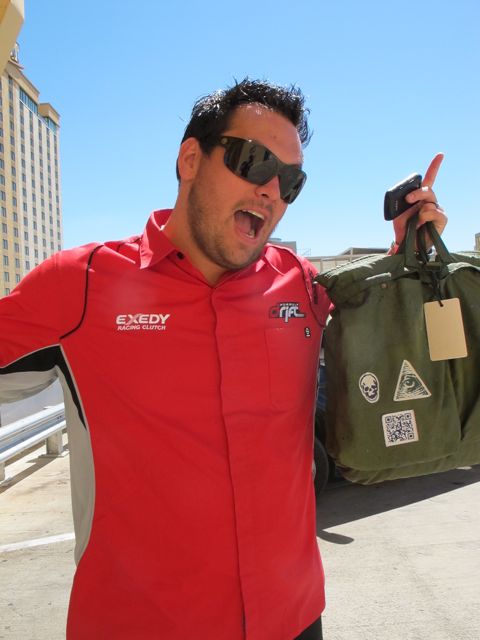 with the voice of Formula D – Jarod DeAnda
Here at Lat34 we like to uphold a certain amount of professionalism, we strive to keep up with our contemporaries such as The Wall Street Journal and The New York Times in terms of journalistic integrity, quality of writing, and using all available resources to bring information to our readers in a complete and non-biased state. I take pride in the fact that I am able to represent such journalistic integrity with my work, and am able to put my hard earned degree from P.A.U to good use. It is also great to be in a workplace where my colleague and I are both working for the same goal of good, honest journalism.
With that being said, it is with great pride and joy I bring you our hard hitting interview with Jarod DeAnda, we get into such topics as the national debt, the war in Iraq, and how much he can bench press.
Honestly, this interview was really great, it was one of the most informative and fun interviews we have done here at Lat34, Jarod really got our interview style and had fun with it. For those of you who aren't familiar with Jarod, he is known as "The Voice of Formula D", whenever you go to a FD event and you hear the announcer cracking wise and telling you insight into the driver and the car, that's Mr. DeAnda. He has been with the Formula D organization for quite a few years now and knows the in's and out's of this fine sport, and in the interview he let's you folks who aren't familiar with the sport, know how it works.
In the middle of the interview, is some footage we shot at the Finals a few months ago in Irwindale, California at my favorite place for motorsports "The House of Drift". There isnt any music dubbed over the video clip so if you want to listen to while you watch the clip, open this link in another window and listen to it while you watch the video, it's the song I was listening to while posting this up.
So here is the interview, enjoy:
What's your name?
Jarod Tyson DeAnda
Yes, Tyson, deal with it, haha
Where are you from?
Born in Nor Cal til 7 years old, SanDiego, Poway, CA specifically for my childhood and now reside in the Phoenix, AZ area for 6 years or so.
If an alien like Alf, came down to eat cats and hang out, asked you "what drifting is?" how would you explain it to him?
Captures the last lap of every race, car control at its finest, smokey sideways burnouts and one of the most exciting things you can do in a car…
Do you ever listen to music before rocking the mic at Formula D events? If so, what bands do you listen to?
First I pound a Sugar Free NOS Energy Drink and get down on anything from Kings of Leon, The Strokes and whatevers getting me going but ESPECIALLY Huey Lewis & The News and Hall & Oates sometimes ya just gotta keep it smooth, Boom!
Over here at Lat34 we are big into powerlifting, you look pretty buff, how much can you bench?
350, no problem…Pieces? Pieces? Pounds baby pounds!?!?!
(Jerky Boy reference, had to do it)
How did you get involved with Formula D?
Ryan Sage & Jim Liaw, Creators of Formula Drift gave me the opportunity to MC the series from jump and here we are 7 years later, smoked many tires, clutches kicked and fans left speechless, including me!
You guys travel all over the world with Formula D kinda like those bands from the 70's that did a lot of rambling, do you have any fond memories of the road that you would like to share with the readers?
Oh man, this is a family show so I'll paraphrase with Hotels trashed, cars rented and covered via protection, karaoke, bars and drift cars…. But I must say some of the best memories are just with good friends experiencing life together especially yes being in El Salvador, Singapore, Malaysia, China, etc. and theres so many more memories to be had and made!
Have you ever thought about wearing a mesh tank-top and bike shorts in the announcing booth to help with air circulation?
Thought about it?!?!?! I rock mesh tank tops on the reg, yet it's an Alpinestars one so keep it racey, and replace bike shorts with some Tru Spec camo cut offs and that's me! Send It!
We started covering drifting because in a way it is a lot like skating or FMX in the way it is scored, can you briefly explain how the scoring in drifting works?
First of all *Ed McMahon voice* Yes, You are correct sir! haha
ANY other motorsport is about checkered flag, finish line or a clock, fastest wins, NOT in drifting, it's subjective like freestyle motocross or skateboarding, style, skill, consistency and speed wins!
Formula Drift in particular, the premiere international drifting sanctioning body works like this:
Qualifying: 4 criteria- 3 judges- 100 points perfect score- Speed Judge: 20 points available, Line Judge: 25 points available, Angle Judge: 25 points available, the remaining 30 points is split between the 3 judges, 10, 10 and 10 accumulating to a perfect score of 100. If you lose drift, straighten out excessively or spin out it's a 0
If you keep it sideways, hitting the asked upon speed of the judge, navigating your front end or rear end of your vehicle within the designated clipping zones/points and doing while smoking the tires with impact and as they say in action sports amplitude you'll be in it to win it…
That's qualifying…
Now when we've narrowed the open field of drivers down to the TOP 32 that's when action heats up!
2 cars on the track at the same time, one car leads the other chases.
The lead car adheres to the judging criteria in qualifying and the chase car utilizes the lead car as a moving "Clipping Point" obviously not crashing into a wall if that happens and it DOES!
Then run 2 they switch, the chase car is the lead car both run through the course as in the first run and the judges now do it gladiator style, one vehicle moves on the other is knocked out, "Off with his head…gasket".
Bracket style- Top 32, top 16 to Great 8, Final 4 then the 3rd place constellation round then final round for 1st and 2nd place…
Once you see it you'll understand all my explanation! It speaks for itself it's all exciting even if you don't understand.
According to your bio you write for the Fatlace blog, how did you get involved with them?
Fatlace is a brainchild of a good friend of mine Mark Arcenal, he's a great dude and ironically we have the same birthday. He has a solid resume of jobs under his belt, a good sense of style from the web to the street and everywhere in between. I enjoy being part of the Stay Fresh crew at FATLACE and I hope they like my blogging about beer, cars, drifting, travel, food, life and of course my son the Cutest Kid In The World aka CKITW.
Any shout outs?
Ricccooollllaaaaa I'll forget a bunch of people but all the fans for sure not of me because I have 2 so they know who they are… Yet the fans keep it going of course all the drivers, crews, sponsors but for me that keep me paid so I can buy a round of NOS Energy Drinks is Ryan and Jim at Formula Drift for giving me an opportunity 7 years ago, DMCC, XDC, Vegas Drift, even X Games (I've MC'ed Rally cross 2009 and X Games Snowmobiling), all my friends that have helped me over the years thank you and my personal companies I work with including Exedy Clutches www.ExedyUSA.com ,NOS Energy Drink www.DrinkNOS.com and INCIPIO case company www.MyIncipio.com
Last but NOT LEAST at all my wife and son for knowing that when daddy's traveling I'm working and providing….
SEND IT!!!!!!!!