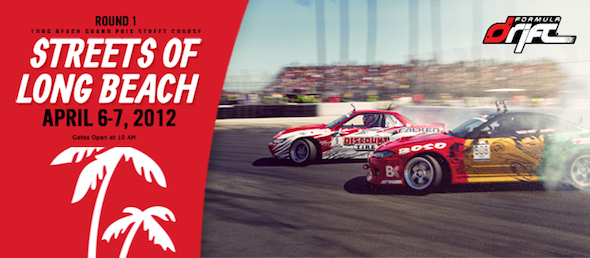 Round 1: Streets of Long Beach is approaching quickly and we are very excited to kick off the 2012 Pro Championship Season. Here are some updates that we wanted all of our fans to be aware of…
RESERVED SEATING
Grandstand 16 (closest to the bridge), 18 (below judges) and 24 (at the hairpin) are now all reserved seats which means your seat is reserved and no one can take it.
Grandstand 16 & 18 are SOLD OUT
Grandstand 24 is selling very quickly
GENERAL ADMISSION SEATING
Tickets are selling very fast but NOT sold out.  We have sold double what we sold at this point last year so buy them before they are really sold out.
FAN INFO.
We have re-routed the "chute" (where cars were driving through the pits and causing a bit of a traffic jam for fans) to go around the outer perimeter of the venue.
Thursday, April 5th, there will be a parade of 10-12 cars on 2nd Street in Belmont Shore at 7pm. The parade will end at Tantalum for our season kick-off party.
Friday, April 6th  is practice, qualifying and all driver autograph signing session. Our driver/team meet and greet will be held at Hooters Long Beach at 8pm.
Saturday, April 7th, is the main day; Top 32 head-to-head competition.
PRE-PAID EVENT PARKING
Pre-paid event parking is available from The Pike
CLICK HERE to purchase parking
For more information, please visit the Round 1: Streets of Long Beach event page