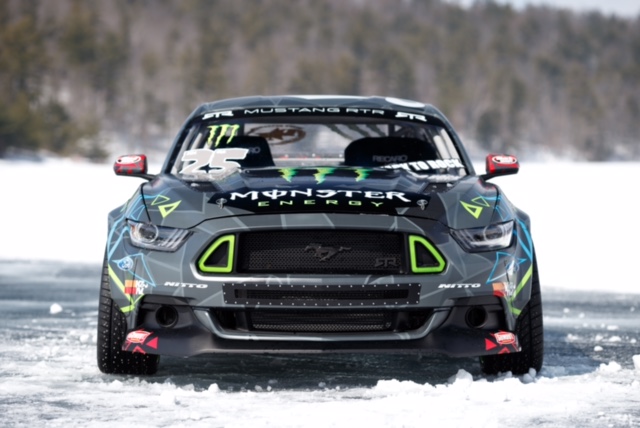 LONG BEACH, Calif., April 1, 2015 – Ford Motor Company's return to Formula DRIFT will be bigger and bolder in 2015. In its third year as official sponsor of the series, Ford will support Mustang drivers Vaughn Gittin Jr. and Justin Pawlak, while ramping up its "Drift with Ford" sweepstakes giveaway and track activities at all seven Formula DRIFT events. The custom Focus ST giveaway kicks off April 10-12 at the season opener in Long Beach, California.
"Ford and Formula DRIFT fans share a deep passion for performance, making the series the perfect venue for demonstrating the capabilities of our vehicles," said Steve Ling, Ford North America car marketing manager. "We had a strong response with last year's 'Drift with Ford' sweepstakes when we gave away a custom EcoBoost-powered Fiesta ST. This year we're bringing back the sweepstakes with the hot Focus ST, and expanding our trackside presence with displays and activities at every Formula DRIFT event in North America."
Following a successful 2014 season, Ford is stepping up the "Drift with Ford" sweepstakes, giving away to one lucky fan a custom EcoBoost®-powered Focus ST. Fans can enter the sweepstakes at any Formula DRIFT event or through the Formula DRIFT website.
"Fans love to watch teams fielding V8-powered Ford Mustangs battling for the top spot in Formula DRIFT," said Mickey Matus, Ford Racing marketing communications manager. "Vaughn and Justin are both elite drivers who have proven they know what it takes to win. We believe they're poised for great success in Ford Mustang, and can't wait for the season to get under way."
Ford has been part of the Formula DRIFT scene since 2005, when the series triggered a successful Ford Racing performance parts engine development program for a supercharged 4.6-liter V8 crate engine. Ford has increased its support and involvement each year, earning the respect and attention of series fans.
"I am pumped for the 2015 Formula DRIFT season to kick off in Long Beach as the action at this event is always epic," said former champion Gittin. "My team and I have been working hard in the off-season, and I can't wait to hit the track, scrape walls, and run door-to-door with my opponents from behind the wheel of my Ford Mustang RTR."
The enthusiastic response from Formula DRIFT fans has encouraged Ford to step up its involvement this year. Fans can visit the Ford display at each event to experience the latest lineup of Ford performance vehicles including the all-new Mustang, which is similar to the cars driven by Gittin for the Monster Energy team and Pawlak for the Falken team.
"I'm extremely excited to get back into my Ford Mustang for the 2015 Formula DRIFT season," said two-time Long Beach winner Pawlak. "I look forward, as it's a proven platform for drifting. Both Vaughn and I have earned great success with it over the past few years."
The first official drifting series in North America, Formula DRIFT takes motorsports to the extreme, attracting enthusiasts from all walks of life. Highly skilled drivers maneuver high-powered cars into controlled slides at high speeds through a marked course. Judged on speed, execution and style, drifting is often compared to the freestyle nature of skateboarding and motocross.
"We are so excited to have Ford back on as a major sponsor of the series," said Ryan Sage, vice president and cofounder, Formula DRIFT. "With the success of last year's vehicle giveaway, Ford has graciously doubled down, returning with another massive sweepstakes. The brand totally gets this audience and because of that, fans of the sport benefit in unique and creative ways."
For the first round of the championship series, Formula DRIFT slides its way on one of two street courses used for professional drifting – the Toyota Grand Prix of Long Beach. The two-day event is one week prior to the Toyota Grand Prix of Long Beach and uses turns nine, 10 and 11 of the street course. With a high-speed entry and very tight spacing between cars and walls, there's no room for error, making the first round of Formula DRIFT one of the most exciting series events of the year.
For more information, visit the Formula DRIFT website or Facebook.
No purchase necessary, Open to licensed drivers 18 and older. Ends 10/10/2015. See http://www.driftwithford.com/ for full details.
# # # 
About Ford Motor Company
Ford Motor Company, a global automotive industry leader based in Dearborn, Michigan, manufactures or distributes automobiles across six continents. With about 187,000 employees and 62 plants worldwide, the company's automotive brands include Ford and Lincoln. The company provides financial services through Ford Motor Credit Company. For more information regarding Ford and its products worldwide, please visit http://corporate.ford.com.