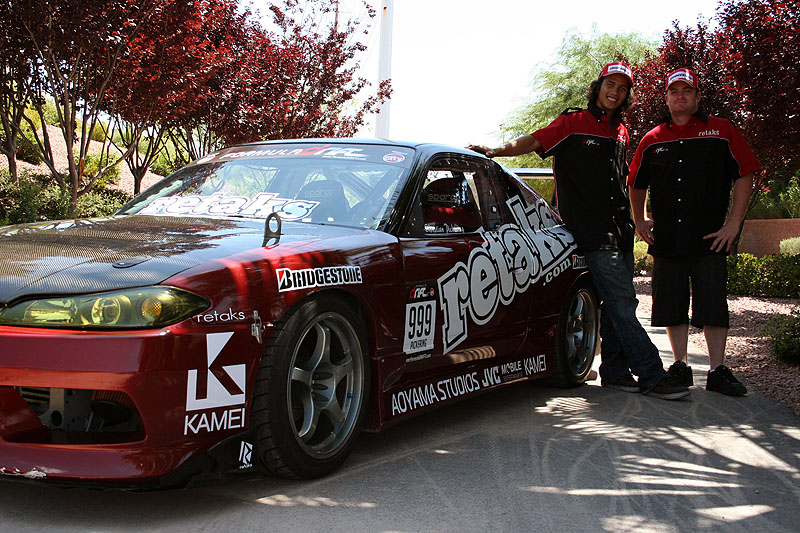 Team Retaks/Bridgestone now has two incredible drivers, Christian Pickering from Australia, and Bill Sherman from the USA. After the Vegas FD race, and a subsequent Retaks Track day at LVMS, (a huge thanks to LVMS), it was decided that Christian will need a RHD car to be competitive. We were going to convert our championship 240sx s13.5 we purchased from Enjuku Racing, but after much thought, we decided to leave it as a LHD.
Bill Sherman will now pilot this car, his 2007 car, for Team Retaks/Bridgestone starting in Sonoma 2008. We will either build a RHD for Christian, or more likely, ship over his awesome rhd drive s15 from Australia. So Team Retaks/Bridgstone is very excited about Christian having a car he is comfortable in, and for Bill joining the Retaks family.
Christian is extremely happy to be apart of the Formula D series. This has been a goal of his for some time now. After the Retaks track day at LVMS Christian went back to Australia for a TV show, and a Championship race for which he took 2nd place. He is a humble yet fun loving driver and a goodwill ambassador for Retaks and FD in Australia. His life story of overcoming cancer while still competing professionally in Australia, and placing 2nd overall, is a inspiration to all. Christian & Team Retaks/Bridgestone are hoping that he will have the opportunity to represent Team Retaks/Bridgestone & Australia in the World Championship with his new award-winning RHD s15.
Bill will be coming to Vegas soon to get back into his baby. We'll get some seat time for him with the new gear ratio in the rear, and the new Bridgestone Potenza tires. Then over to Sonoma where we hope to win and then have some ice cream!