Ueo Katsuhiro – D1
Hometown – Kumamoto, Japan
Car – Nissan Silvia S15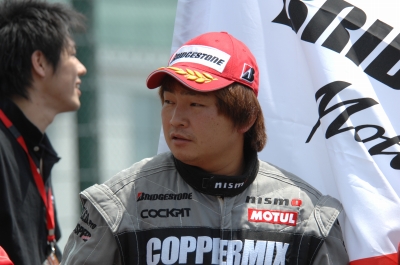 May 26,1972 in Kumamoto, Japan Ueo Katsuhiro was born. His parents where strict and was in the fishing business. When he was young he would go out to sea with his father helping him out during the holidays and summer vacations. While helping out at sea Ueo found interest in engine building and repair. While improving his knowledge and skill he soon started surprising adults around him. This was the start for Ueo Katsuhiro.
When he turned 18 he was helping his friend as a tuning adviser while sharpening his driving skills. Soon he started becoming famous among "hashiriya" or drivers all around Japan. Ueo then met Tsuchiya Keiichi who changed his life. Admired by Tsuchiya's driving technique he started practicing and learning those techniques on his own which lead to his debut in the drifting scene.
The reason why he started drifting was because of Tsuchiya Keiichi and now that he became a pro-drifter his goal is to test his skills at the world level.