Formula DRIFT Announces New Judge for Pro Series;
Takahashi to Take Leadership Role in Formula DRIFT Pro-Am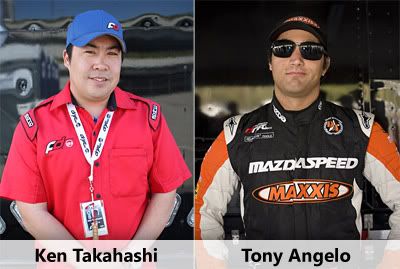 Long Beach, Calif. – April 6, 2009 – Formula DRIFT announces new judge for the professional championship series, Drifting veteran, Tony Angelo will be added to the judging panel and step away from professional competition. Ken Takahashi has taken a leadership role in Pro-Am to help build the amateur series.
"I am excited to take this position with the series. I have been competing with Formula DRIFT since its inception," said Tony Angelo, veteran drifter and new Formula DRIFT judge. "This role will put my competition hat on the sideline, but being a judge is a challenge that I welcome and I look forward to helping the series grow and evolve."
Angelo will begin his new judging position at the Formula DRIFT season opener titled, Round 1: Streets of Long Beach on April 10-11. Angelo will join current judges Ernie Fixmer and Andy Yen. Angelo will replace Ken Takahashi's position as a judge.
Takahashi has accepted a new position in the development of the Pro-Am series. Takahashi will play a key role in helping amateur drivers develop their off-track repertoire and will guide amateur drivers to transition into the pro ranks. Takahashi will also be responsible for judging in the Pro Am series.
"This new opportunity is something that I am happy to give my heart to. Pro-Am development is essential to a healthy pro series so I am happy that Formula DRIFT values my expertise in this area of development," says Ken Takahashi, former Formula DRIFT judge and Pro-Am leader.
"We are excited to announce Tony coming on to the team and also Ken stepping up to take this new role on the Pro-Am side. Tony brings with him years of experience behind the wheel and as a judge and Ken is the right guy to represent the drivers coming up through Pro-Am," say Jim Liaw, president and co-founder of Formula DRIFT. "Part of Pro-Am is a place to perfect your skill as a driver, but the other part is to perfect your skill as a professional representative of the sport and Ken will be instrumental in helping develop the new talent that Formula DRIFT wants in the Pro-Am arena."