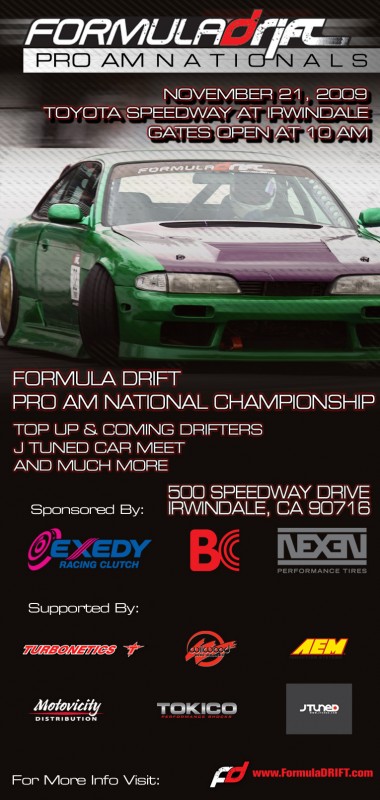 Click HERE to purchase tickets
Tickets are only $10.00
Gates Open at 10:00 A.M.
The top amateur drivers from the United States and Canada will meet at the infamous "House of Drift," at the Toyota Speedway at Irwindale. This will be the first time that a Pro Am competition of this level will take place at this location. The rising stars of drifting will be discovered and compete for their chance to earn a Formula DRIFT Pro Championship license. Current professional drivers that made their way up through the Pro Am circuit include Justin Pawlak, Ryan Tuerck, Joon Maeng, and Matt Powers.
"Bringing the FD Pro Am National Championship to Irwindale is not only very cool, but very symbolic as well," said Jim Liaw, president and co-founder of Formula DRIFT. "Never has a Pro Am competition of this magnitude and importance been held at Irwindale before. And to top it off Irwindale is the birthplace of American professional drifting, back in 2003 when Ryan and I brought D1 outside of Japan for the first time."
Tickets for the Pro Am National Championship will go on sale on October 17, the same day as Round 7: Judgment Day the final event of the 6th season of the Formula DRIFT Pro Championship. Online tickets can be purchased on the Formula DRIFT website. For more information, visit: www.formuladrift.com.
Formula DRIFT Pro AM National Championship Invited Drivers List
TENTATIVE DRIVERS LIST
Driver Name / Series Qualified From
Brian Peter
Formula DRIFT Atlanta
Dan Willie
Formula DRIFT Atlanta
Jason Jiovani
Formula DRIFT Atlanta
Tom Barnhart
Formula DRIFT Atlanta
Forrest Wang
Formula DRIFT Las Vegas
Johnny Kanavas
Formula DRIFT Las Vegas
Roland Gallagher
Formula DRIFT Las Vegas
Andrew Coomes
Formula DRIFT Las Vegas
Cyrus Martinez
Formula DRIFT Seattle
Victor Moore
Formula DRIFT Seattle
Ian Fournier
Formula DRIFT Seattle
Trent Stromkins
Formula DRIFT Seattle
Kohei Nakamura
DMCC West
Chris Scremin
DMCC West
Robert Parsons
DMCC West
David Briggs
DMCC East
Ryan Lanteigne
DMCC East
Claude Poirier
DMCC East
Russell Walker
HIN Texas
Ameen Rizvi
HIN Texas
Gary James
HIN Florida
Charlie Thompson
HIN Florida
Derek King
HIN Chicago
Mike Pollard
HIN Chicago
John Johnson
HIN Chicago
Note: In addition to the listed drivers, all current Formula DRIFT Pro License holders that do not meet the minimum points for automatic renewal will be invited to this competition. Alternates and additional drivers will be added to the list pending the results of upcoming Pro Am events.