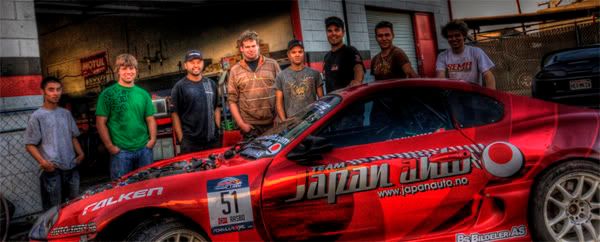 After arriving in Los Angeles, California late September, Fredric Aasbo and his Team Japan Auto Crew has had two hectic weeks of preparation in the Los Angeles sun.
– The Japan Auto Supra has been transformed with an all new engine management, drivetrain and suspension geometry setup. At the same time, the Supra has received a cosmetic facelift involving both interior and exterior details. The whole process has been a demanding task for sure, but the guys have done an awesome job getting what was basically a new build up and running!
After focusing on North European events throughout the 09′ season, Fredric is happy to be back in Los Angeles soaking up the SoCal drift atmosphere.
– Through our preparations out here we have met a bunch of the players in this industry over the last two weeks, and we have received nothing but help and support everywhere we go. We have become even more fond of the Southern California drift scene and the people involved in it, and we start to feel we really want to be a part of this family!
The Japan Auto crew and Fredric is in the middle an intensive week culminating at the Formula Drift 2009 final at Irwindale on October 16th-17th.
– We will be testing the car at Willow Springs all of Tuesday. On Thursday we will be heading out to Irwindale for actual track testing. The event is called Judgment Day and that certainly fits the bill – we can't wait to take on the upcoming weekend!
Fredric Aasbo is a Drift Driver sponsored by Japan Auto, BS Bildeler, PBC Auto, CRC, Meguiars and BlackBox Media. Follow Fredric Aasbo and Team Japan Auto and their ventures at Facebook, www.powerdrift.no and www.gatebil.no.
– ceso