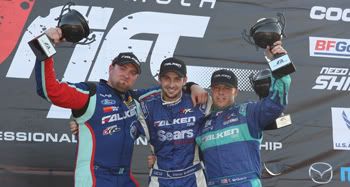 Formula DRIFT Round 3: The Gauntlet Results;
Darren McNamara Takes the Victory and Rises to the Top of the Standings
Long Beach, Calif. – June 6, 2009 – Formula DRIFT returned to Wall Speedway in New Jersey after a 1 year absence for Round 3: The Gauntlet. Darren McNamara in the Falken Tires / Sears Auto Center Saturn Sky took the victory and the lead for the Formula DRIFT Championship point standings. Team Falken Tires finished the event strong filling the top 3 podium positions.
Despite the initial rain on Friday, the skies cleared for the main competition at Wall Speedway setting the stage for a great event. The fans were treated to temperatures in the mid 70's and partly cloudy skies. Thousands of fans packed the grandstands of Wall Speedway and witnessed another spectacular drifting competition of the season.
"It was a trying event for our staff and for the teams given the rain on Friday forcing us to pack all the action into one day," said Ryan Sage, vice president of marketing and co-founder of Formula DRIFT. "Yet at the end it was a huge payoff for everyone. Team Falken put together an incredible showing and swept the podium."
For the first time Team Falken took each position on the podium with Tyler McQuarrie in the Falken Nissan 350Z taking 3rd place, Vaughn Gittin Jr. in the Falken / Ford Racing Mustang GT taking 2nd place, and Darren McNamara in the Falken / Sears Auto Center Saturn Sky taking the victory and moving into 1st place overall in the Formula DRIFT point standings. Hometown hero, Ryan Tuerck moved into 2nd place overall in the Mobil 1 / Gardella Racing Pontiac Solstice right in front of Round 2 winner, Chris Forsberg in the NOS Energy Drink / Maxxis Nissan 350Z. The victory for McNamara, the 2006 Pro Drift Champion and 2007 Formula DRIFT Rookie of Year, was well earned after putting on a great performance and laying it all out on the line at this event.
"All day I felt completely comfortable and confident behind the Falken / Sears Auto Center Saturn Sky," said Darren McNamara, winner of Round 3: The Gauntlet. "I couldn't have done this without the help of the Falken crew, Sears Auto Center, ASD, my girlfriend, and all my friends and family."
Formula DRIFT returns to Las Vegas Motor Speedway for Round 4: All In on July 10-11. Tickets are on-sale now.
Formula DRIFT Professional Championship 2009 Point Standings
1. McNamara, Darren Falken / Sears Auto Center Saturn Sky 260 Points
2. Tuerck, Ryan Gardella Racing / Mobil 1Pontiac Solstice 232 Points
3. Forsberg, Chris NOS Energy Drink / Maxxis Nissan 350Z 227 Points
4. Hubinette, Samuel NuFormz / Mopar Dodge Viper 213 Points
5. Gittin, Vaughn Falken Tire Ford Racing Mustang GT 211 Points
6. Nishida, Robbie Hankook Tires / Dynamic Autosports Nissan 350Z 197 Points
7. McQuarrie, Tyler Falken Nissan 350Z 195.50 Points
8. Pawlak, Justin Bergenholtz Racing / Nitto Mazda RX-8 178 Points
9. Aono, Taka Technosquare Toyota AE86 Corolla 174.50 Points
10. Maeng, Joon Maxxis / LS Auto Nissan S13.5 173 Points
11. Brakohiapa, Tony Cooper Tire Ford Mustang 170.75 Points
12. Millen, Rhys Red Bull / RMR / Toyo Hyundai Genesis Coupe 166.50 Points
13. Mordaunt, Patrick PM Racing Nissan S13 165.50 Points
14. Verdier, Stephan Cooper Tire / Crawford Performance Subaru STI 163 Points
15. Petty, Ross Garage Boso / Falken Nissan S15 158.50 Points
16. Yoshihara, Daijiro Falken Tire / Discount Tire Lexus IS350 156 Points
Round 3: The Gauntlet Event Results
1. McNamara, Darren Falken / Sears Auto Center Saturn Sky
2. Gittin, Vaughn Falken Tire Ford Racing Mustang GT
3. McQuarrie, Tyler Falken Nissan 350Z
Tires.com Triple Crown Point Standings after 1 of 3 events
1. Forsberg, Chris NOS Energy Drink / Maxxis Nissan 350Z 102 Points
2. McNamara, Darren Falken / Sears Auto Center Saturn Sky 94 Points
3. Tuerck, Ryan Gardella Racing / Mobil 1 Pontiac Solstice 80 Points