Despite Economy, Businesses Still Spending in Motorsports
by Dan Frio
It may be the worst economy seen in several generations, but companies are still spending money marketing their brands in motorsports. It's an idea that might give most CEOs insomnia. Slashing marketing budgets in downturns is custom. But to then spend those fewer dollars in motorsports sponsorships, never a cheap arena to begin with?
Foolhardy.
Not so, say some marketers. For companies that can stomach the risk, downturns provide an opportunity to capture market share at the expense of cautious rivals.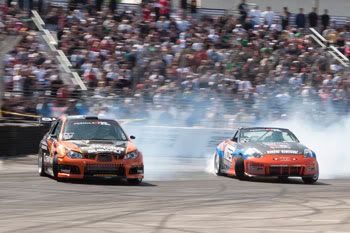 "Motorsports is a very important avenue for us," says Nick Fousekis, Falken Tire Senior Manager Consumer Marketing. "It's another opportunity to get in front of people that already know, or may not know, our brand. They can see that we're not just a tire manufacturer peddling black, round objects. We're out there. We're active."
As 2009 opened, the motorsports headlines were not encouraging.
To read the rest of the article

NASCAR entered the year missing major sponsors including Home Depot, Kodak, Enterprise, and Domino's Pizza, leaving the series with 10 fewer partners than three years ago, according to the Sports Business Journal.
Motor Trend reported that Chrysler would reduce its NASCAR spending by 30 percent, and the Indy Racing League cancelled the Detroit Grand Prix. Audi and Porsche pulled out of American Le Mans, while Subaru, the brand that practically defined the World Rally Championship, withdrew from that series.
Even the rarified air of Formula 1 suffered the exit of Honda's factory team and key sponsorships from global financial institutions.
But for a company and brand like NOS Energy Drink, motorsports marketing is a no-brainer.
"Everything we do goes into motorsports," says Tutul Rahman, Brand Manager for NOS Energy Drink. "The only way we grow the brand is by increasing our investment."
Rahman says the motorsports presence helped grow the brand more than 50% in 2008. Launched in 2005 through a licensing partnership between Fuze Beverage and Holley Performance Products, owners of Nitrous Oxide Systems, NOS Energy Drink was the sixth best-selling energy drink in the U.S., according to 2008 Nielsen data.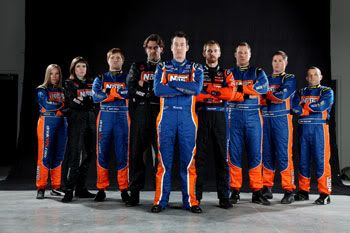 That growth has made the drink maker, now a subsidiary of Coca-Cola, solvent enough to expand into NASCAR sponsorships. For 2009, the company is sponsoring driver Kyle Busch, along with other drivers in other disciplines under a group banner called Team NOS.
The Busch sponsorship includes a 22 oz. plastic bottle, trimmed in the brand's blue and orange colors and that mimics the look of a nitrous oxide bottle, dubbed the Rowdy Can.
Team NOS also includes Formula Drift pilot Chris Forsberg, and rally driver Andrew Comrie-Picard. Even the popular Chicago-area Mitsubishi tuning shop AMS receives project support from NOS Energy Drink. The AMS crew intends to build a record-breaking Evolution IX for the Bonneville Salt Flats.
The consistent thread through all of the brand's sponsorships, says Marketing and Lifestyle Manager Ernie Manasala, is a commitment to the brand's core value: maximum performance.
The NASCAR involvement, however, is a new step forward for NOS Energy Drink.
"[NASCAR sponsorship] is really an evolution of the brand," Rahman says. "We started out very core and grassroots with Hot Import Nights and Formula D. As the brand grows, our motorsports sponsorships expand as well. Now we're going into NASCAR and touching millions of people that way."
And where NASCAR represents an opportunity for NOS Energy Drink to reach mass eyeballs, a smaller series like Formula Drift can offer marketers a more targeted and qualified audience. While a Formula Drift might feel the pain of sponsor withdrawls more acutely than a NASCAR or Indy Racing League, they're a good sell for brands that want to capitalize on the absence of a competitor.
"[Formula D] gives us a great opportunity to activate on site," Fousekis says. As one of the series' three tire manufacturer sponsors, Falken goes big at events: two 53-foot rigs offer four awnings, two used by the pit crew to service five sponsored cars, the other two used for activation, entertainment and hospitality.
If industry research is any indication, Fousekis is on the right path.
A study released by Foresight Research earlier this year probed the depth of motorsports influence on purchasing decisions. According to the study, 43 percent of new car and truck buyers had watched at least one motorsports event in the past year. Fourteen percent had attended an event and 23 percent said that motorsports had at least some influence on their buying decision.
Additionally, 67 percent of those influenced by motorsports said that power and performance was a key message. And 59 percent of those who'd attended a motorsports event learned about a specific make and model from visiting a manufacturer's display at the event.
The study also found the pervasive influence of "Shouters," motorsports fans who influence the purchase decisions of others. This group reported giving an average of 10 new vehicle recommendations per year to other people.
"With proper activation, motorsport sponsorships offer a great opportunity for communicating to shoppers in an emotional and rational way, and don't lose sight of the word-of-mouth recommendations by these Shouters," says Foresight CEO Steve Bruyn.
The message is clear: motorsports marketing still sells cars and parts.
Even with industry research behind him and other like-minded marketers, Fousekis also has a slight advantage when making his marketing budget case. Racing is in Falken's roots, he says. Whether testing at Nurburgring or competing in Japan's Super Taikyu endurance series, company management recognizes the marketing and R&D importance of going racing.
This doesn't make it an automatic sell with the executives, but they do "understand it and appreciate it," Fousekis says.
In addition to Formula Drift, Falken is also in American Le Mans Series for its second season. Last year the company sponsored a privateer team. This year they've brought the program in-house for an abbreviated three-race schedule with a Porsche 911 RS-R in preparation for a full season in 2010.
"Formula D is definitely growing," Fousekis adds. "It's not just that core group of tuners anymore. That'll help continue its growth, the way it's been going. And bang for the buck—the exposure, the TV program, the fan base that turns out for each event—it's still a fairly affordable series to get some great marketing opportunities."
Jim Liaw, founder and president of Formula D, knows that it's natural for companies to buckle down and cut budgets. He's seen a former major sponsor, Circuit City, file for Chapter 11 and watched other endemic companies scale back sponsorships.
But he's confident that his series delivers an audience uniquely receptive to performance brands.
"Even with some of our endemic companies that have pulled back, they're not pulling out," Liaw says. "They know they need to keep at least one foot in the door and not completely disappear from the scene."
And some sponsors, like Falken and NOS Energy Drink, have increased their commitment to the series.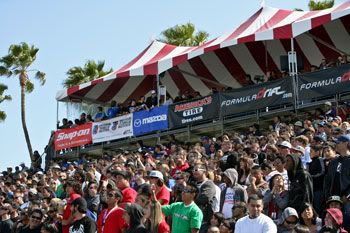 "We're reaching an audience that most motorsports and events are not reaching," he says. "It's more targeted, a quality audience, and a younger audience that [companies] are building a brand with. What we lose to [larger race series], we gain in uniqueness of audience."
It's an audience that guys like Fousekis are eager to reach. And he believes his fellow marketers need to play a collective part in reaching this group, supporting these events, to help pull out of the economic spin.
"Now is the time that everyone in this industry needs to help continue growth and reignite things, whether that's doing more motorsports activities or getting grassroots proactive, doing small meets. We need to keep the interest there. Otherwise it may be a different world five, 10 years down the road."
See the original article on SEMA NEWS