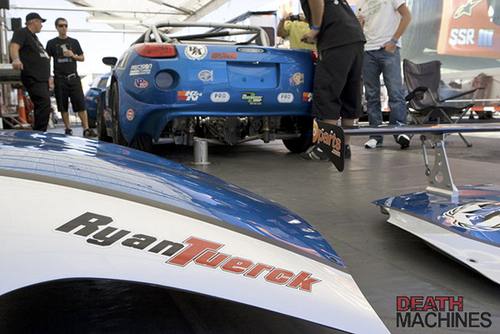 HOWELL, NJ (March 2, 2010) – Gardella Racing is excited to announce that Ryan Tuerck has re-signed with the team to drive the Pontiac Solstice in the race for the 2010 Formula Drift Championship.
Tuerck, 25, had an extremely successful 2009 campaign when he finished second overall in points. At the season ending event, FD Judgment Day, in Irwindale, CA, Tuerck raced to the win. Unfortunately, he was not able to overcome Chris Forsberg's lead, falling just six points short of his first championship.
"I am stoked to be a part of the Gardella racing team again for the 2010 season," said Tuerck. "I feel that Gardella racing is the most professional team in the Formula D series and we are going to have another great run at the championship."
Tuerck began racing motocross at the age of 10. After his motocross career came to end, Tuerck began drifting his personal car by sliding sideways in empty parking lots late at night. In 2003, Tuerck learned that he could race professionally in drifting and entered his first drifting event at Raceway Park in Englishtown, NJ. In '04 and '05 Tuerck competed part time in Formula Drift events. In '06 he competed at all Formula Drift events. Then in '08, Tuerck signed with Gardella Racing, finished sixth in the final Formula Drift standings and the successful partnership was established.
Despite the GR camp being quiet this off-season, things have been busy. As we are getting cars, drivers and equipment ready for Round 1 Long Beach, we will be making additional announcements regarding new projects and partners for 2010.
"We are looking forward to announcing our title sponsor and other partners," stated team owner, Gary Gardella. "This is something that we have been missing out on over the past two seasons. We thank everyone for their support; 2010 should be a great year for us. We look forward seeing everyone in Long Beach."
Gardella Racing is coming out big this season as we prepare to take the Formula Drift championship.