In this first of many guest blog spots, MMA legend Josh Barnett gives his introspective on how he came to love drifting and Formula DRIFT. Barnett aka "The Warmaster" may seem like an unusual selection to kick-off this new series of guest blogs, but after learning a bit more about the former UFC Heavyweight Champion and King of Pancrase it makes complete sense. Growing up, automobiles was in his blood often attending races with his family. As a mixed martial artist and professional wrestler he has traveled the world and has spent much time in Japan, where drifting originated. Barnett is a huge fan of anime and manga, which produced the Japanese series "Initial D," that centers on drifting. In his free time he can be found working on his collection of American muscle cars that include a Ford Shelby Mustang GT500 and Dodge Challenger as well as on the track where he recently obtained his SCCA license.
Josh attended Round 1: Streets of Long Beach to check out the season opener. During the Top 16 competition he was given a Canon 7D to capture the action from his point of view and took some time during training for his upcoming bout for the Strikeforce Heavyweight Championship on May 19, to talk about his love for drifting.
Follow Josh on Twitter – @joshlbarnett
Sound and Fury
words and photos by Josh Barnett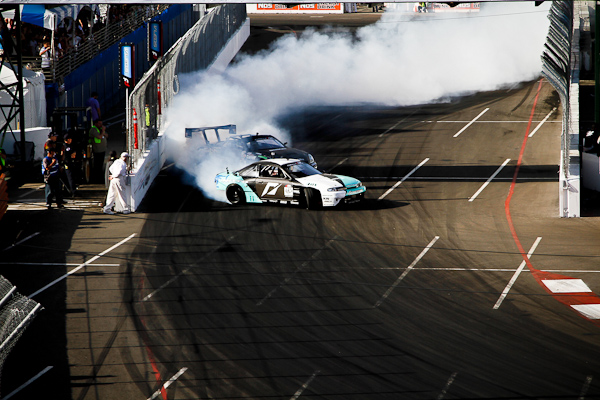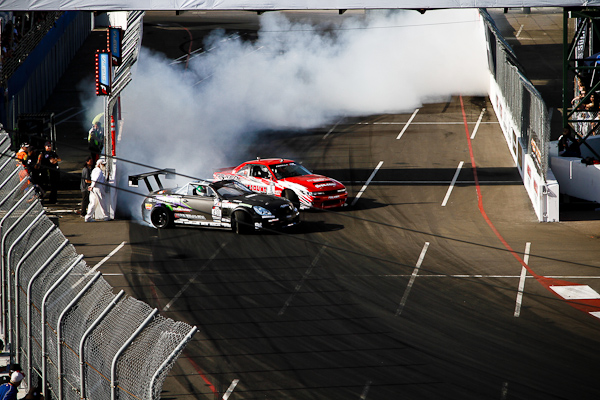 It was a sunny afternoon in Long Beach California. My friend Stan had invited me to come down to media day and check out the guys from Formula Drift. "We'll get you in a car for a ride along.", he said. It had been years since I had been to a track let alone in race car and the promise of speed was all I needed grab the keys and head down to the LBC. Arriving at the site of the Grand Prix there was a noticed hustle and bustle of people scrambling around the asphalt. Media, celebs for the celebrity race, drivers with their crews, and myself who was just here to get high on the sounds of the RPM's and the smell of race gas. They tried to saddle me into Ken Gushi's Scion TC at first but I was quickly reminded that one aspect of racing is that: people my size don't do it, the seat and harness set-up in Ken's car a glaring example. Stan flagged down Rhys Millen in his Hyundai Genesis, complete with 650hp and a seat able to fit someone other than a Hobbit. I turned to Rhys and introduced myself, "Hi. I'm Josh. I know folks get pretty scared in these things but go ahead, drive as fast and as hard as you can. Really. I mean it. You won't scare me at all." Fifteen seconds or so and the ride was over. My drifting virginity plucked in about as much time as a 15 year olds first major accomplishment. But the speed, the smoke, the sound and the fury – it resonated with me and brought back something to the surface long dormant. I was now a drift racing junkie and it only took just one fix.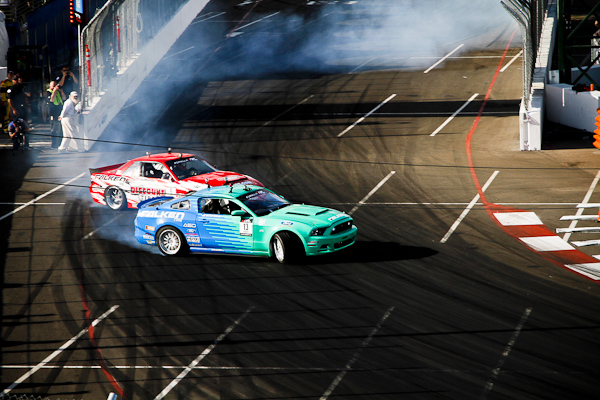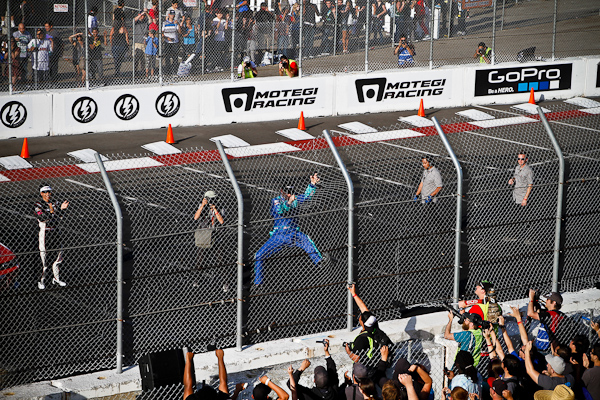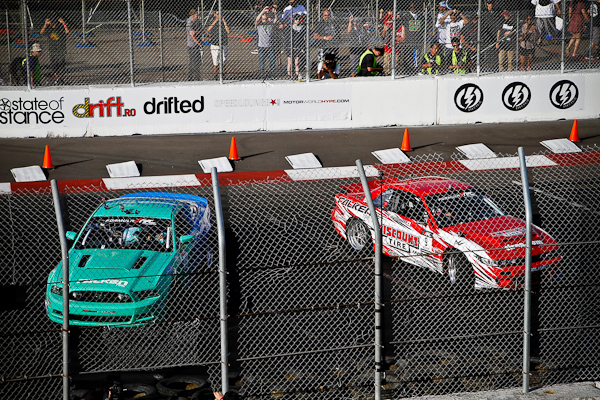 I spent the rest of that day getting a couple more joyrides and meandering through the pits to meet and talk with the drivers and crews of the sport. I learned a lot that day from talking to guys like Taka Aono, Robbie Nishida, Ken Gushi, and many of the crew guys. I was starting to get the idea behind this sport and the what would be required of the drivers and their machines. The next weekend came and I was treated to my first Formula D event. With the pulse of the music and the crowd it seemed more like a party than any race I had been to. See, I grew up in Seattle in a family bit by the drag racing bug and spent many weekends at tracks all over the Pacific Northwest as we campaigned various cars. I'd even been to the NHRA events up in the region too. This was a new look to me and I wasn't quite sure what to make of it but it didn't take long at all to find my rhythm. It was fantastic watching the cars sway and shred in their violent auto ballet but just being there at all was simply fun. A crowd that was entirely enjoying themselves just being there. I had to go to more of these and I had to see how this would all turn out by the end of the season. I followed the site for qualifying and results and watched the races streaming when I could. I even started making predictions with friends John and Jarod and occasionally rubbing it in when I was right.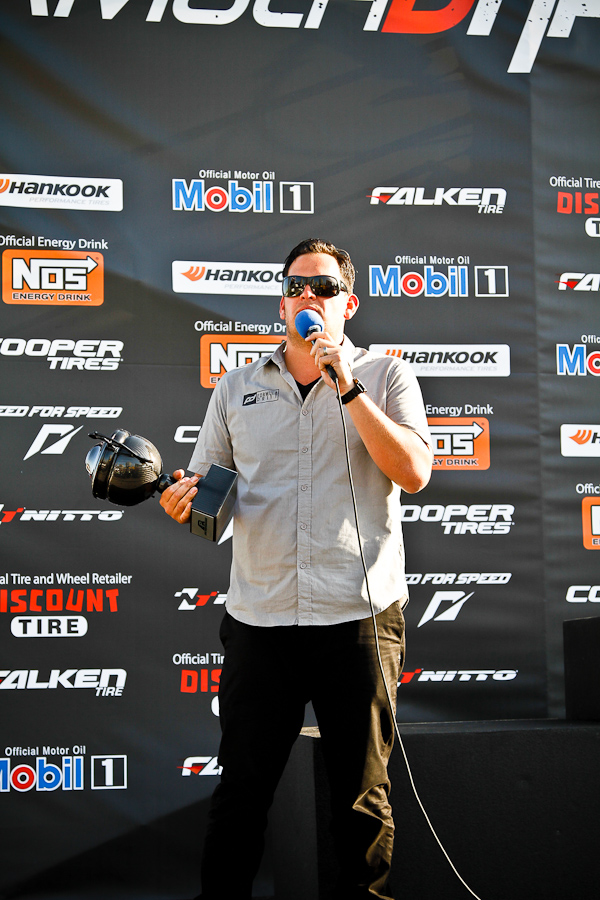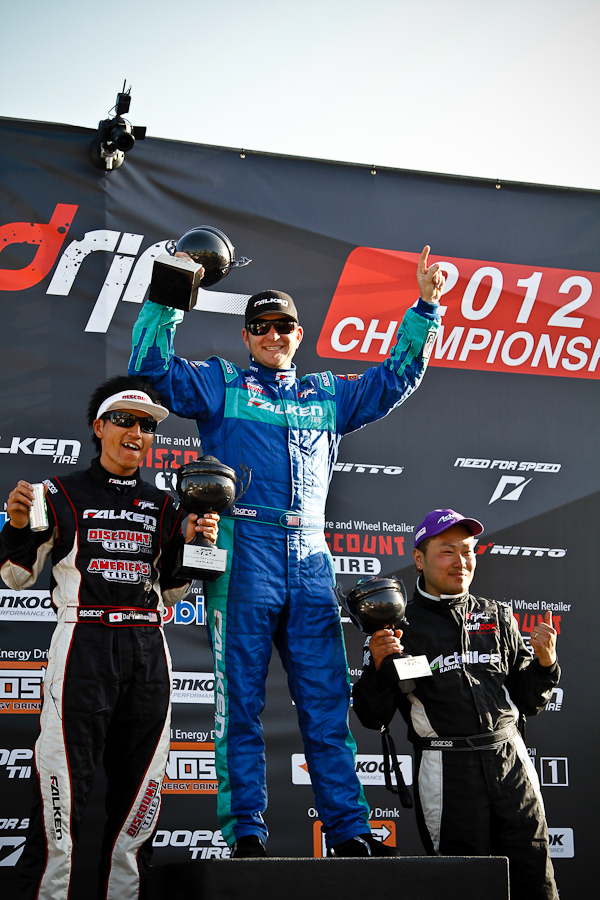 Last year was as great as any fan could expect from any sporting season. Watching it all come down to the wire and with some great racing and some very tight math Dai Yoshihara walked away with the crown. This year will see last season's front runner, JTP, again starting off on the right lead foot as he repeats in winning the opener in Long Beach with Dai coming second. I actually predicted to my friend that JTP would take the podium in Long Beach although it would take great racing as Dai would prove hard to take out. That Ford is just so damn fast! But if last year taught us drift fans anything it is that any gap, any opening, and any number of talented drivers could charge to head of the pack. I can't make all the races but I'll be watching and calling podiums with my buddies (via the Live Driftstream). I'll be cheering and rooting for the drivers I've gotten to know as they grind through those corners and I'll always have the memory of the roar of the exhaust, the screeching tires, the smell of burning rubber and high octane. Oh yeah. I love it. Viva la drift!