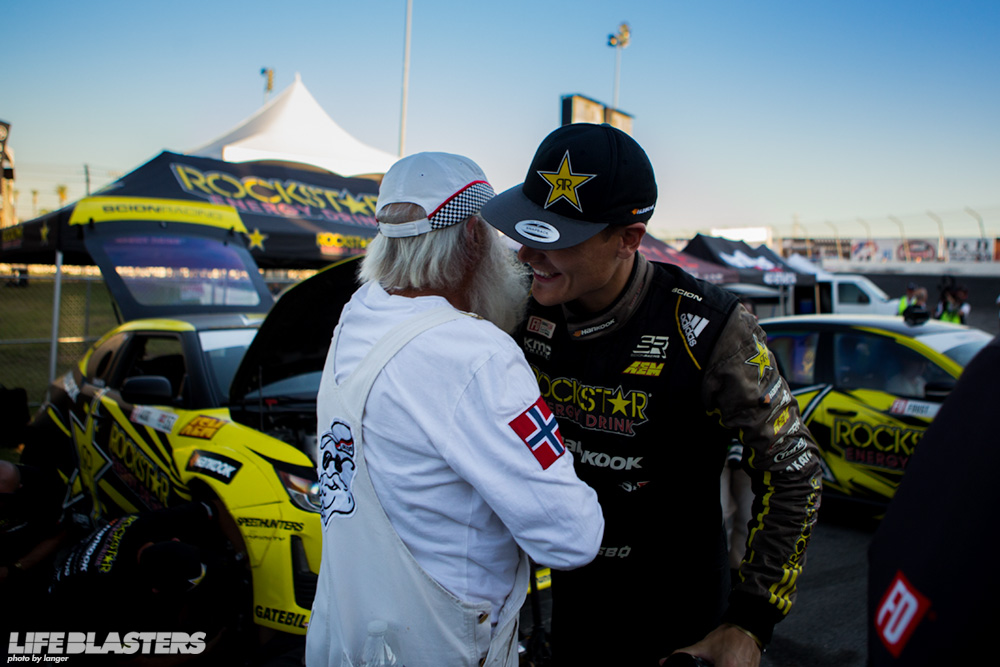 Destiny is a funny thing, especially when you notice a pattern and start expecting things to turn out certain ways. It almost never goes the way you think it will, or the way you think it should. We begin to understand that the outcome that makes the most sense is probably the least likely to happen, so it's actually ironic when it does happen. And then in retrospect it's hard to imagine it playing out any differently.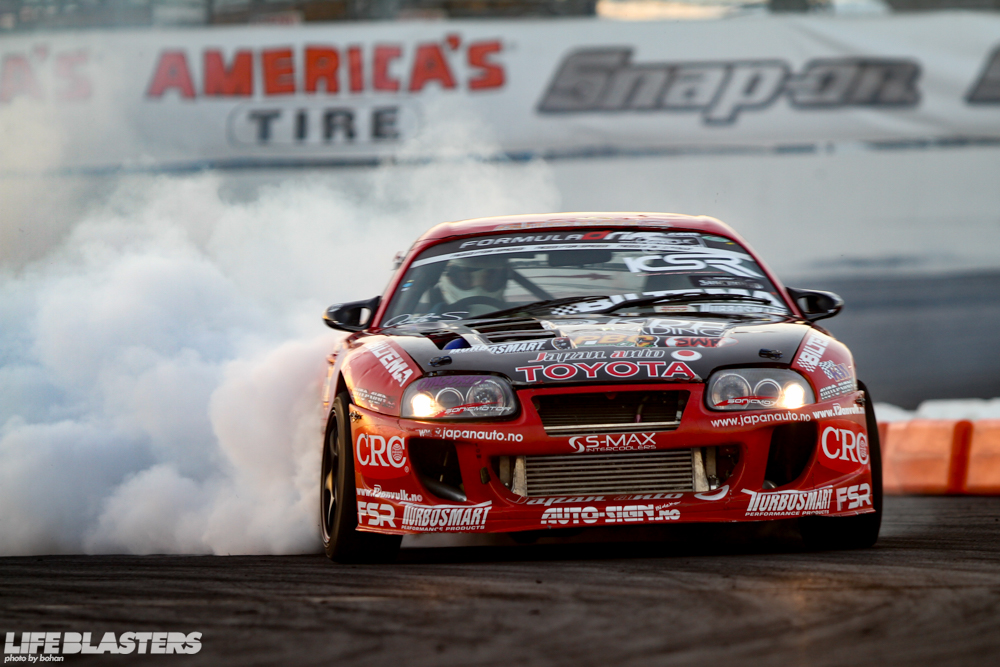 That's what happened to Fredric Aasbø. He made a splash in Formula D in 2010 when brought his haggard Mark IV Supra "Chucky" to the US from Norway and earned Rookie of the Year by finishing in 13th place overall, even with missing two rounds. In fact, he was the highest placing driver who didn't have perfect attendance.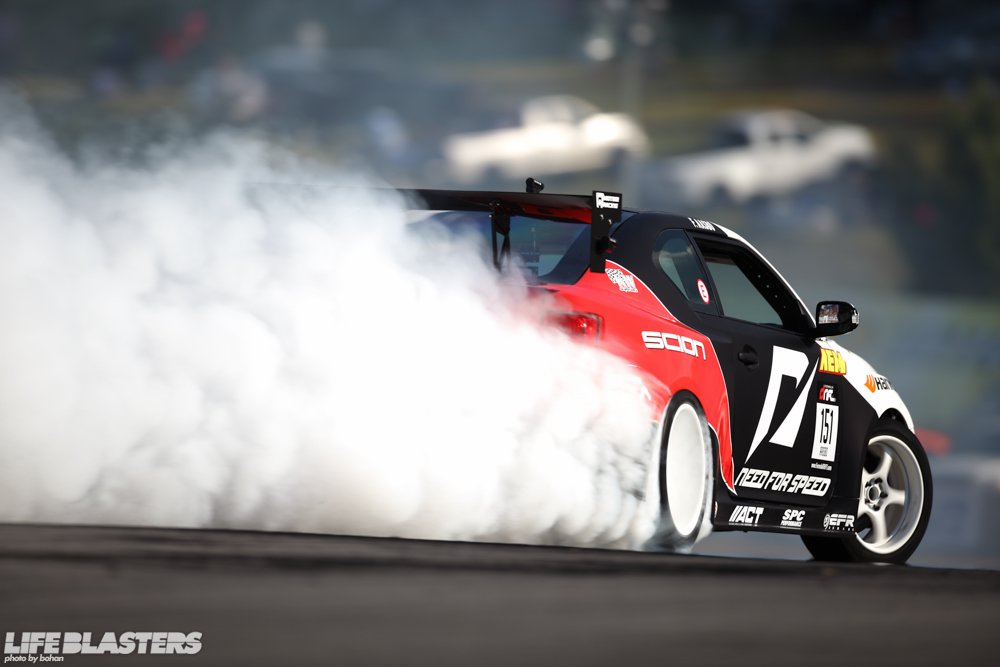 His performance got the attention of Stephan Papadakis, who had a vacant seat in his program after the departure of Tanner Foust. Papadakis got Aasbø fitted into a Scion tC, with the seat and controls laid out to mimic Chucky's cockpit. After some off-season testing, the team pushed hard in the 2011 season and finished 12th, which isn't too shabby considering everything was new. 2011 is also when Aasbø had his first podium finish, earning 3rd place at Evergreen.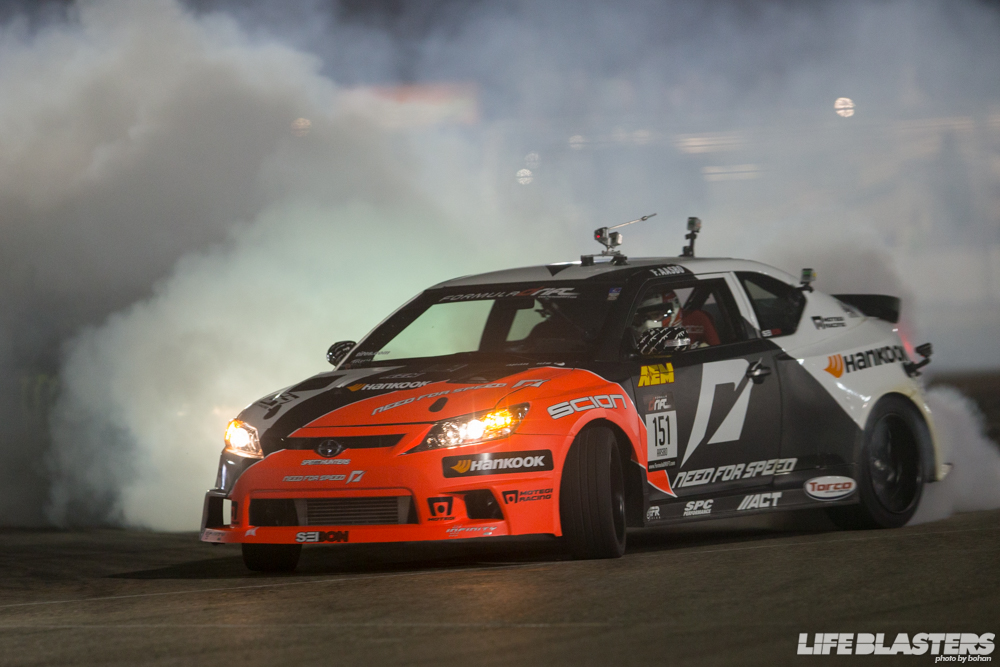 In 2012 Aasbø and Papadakis came back harder and stronger, with their sights set firmly on the championship. Aasbø had two second place finishes that year, but they came up short of the ultimate goal. Still, they dramatically improved their overall position to 6th.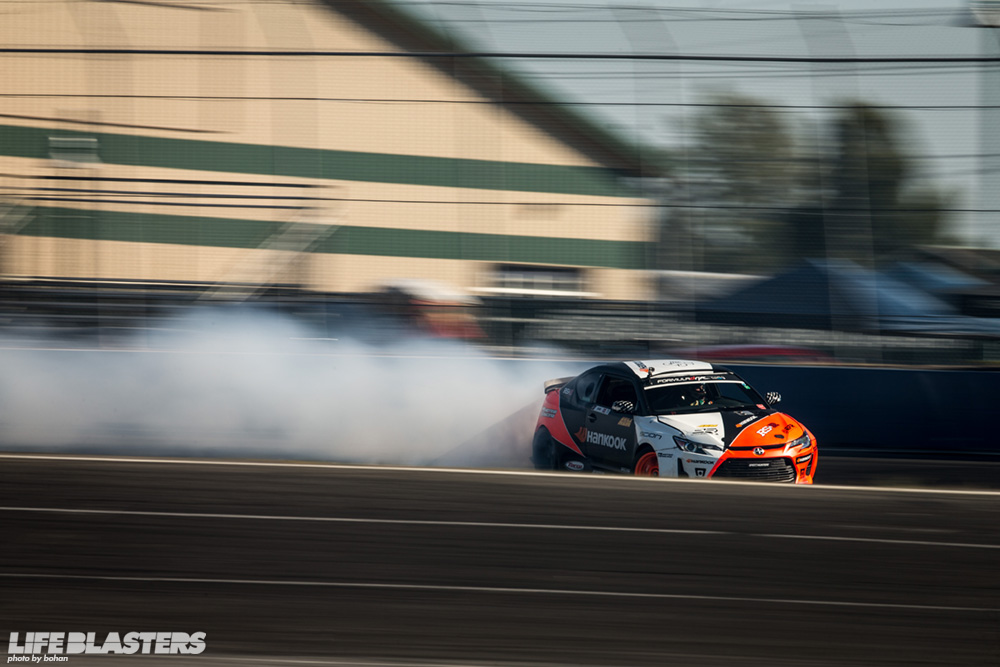 A single third place finish was Aasbø's only podium finish of 2013, but he finished fourth in all six of the other rounds. That kind of consistency was enough to keep him in 3rd overall until Round 7, where he fell to 4th.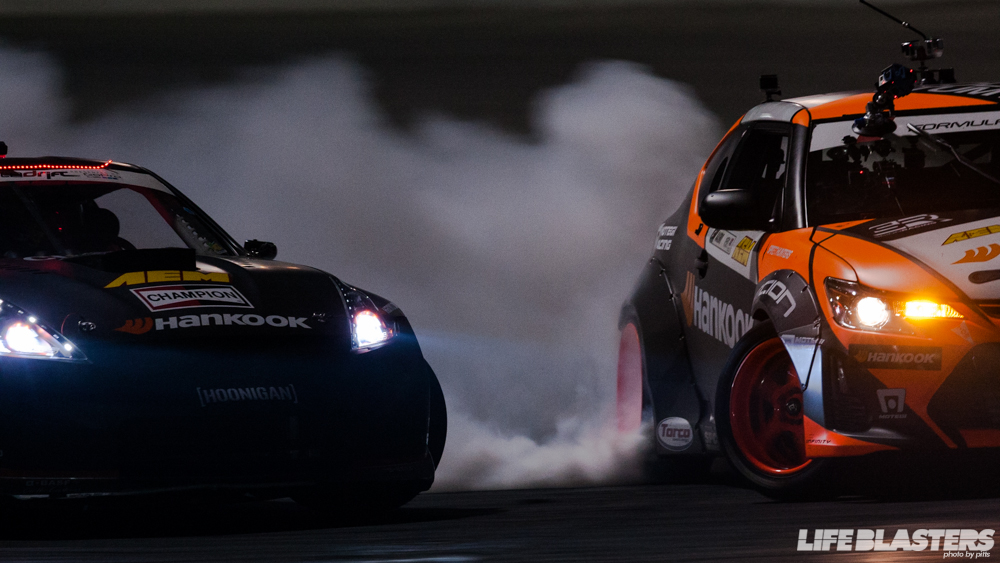 This is where a lot of people started picking up on the pattern. Every year, Aasbø had finished better than the year before. The logical conclusion was winning the championship within the next three years. Many thought 2014 would be the year, and Aasbø earned his first win at New Jersey and another at Texas. He and Forsberg were locked in an epic season-long race that came down to the very last battle at Irwindale, where Aasbø lost to Saito and Forsberg took home the big trophy. Aasbø finished 2nd overall and everyone knew 2015 would be the year. It became a prophecy.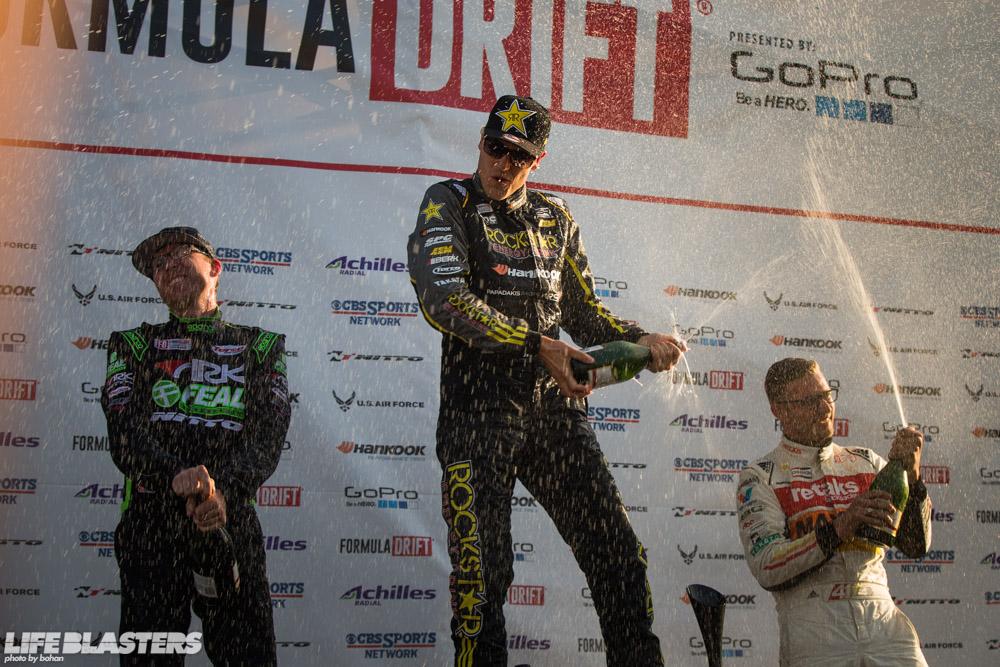 Aasbø started off 2015 with a new title sponsor in Rockstar Energy Drink a win at Long Beach, but followed it up with a pair of terrible losses at Atlanta and Orlando, casting enormous doubt on if the championship was even still within reach. But that's what one would expect to have happen, because winning in 2015 would be too obvious. The universe wouldn't allow something that made so much sense to happen.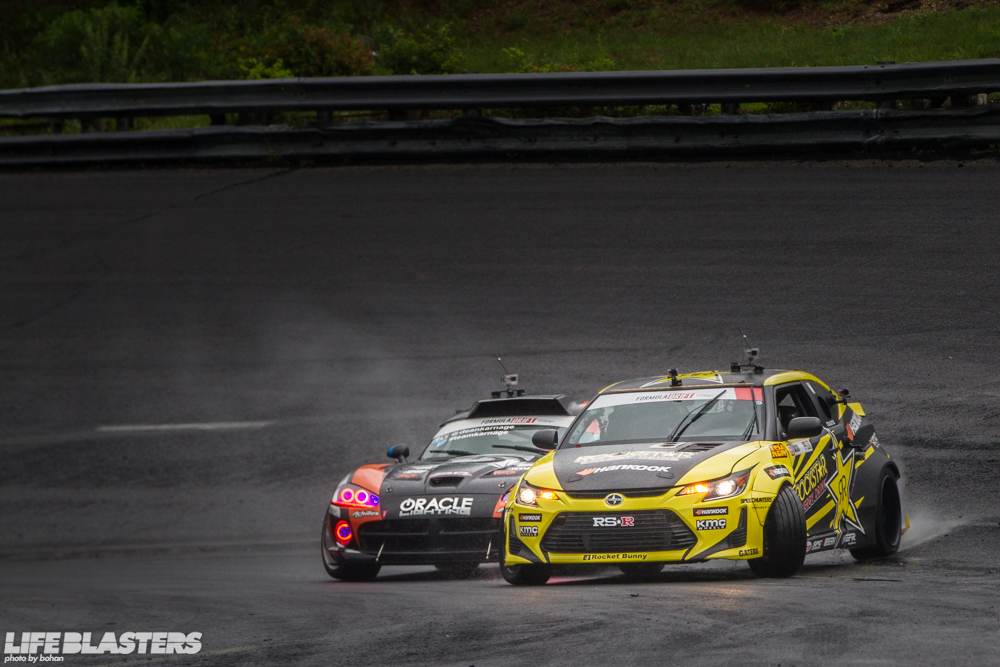 But then Aasbø won in Jersey for the second year in a row, in the rain no less.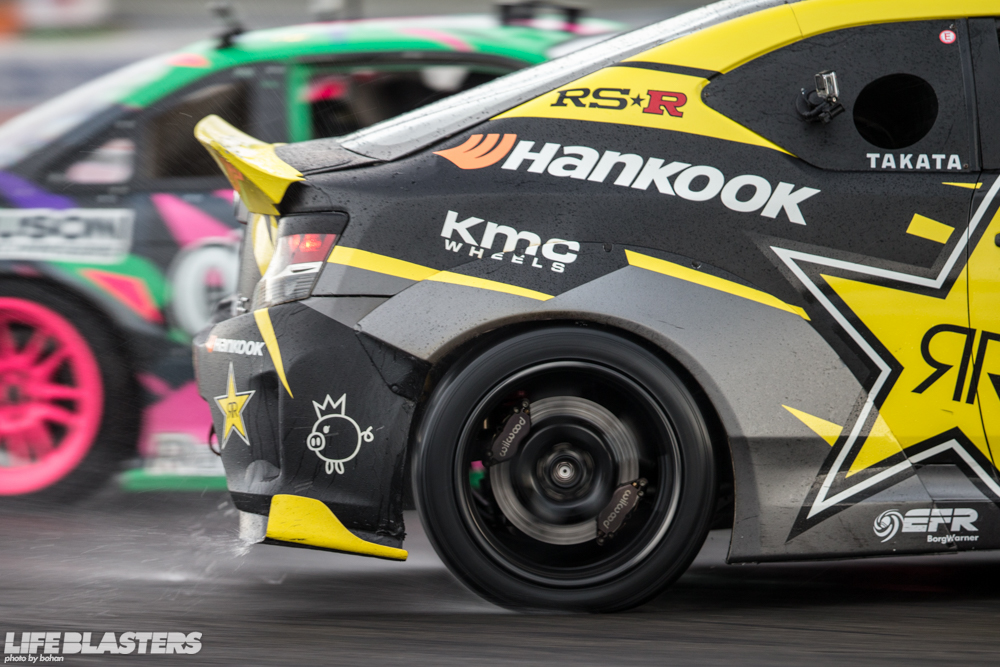 And he followed it up with a win at Evergreen, also in the rain. Suddenly he was the points leader again, and by a whopping 76 points too.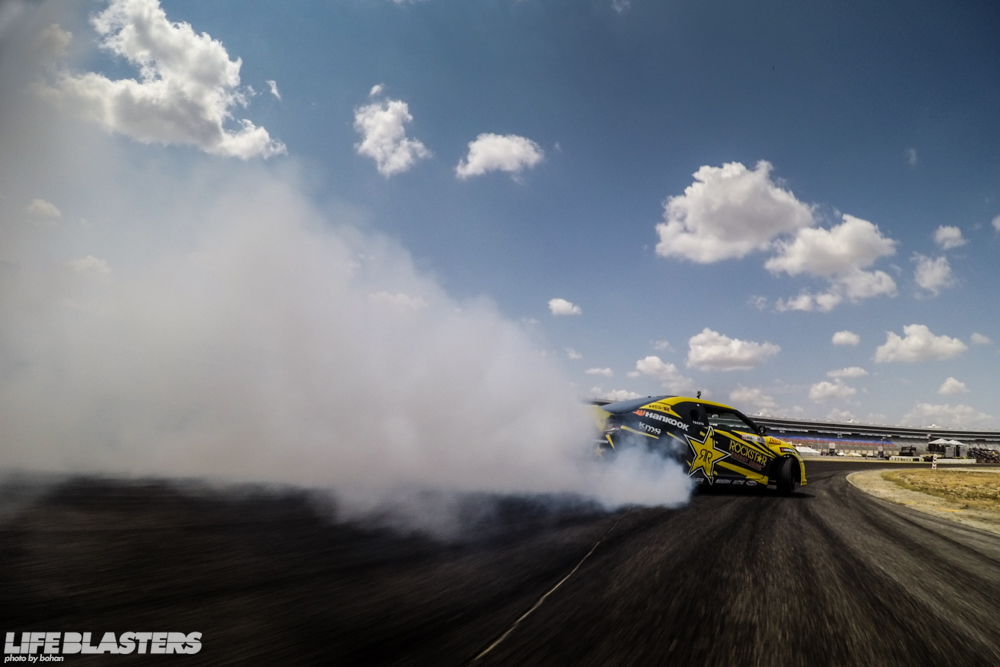 At Texas, he extended his lead to 80 points, even with a loss in the Great Eight.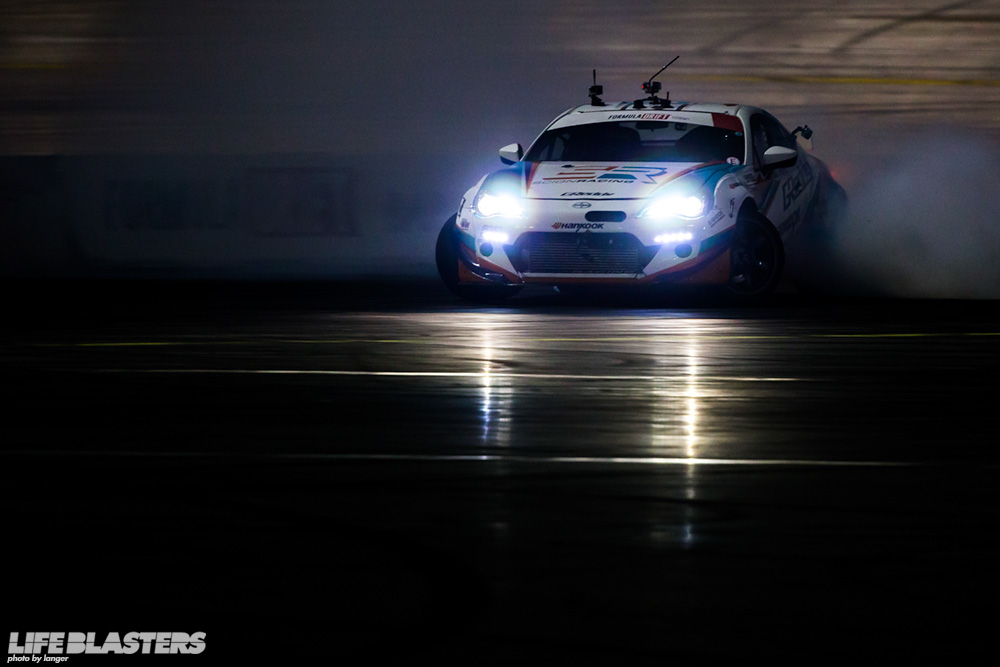 And that brought us to Irwindale, where dreams – and nightmares – become reality. After Friday's qualifying session, Tuerck and Forsberg were both eliminated from contention. Only Ken Gushi could take the championship away from Aasbø, and he'd have to do very very well. All Aasbø had to do was win his Top 32 battle, and when was the last time he couldn't do that? Oh right, this year at Orlando.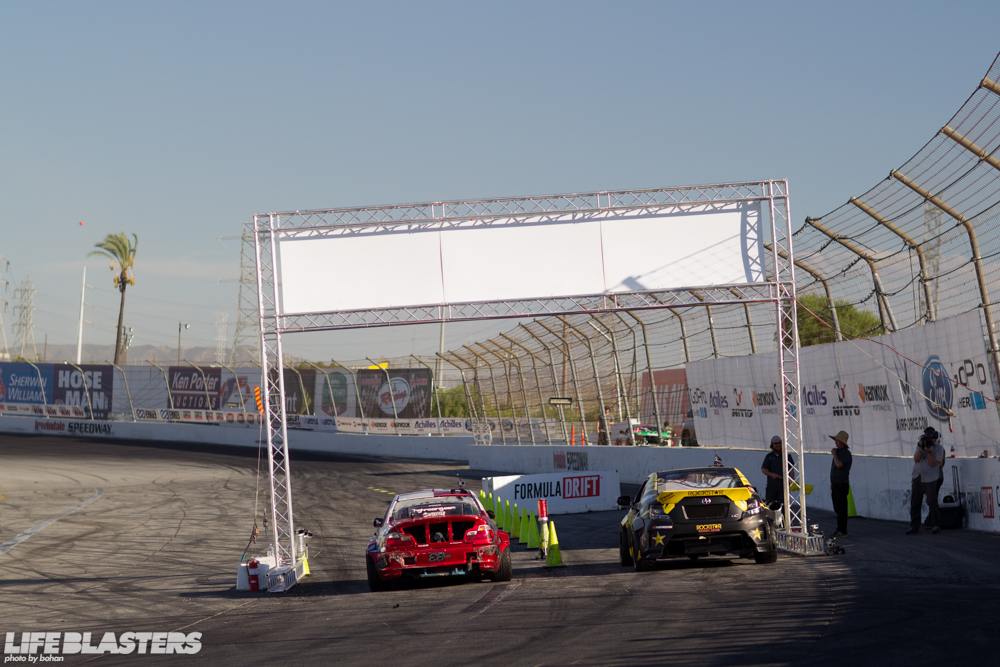 Aasbø lined up with Kristaps Bluss and I can't imagine what was going through each driver's head. All Aasbø had to do was drive better than Bluss for two laps and he'd be the champion.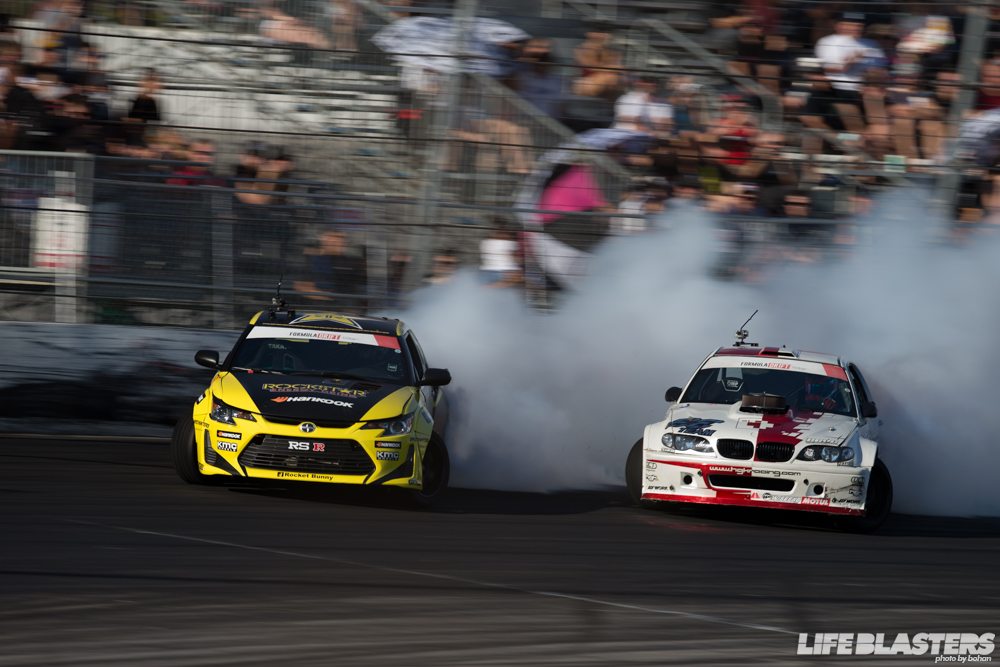 Bluss knew this, and it was within his power to put Aasbø's fate in Gushi's hands.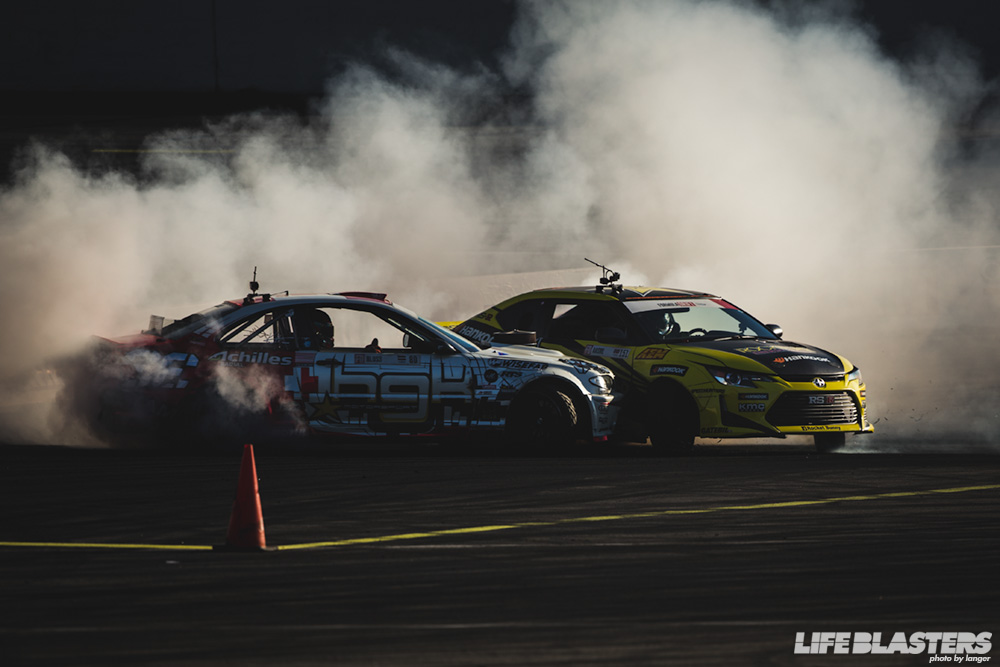 Aasbø had the advantage going into the second run, but Bluss spun right at the finish line, causing a Aasbø to collide with the BMW…for the win?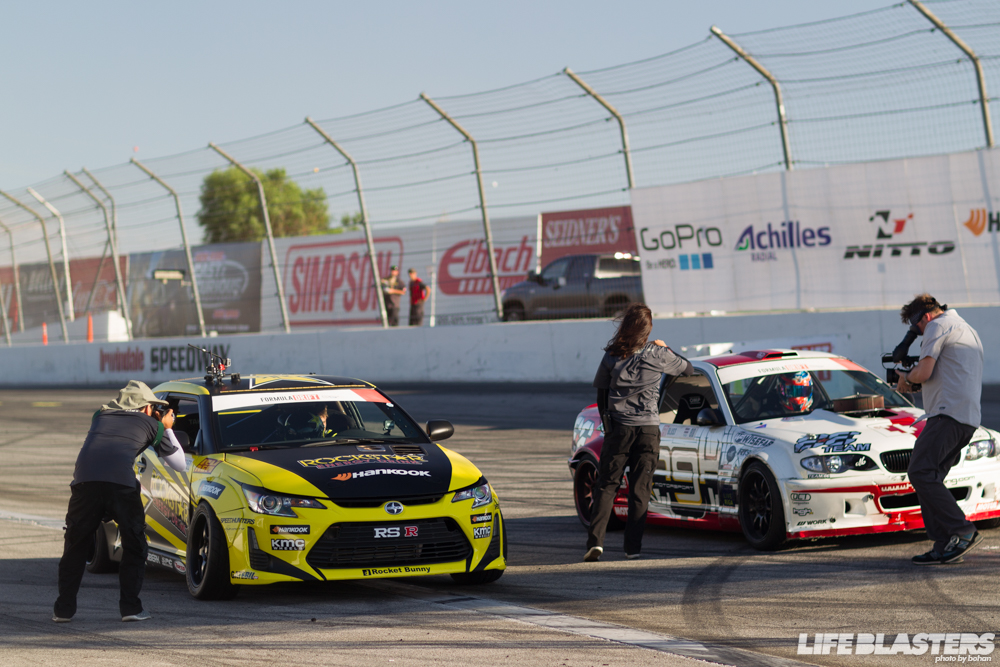 They got the track cleared and brought the two cars back to the grid and we waited on the judges' decisions. We waited and waited and then waited some more. More than 10 minutes went by. What was taking so long? We were waiting for a commercial break? Were they creating suspense since such an important battle happened so early in the day?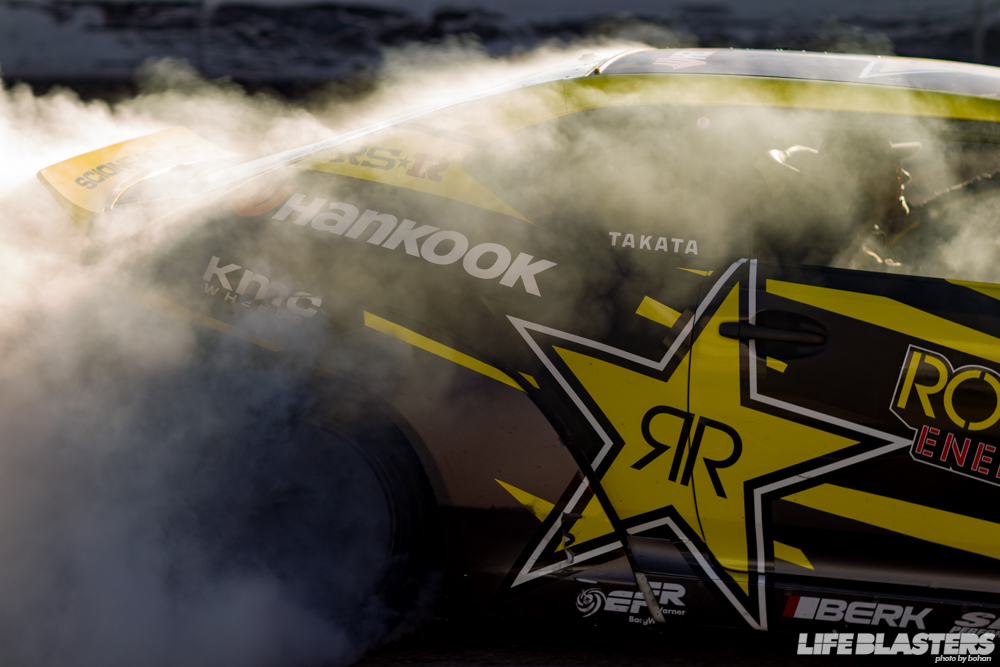 Then the results came in. Andy Yen picked Aasbø. Ryan Lanteigne picked Aasbø and just like that we had a champion doing donuts. Hang on though, there was one more judge. Not that it mattered, but Brian Eggert also picked Aasbø. It was unanimous!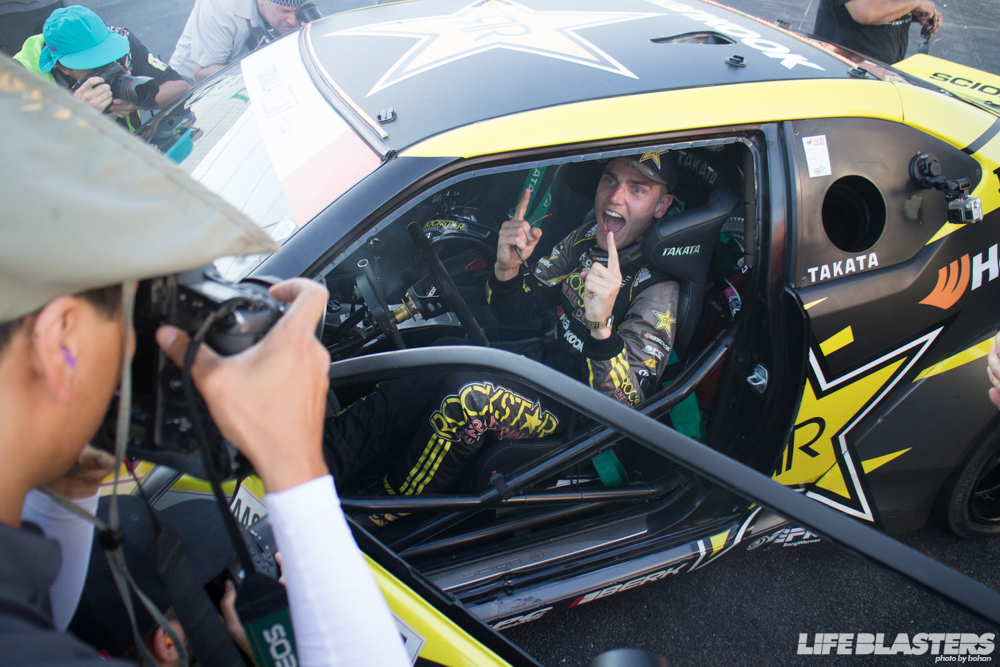 Half the people on the grid ran over to the tC to congratulate the Norwegian Hammer on his first championship, get some photos, and do interviews. Oh, the event was still going on and the next battle was happening? Never mind that, this is where the story was.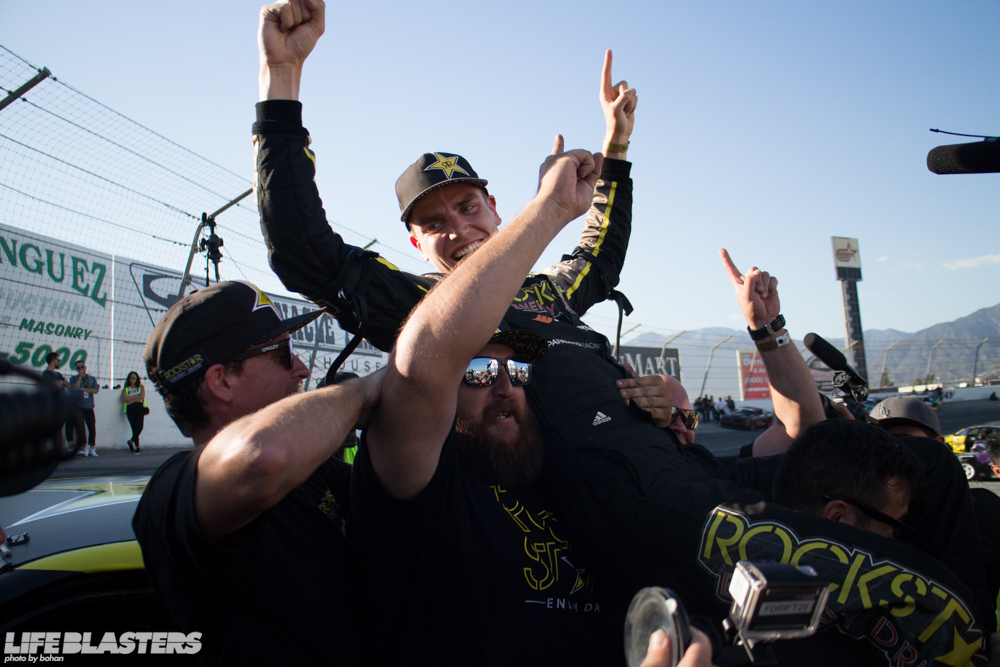 Fredric Aasbø was the happiest guy in the world, and the night was young.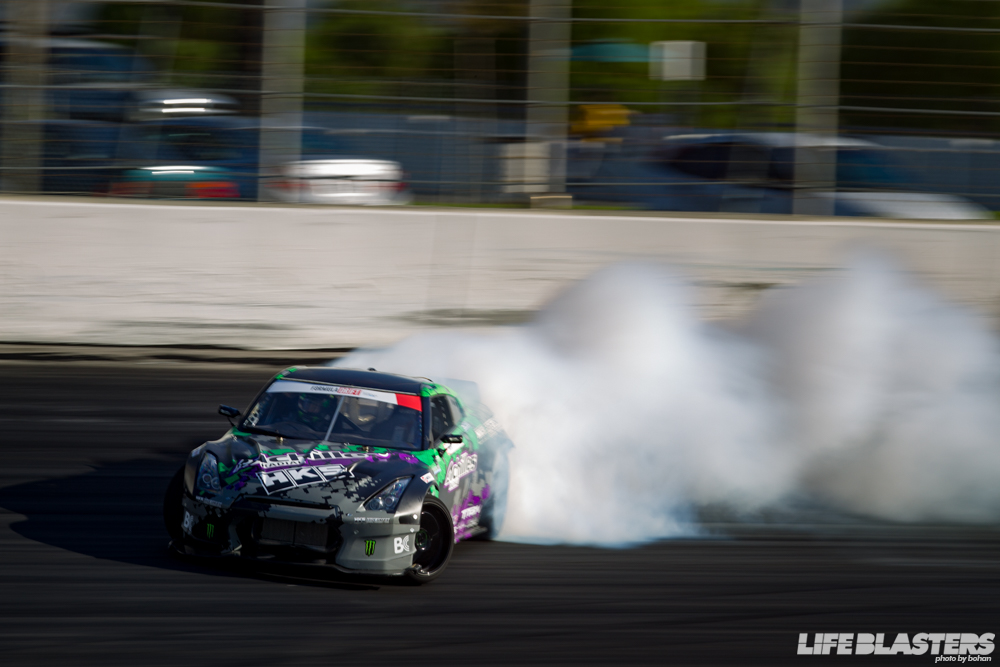 The battle that was happening during the celebration was Daigo Saito beating Pat Goodin. That meant Aasbø would be facing Saito in the Top 16. Keep in mind Saito was undefeated at Irwindale. He had won 15 consecutive battles in three years, and winning against Goodin made it 16.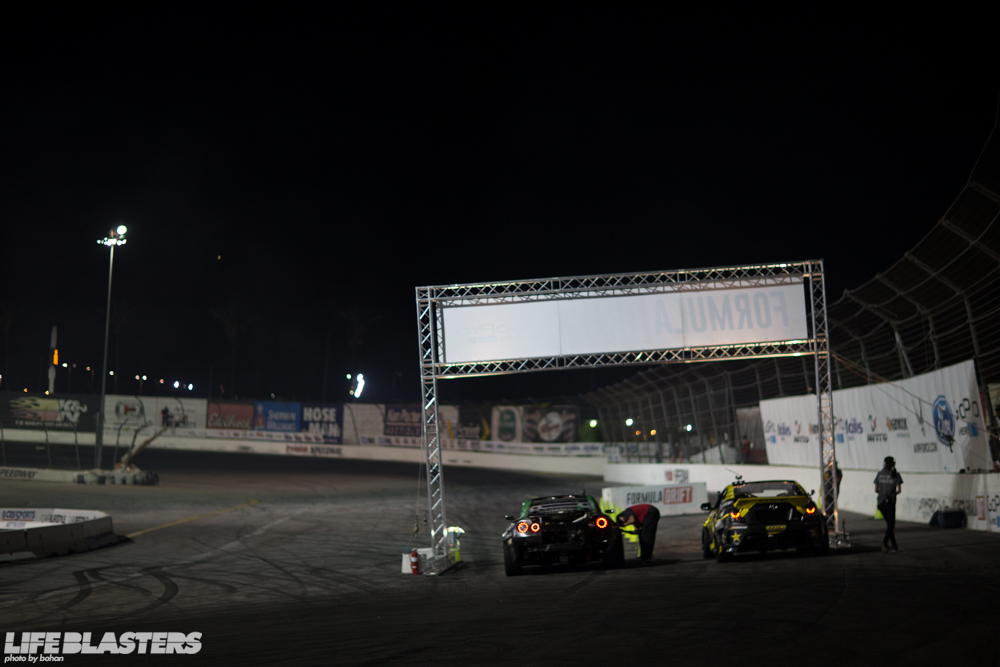 Aasbø had beaten Saito before, so it wasn't that much of a stretch that he could beat him again here. It would be the ultimate payback for the defeat last season that cost Aasbø the championship. But there's that pesky pattern problem again. Going off the previous three years, Daigo Saito should never lose at Irwindale, ever. But he had a new car this year, and patterns like that can't last forever.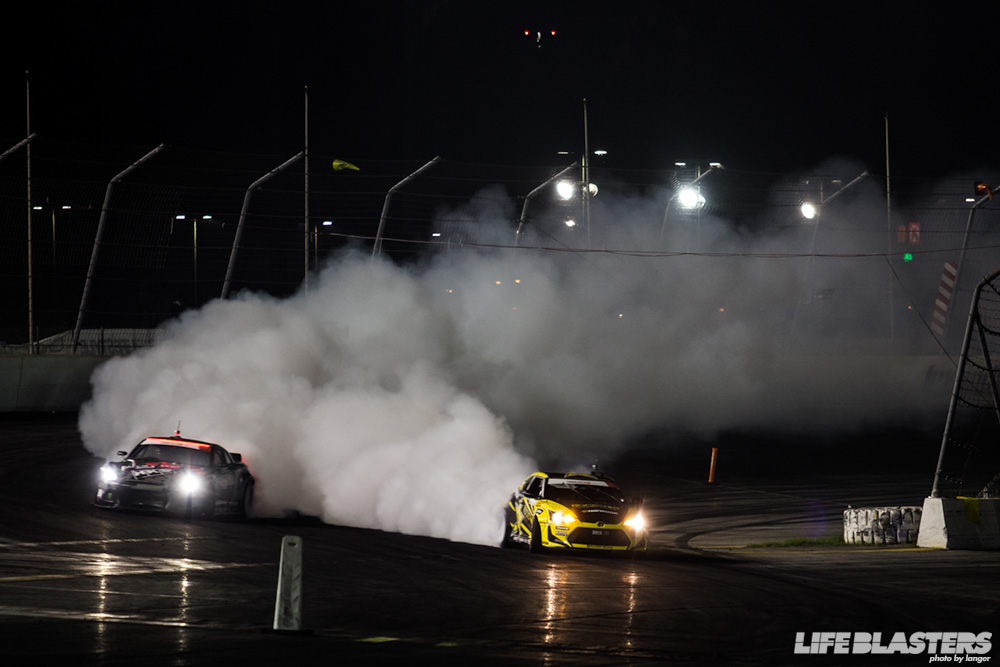 And it didn't. Daigo Saito made a huge error and flew off the end of the big bank. Still, he had lost at the hands of Aasbø, who was already the champion and had absolutely nothing riding on this battle.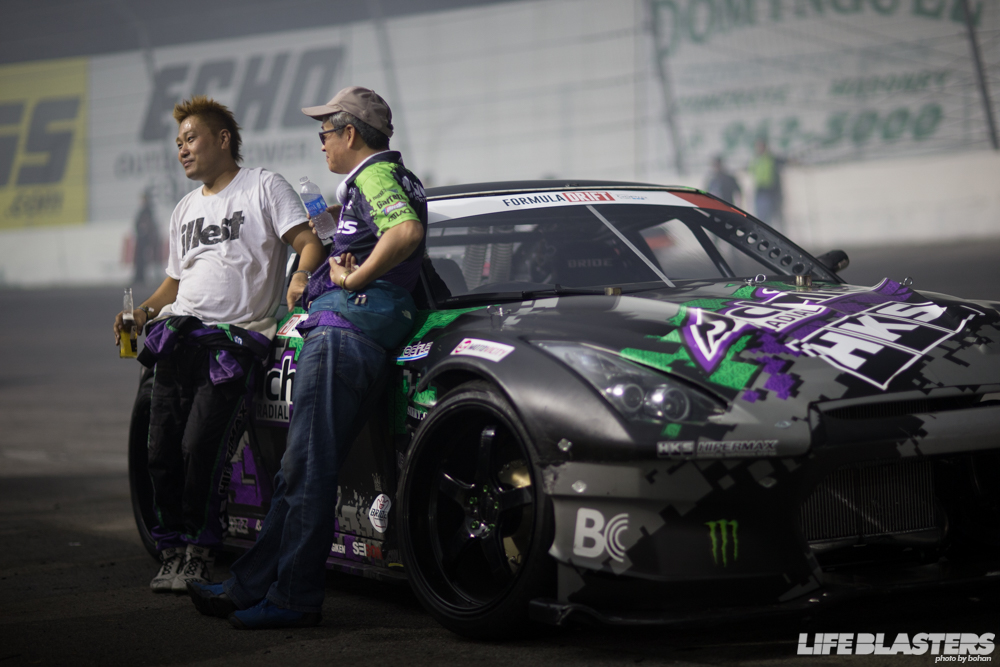 You can't win 'em all.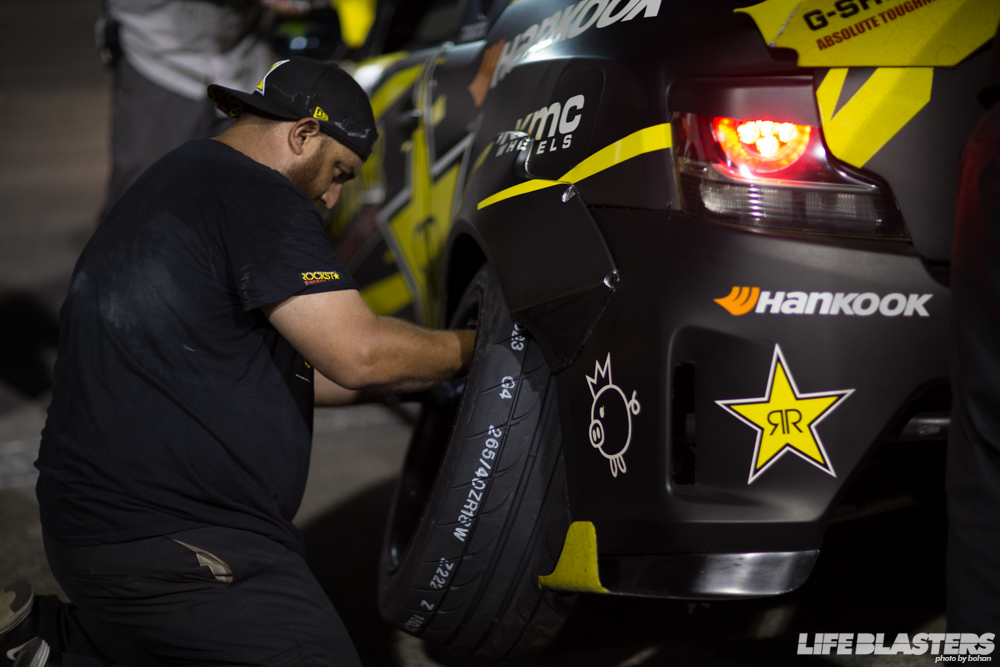 Aasbø's crew casually changed the car's tires and he lined up with Mad Mike Whiddett.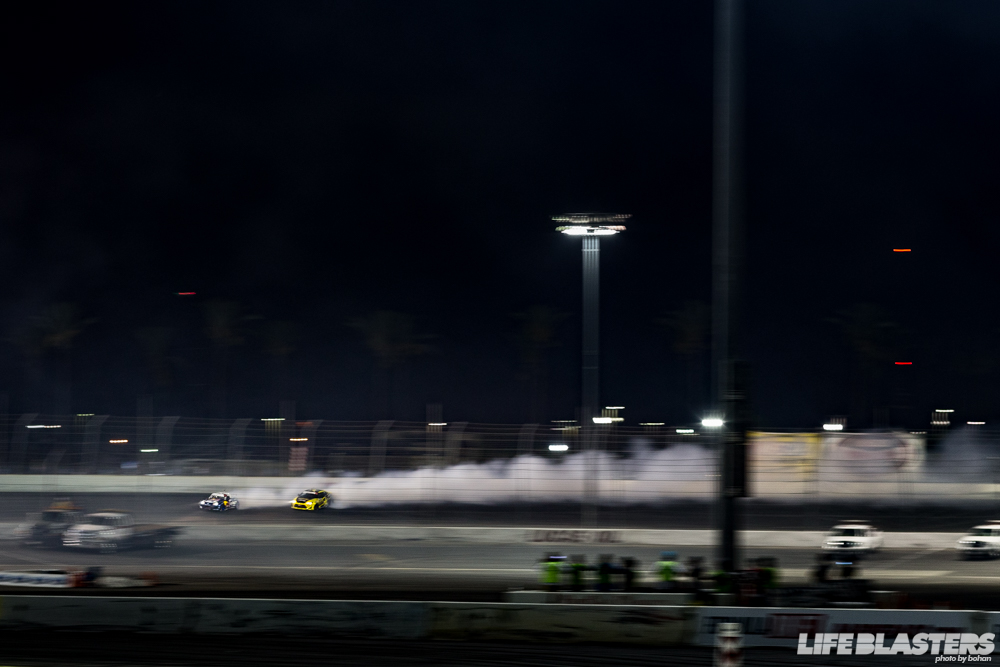 Mad Mike is always a crowd favorite but his driving has only been so-so this season. Aasbø easily moved past the Kiwi and into the Final Four.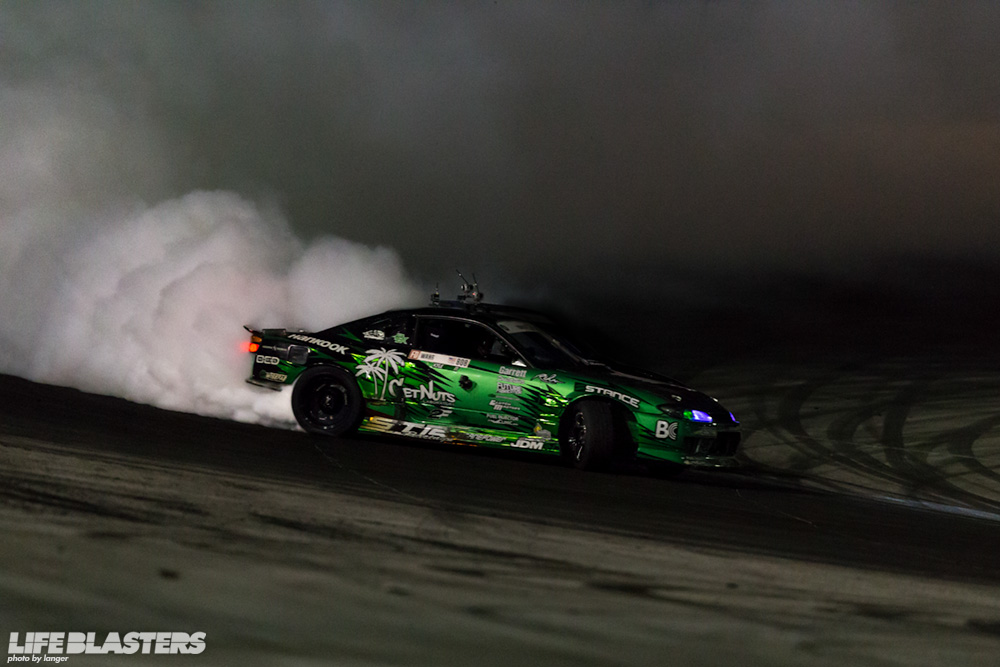 Forrest Wang would be a little bit tougher opponent. Not only has he too been improving, but he finished on the podium at Irwindale last year and was the top qualifier at this track for the second year in a row. He did put up a fight, but Aasbø got his fourth win of the night. There was only one more battle to go.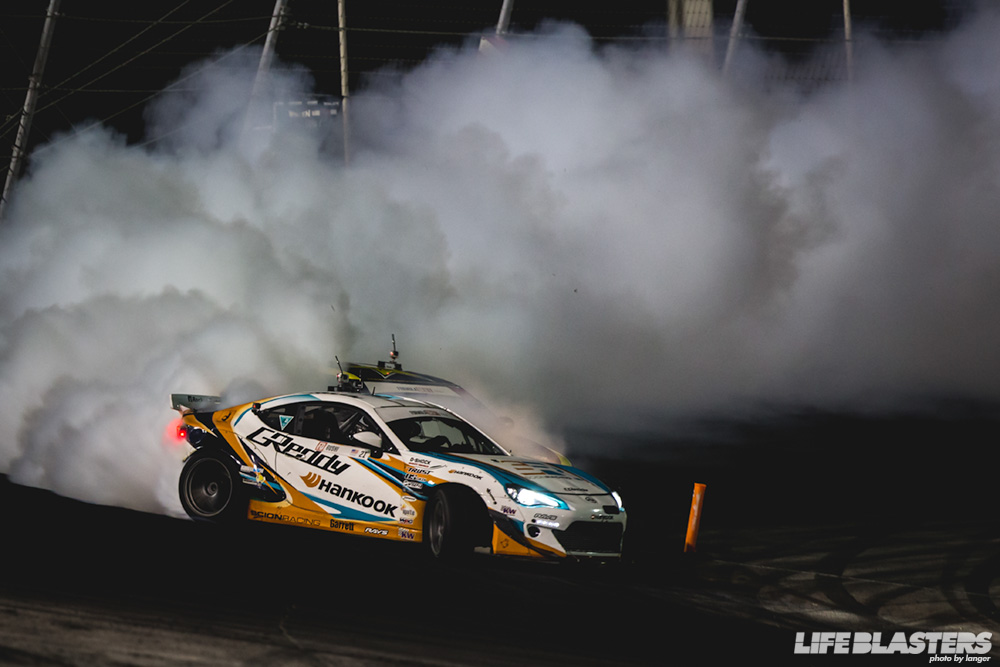 Ken Gushi, if you recall, was the only driver with enough points going into competition on this day to threaten Aasbø's championship, and only if he performed flawlessly. Well, his performance was everything it needed to be, and even though Aasbø had already won the season, Gushi was trying to win the round. As the third qualifier, he got past Castro, Essa, Ng, and Pawlak only to face his Scion/Hankook teammate in the final battle. No matter what the outcome was, he'd be second for the season, but he was still chasing that elusive single event victory that he hadn't seen since 2005.

Aasbø on the other hand, was still busy putting together the greatest night of his life. Winning the championship is amazing enough by itself, but winning at Irwindale would be the icing on the cake.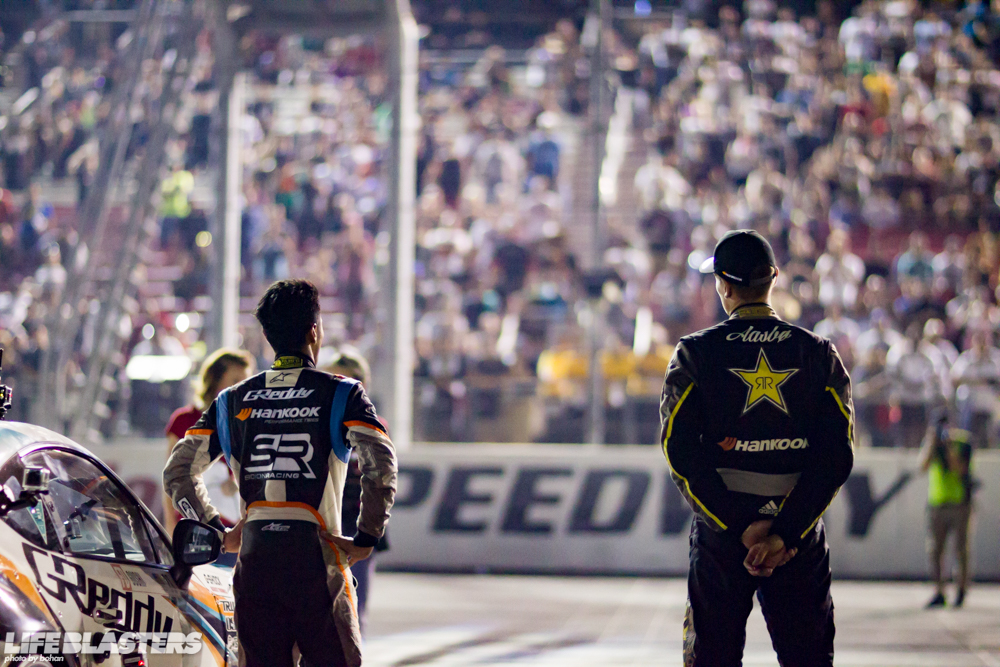 Jarod DeAnda loves to build suspense by giving the crowd useless clues. The winner drives a Scion. Everyone laughed. On Hankook tires. More laughter.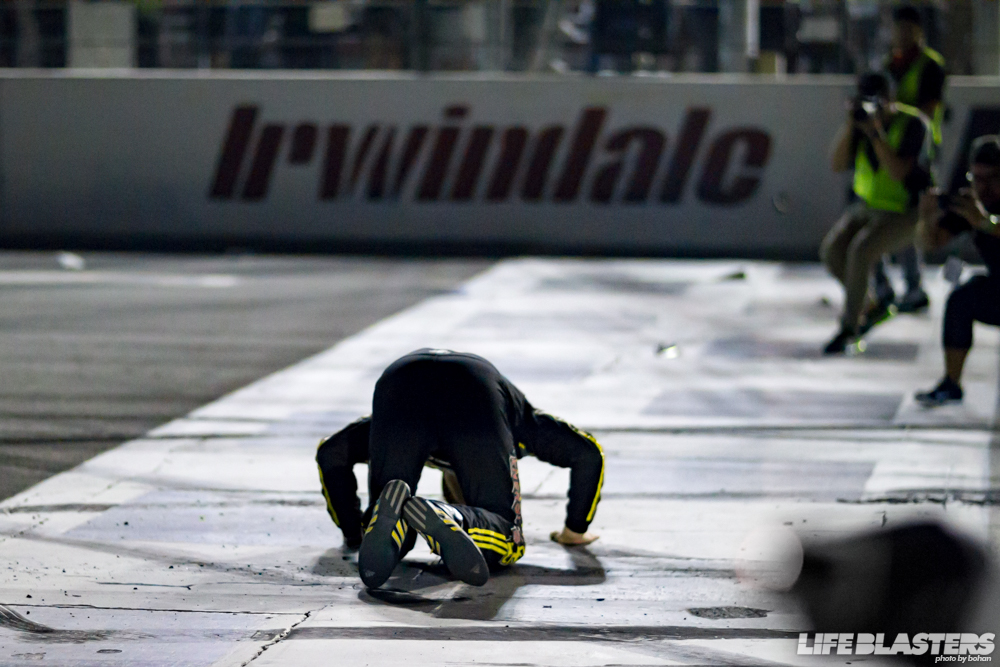 His name is Fredric Aasbø, and he could hardly believe it.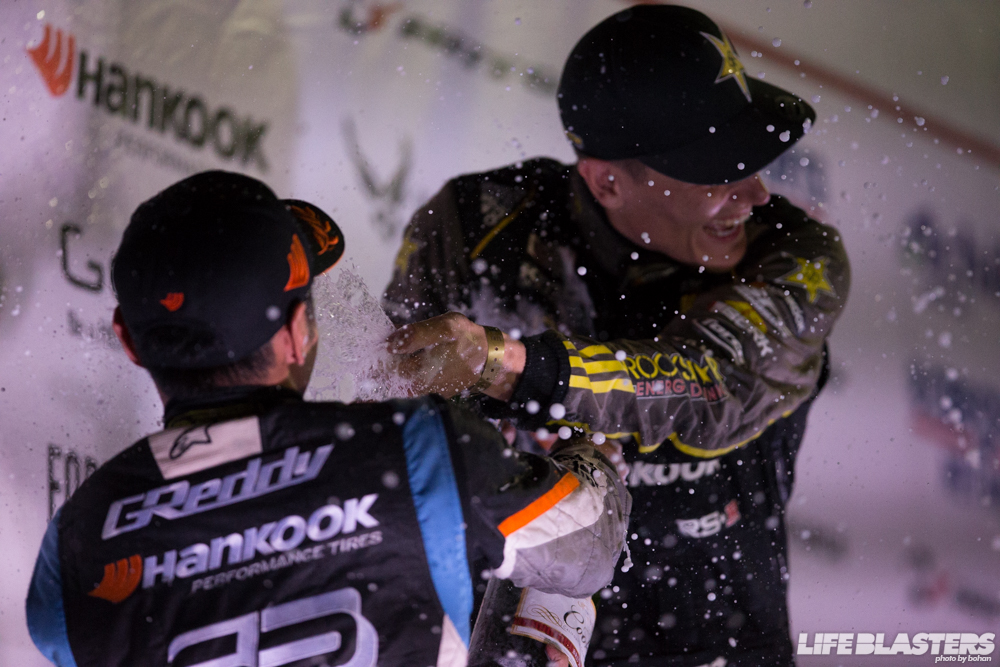 Aasbø and Gushi went 1-2 in both this round and for the season. That's a heck of a result for both Scion and Hankook. Forrest Wang finished third for this round, completing the Hankook podium sweep.  This is Norway's first FD championship, though it's anything but new for Scandinavia. Swedish driver Samuel Hübinette won Formula D's first season in 2004, and again in 2006.
So what's next?
.:Bohan
Photos by Langer, Pitts, and Bohan
instagram: @lifeblasters