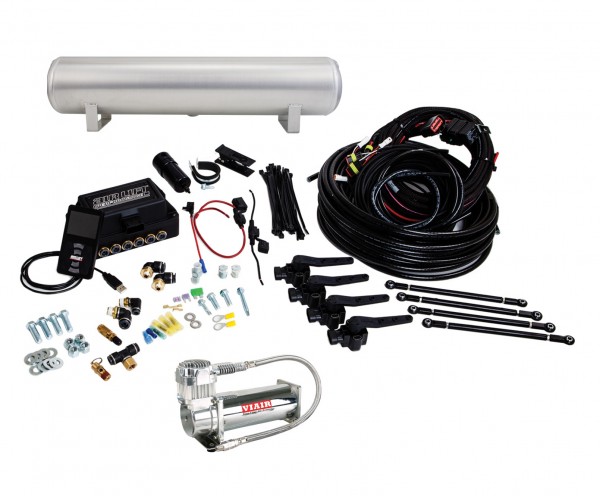 NEW GAME-CHANGING AIR LIFT PERFORMANCE 3H AIR SUSPENSION
SYSTEM PROVIDES ADVANCED HEIGHT AND PRESSURE CONTROL
LANSING, Mich. – Air Lift Performance, a leader in high-performance air suspension systems, has taken air management technology to the next level with the new Air Lift Performance 3H system. A powerful, reliable height and pressure system, 3H is the most advanced product ever created by Air Lift Performance.
A result of three years of development and testing, the new 3H system combines pressure-based control with ride height sensing technology to factor both height and pressure together, so the right height can be achieved without radical differences in pressure. With up to five custom presets, the system quickly adjusts to and maintains height and/or pressure with the push of a button.
 The 3H system is designed to improve the way consumers interact with their vehicles. The user-friendly controller, with a black, anodized, billet aluminum casing, features a full-color display with adjustable backlight  for at-a-glance status of height and pressure conditions, tank pressure displays, and four corner height or pressure readings for individual air springs. The buttons on the soft-touch keypad provide physical feedback so the system can be adjusted without having to look at the controller.  The controller can be dash-mounted or installed in any custom configuration, with a micro-USB cable flush-mounted on the back of the controller to maintain a low profile.
An innovative alternative to using the controller is the free mobile app available for iOS, and coming soon for Android devices, which communicates directly with the manifold. No additional components are required, and users receive the latest system firmware updates through the app over a Bluetooth connection.
The compact, fully-integrated manifold features advanced 32-bit processing power to drive the height and pressure algorithms for precise four-corner control.  A unique, angular sensor arm provides improved height-sensing, reduced tension and increased sensor life. It has been torture-tested over 3,000,000 cycles, simulating 300,000 miles driven, for maximum performance. Air Lift Performance also conducted rigorous environmental testing on all hardware and software. The manifold and controller were baked to 167 degrees Fahrenheit (74 degrees Celsius), and chilled to minus 40 degrees Fahrenheit. To ensure the manifold will stay free of water and dust, a 1,500 PSI water spray test was performed, and 100 percent of manifolds produced are end of line tested using advanced validation equipment.
To handle changes in load or driving conditions such as cornering, the system's anti-cross loading and axle equalization allows the system to consider both height and pressure measures together, to achieve the right height at the right pressure.
 The 3H features a show mode that allows users to turn the car off and continue to control the system with the controller or the free mobile app. A rise on start function allows users to turn the key and the system takes the car right to the programmed ride height.
 For clean and easy installation, the 3H system's key components require less drilling, wiring and take up less space than other air management systems. The user-friendly focus of the 3H system continues after installation with easy to follow calibration documents and intuitive controller menus.
Created to offer maximum system value, the 3H system comes with everything for height and pressure control, and can be connected to existing, compatible height sensors. Users can also start with the Air Lift Performance 3P pressure-based system and then upgrade to the 3H system.
Air Lift Company supports the Air Lift Performance 3H and 3P control systems with a Limited Lifetime Warranty to the original purchaser against any manufacturer defects.  To learn more and see the 3H in action, visit: https://www.airliftperformance.com/product-lines/3h/.
About Air Lift Company
Air Lift Company, founded in 1949, is a third-generation, family-owned suspension specialty company based in Lansing, Mich.  Air Lift Company is committed to engineering, manufacturing and selling the highest quality suspension product kits that fit, work and last.  Air Lift Performance products are available at retailers across the country as well as internationally.  For more information, contact Air Lift Company by calling (800) 248-0892, or http://www.airliftperformance.com/.