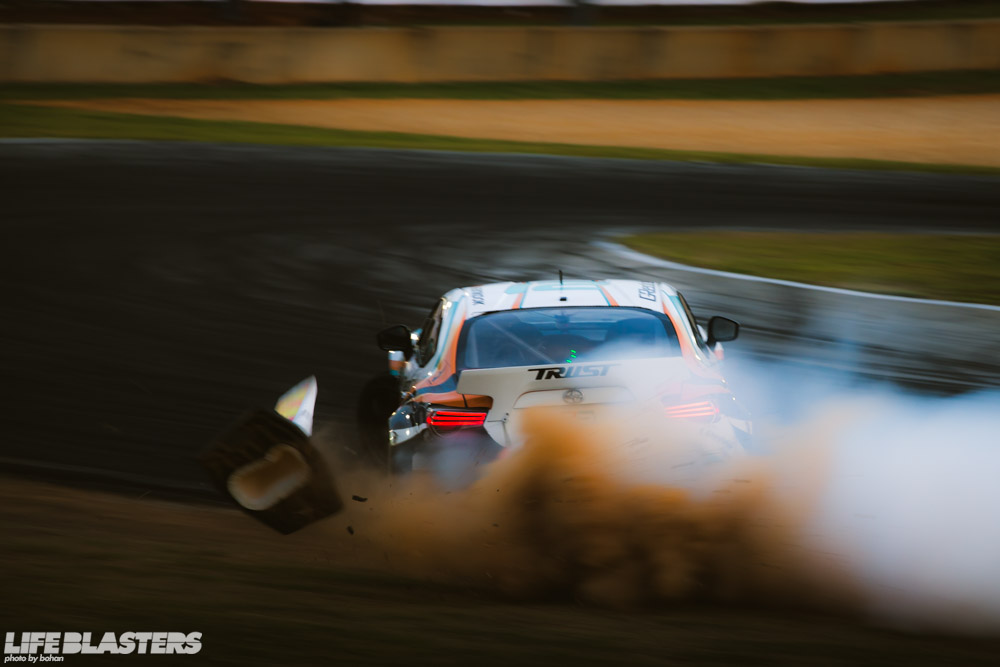 After some time to reflect, I still think this was the best round of Formula D I've seen to date. Jersey last year was a good one, as was Irwindale in 2011, but this one was the best. For starters, Road Atlanta has always been my favorite Formula D track just from a visual perspective. Throw some good cars, good driving, random freak occurrences, and incredible battles in the mix, and you get a show anyone would want to watch a second time. The only thing that was missing was the rain we had last year!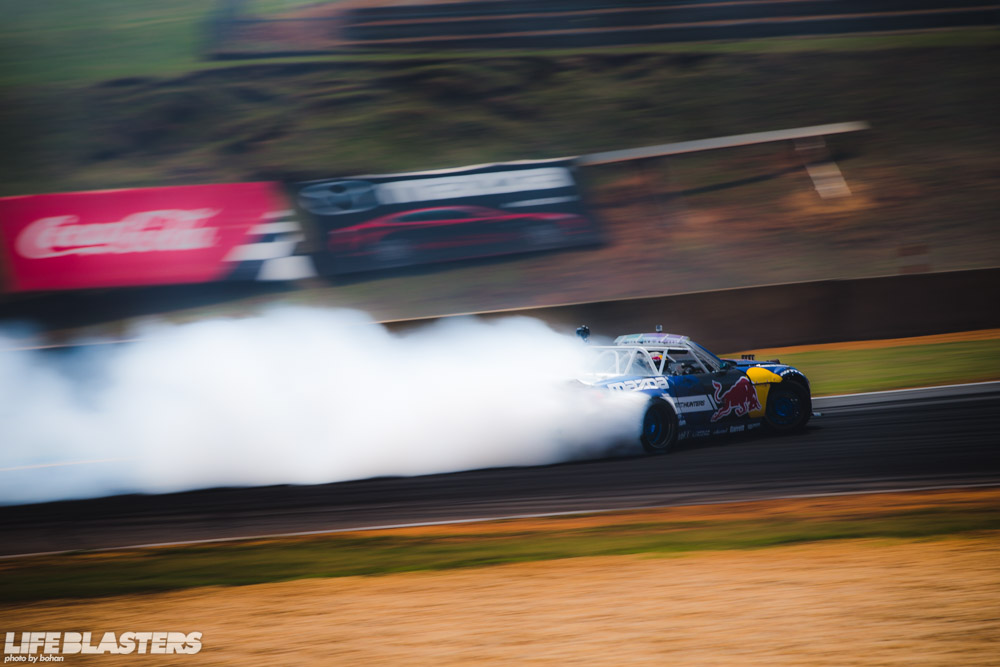 Thursday practice was when Mad Mike Whiddett finally got to unleash the MadBul. I was actually surprised at how quiet it was. The BMI 4-rotor RX-8 had been a much, much louder car.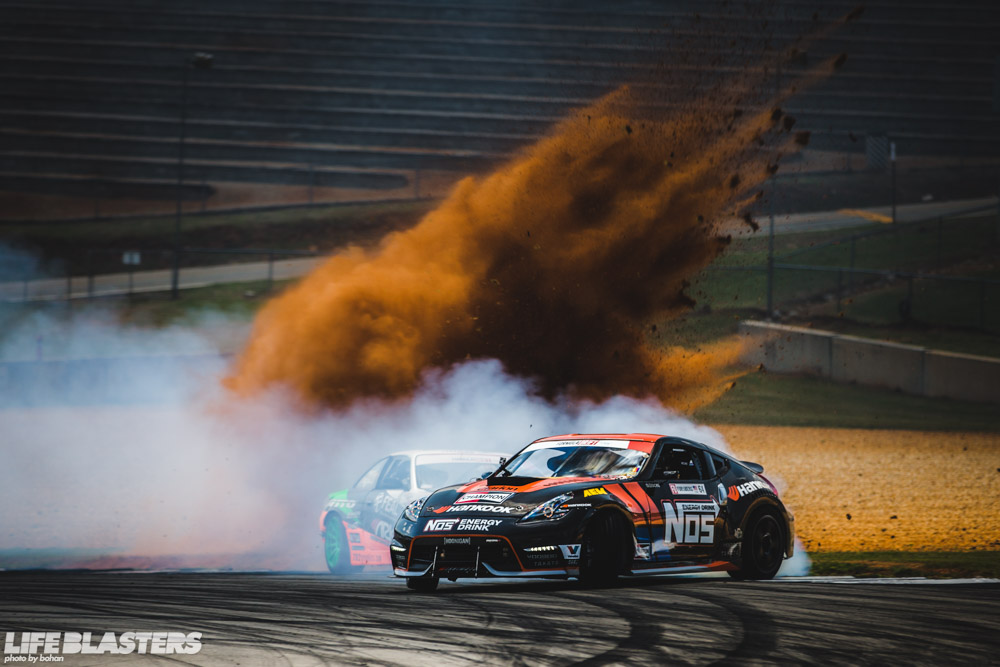 For the rest of the field there wasn't much noteworthy stuff going on. It was just business as usual with the drivers and crews getting the cars set up for this course, which is about as different from Long Beach as you can get.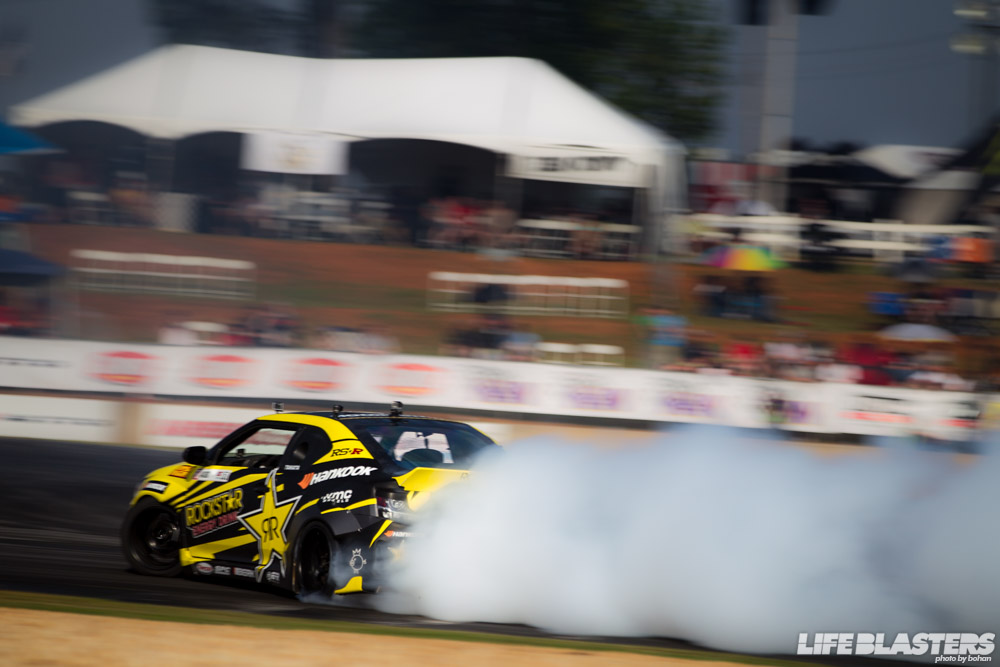 On Friday things were a little more serious. Fredric Aasbø has finished better every season since he came to Formula D, and since he finished second last season that meant he'd be the champion this year if the trend continued. His win at Long Beach certainly pointed that direction, so a lot of eyes were glued to the tC this weekend. He lost the final battle here last year, so everyone knew he had it in him to get at least that far again.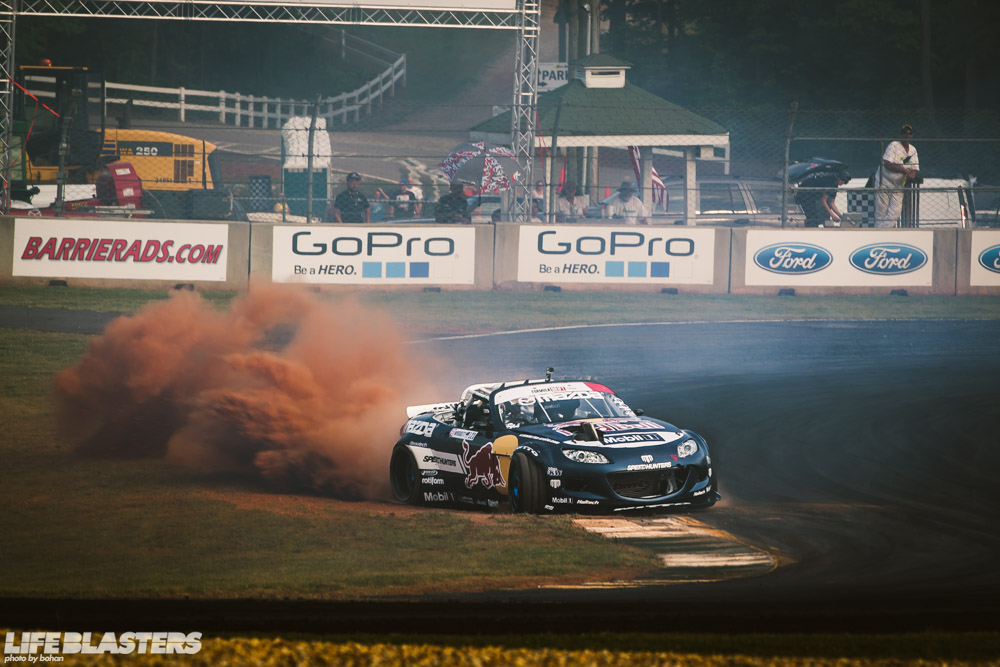 But first we had to go through qualifying. Mad Mike went first since he was unranked.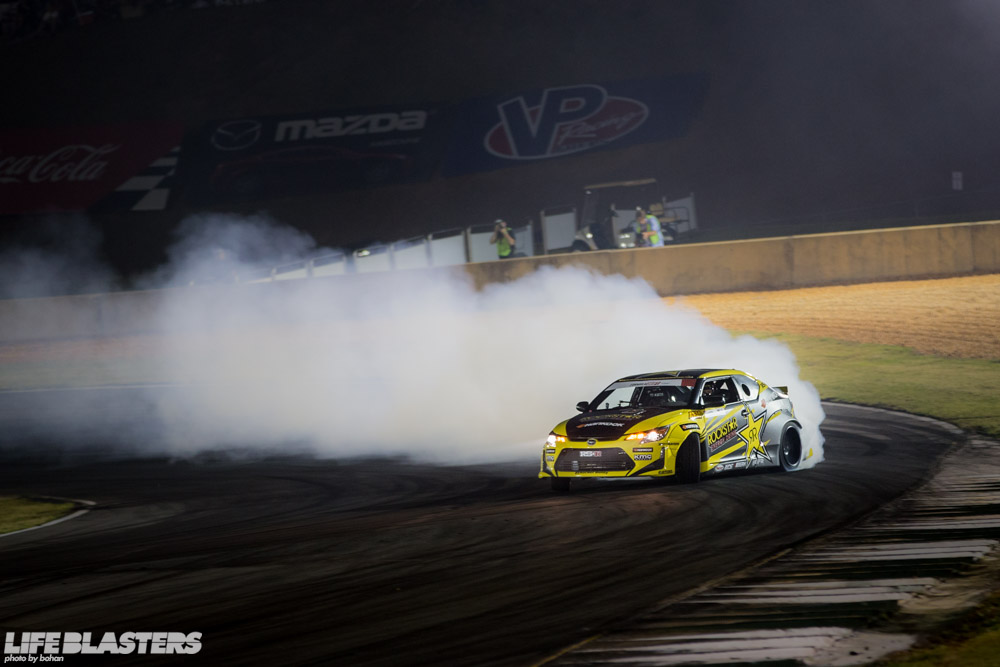 New high scores kept getting posted as the session progressed. Aasbø finished off the first round of qualifying with an 88.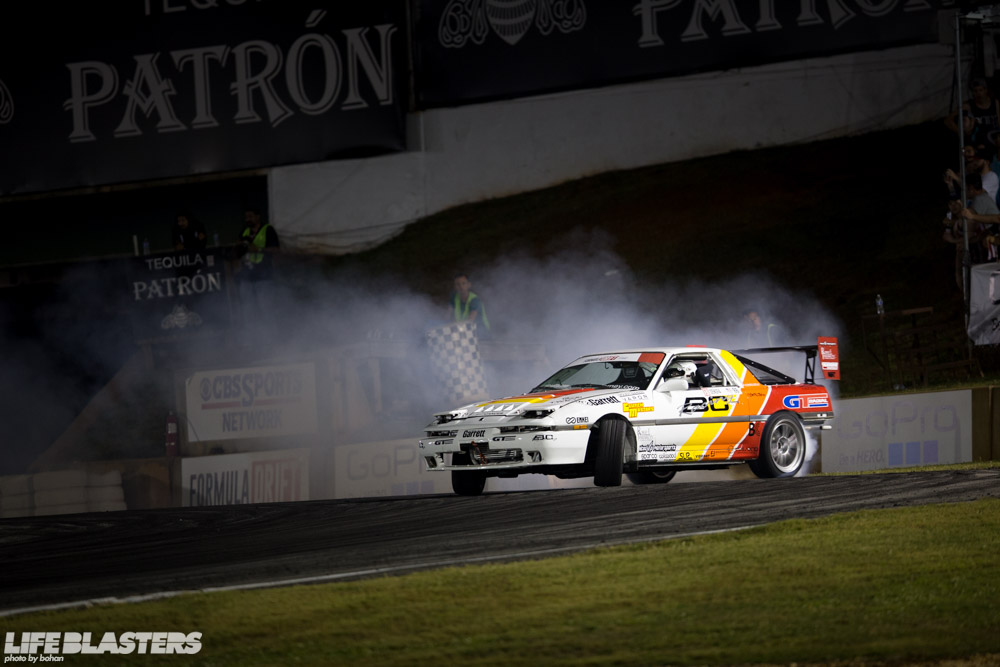 Chelsea DeNofa had missed the first round with an electrical problem, but came out in the second round with his borrowed Supra, running just on battery power. He barely squeezed by with 71 points.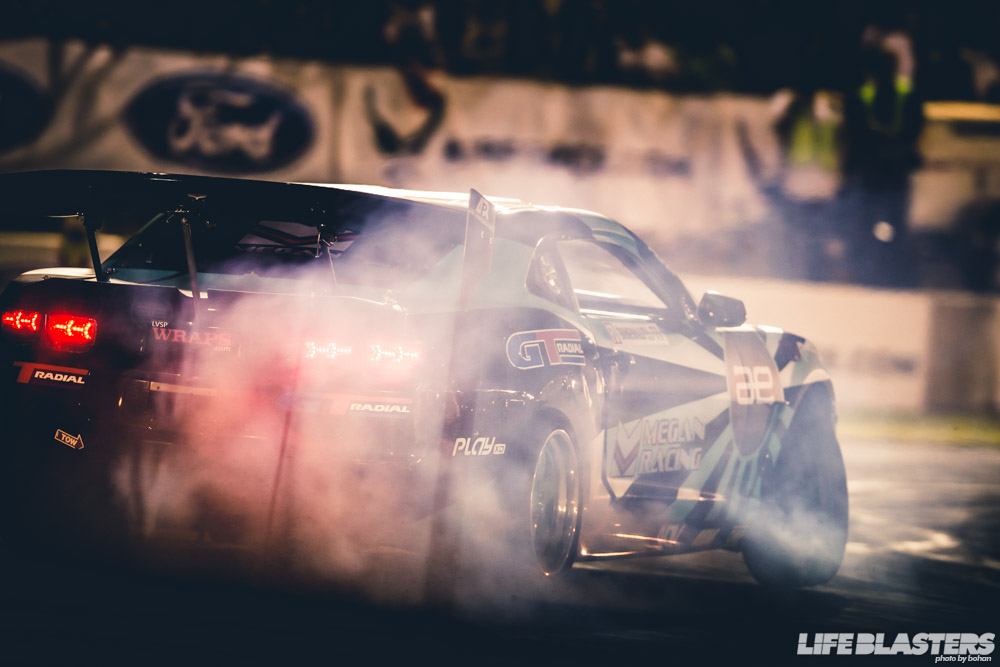 In the second round, Conrad Grunewald was the first to break into the 90s with a score of 91.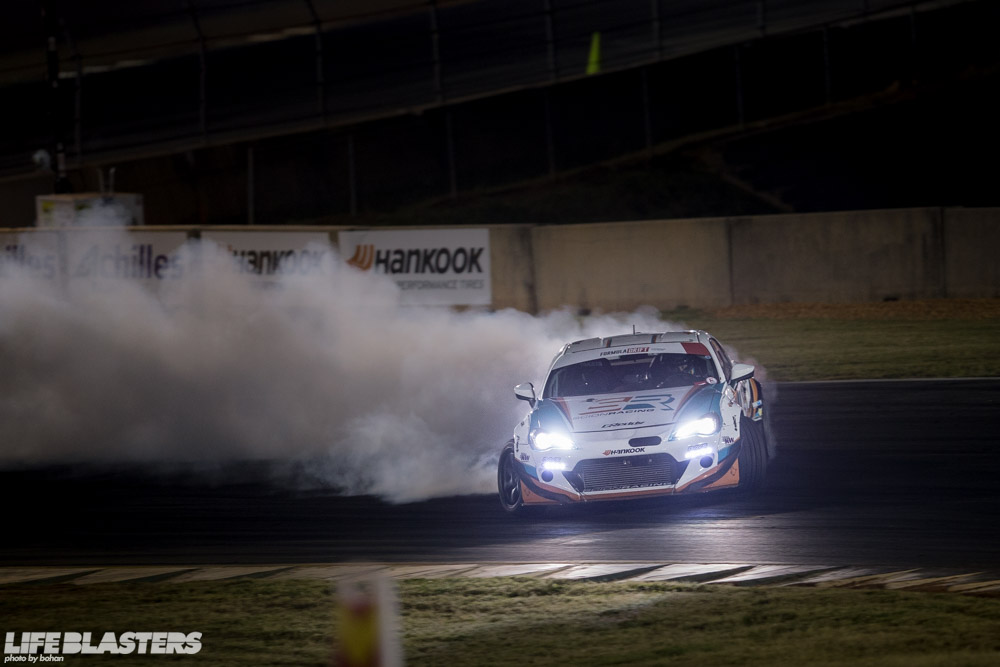 Ken Gushi also got ahead of Aasbø with an 89.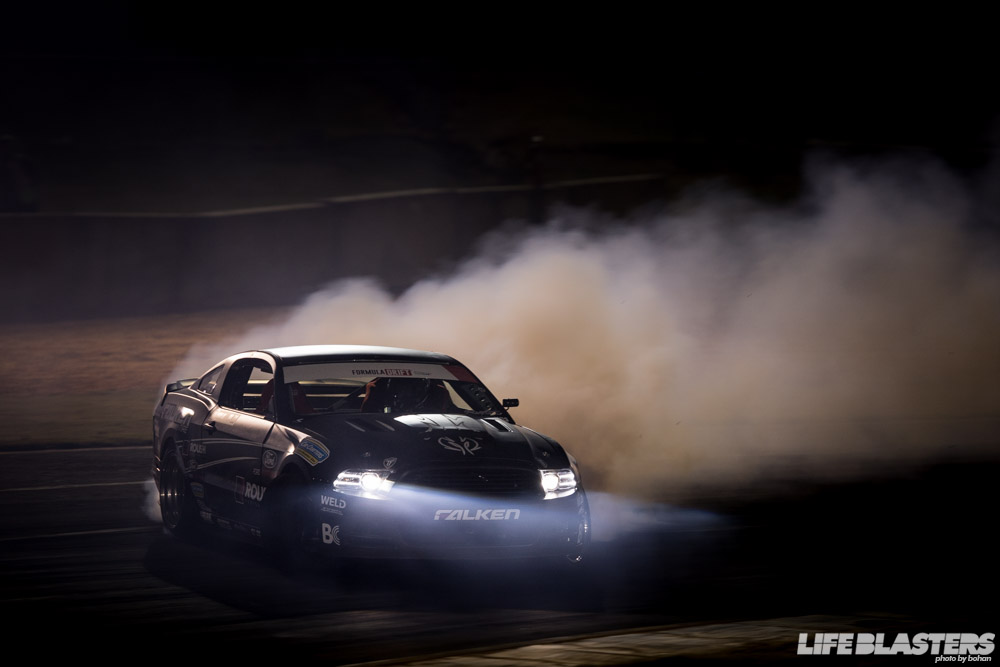 Justin Pawlak turned it up and took the number one spot with a 92.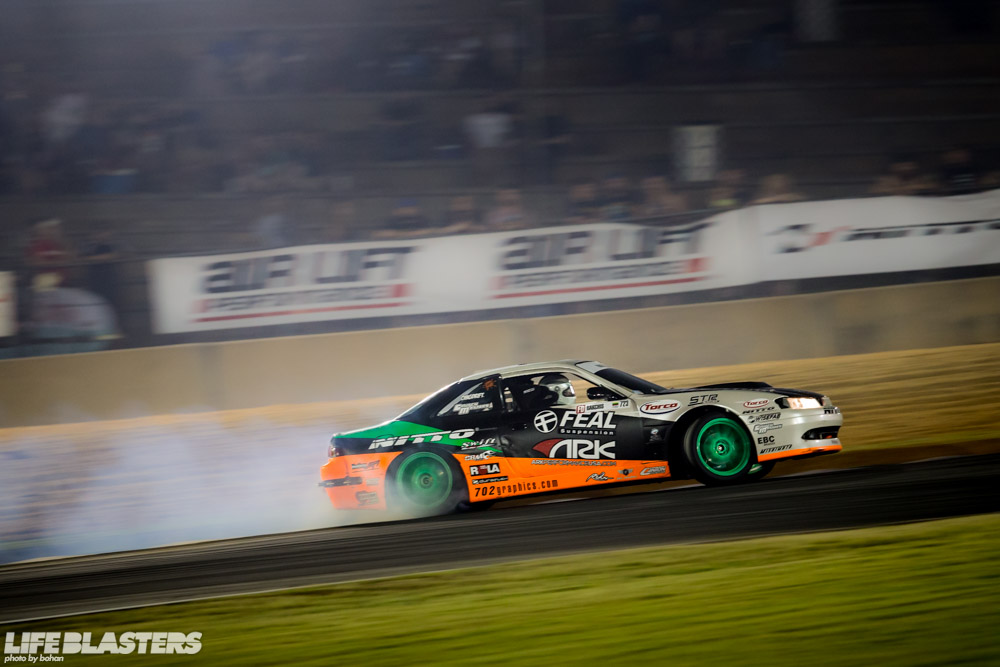 Odi Bakchis came back with an 89, but squeezed ahead of Gushi by one style point.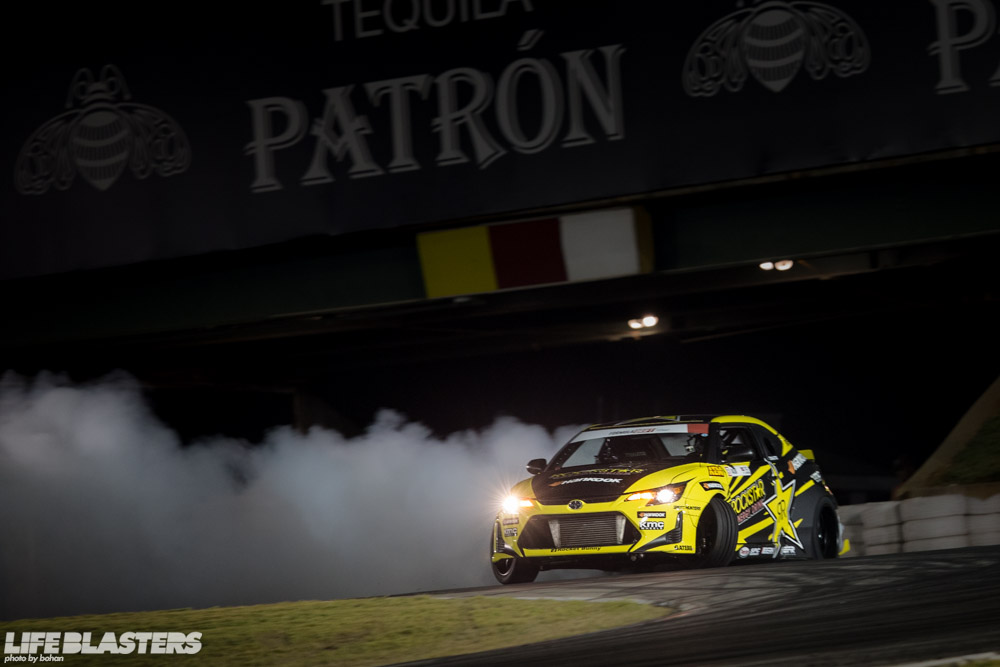 And Fredric Aasbø, not wanting to be outdone, laid down his own 92-point run. He fell short of first place by a single style point though, and Pawlak emerged as the top qualifier.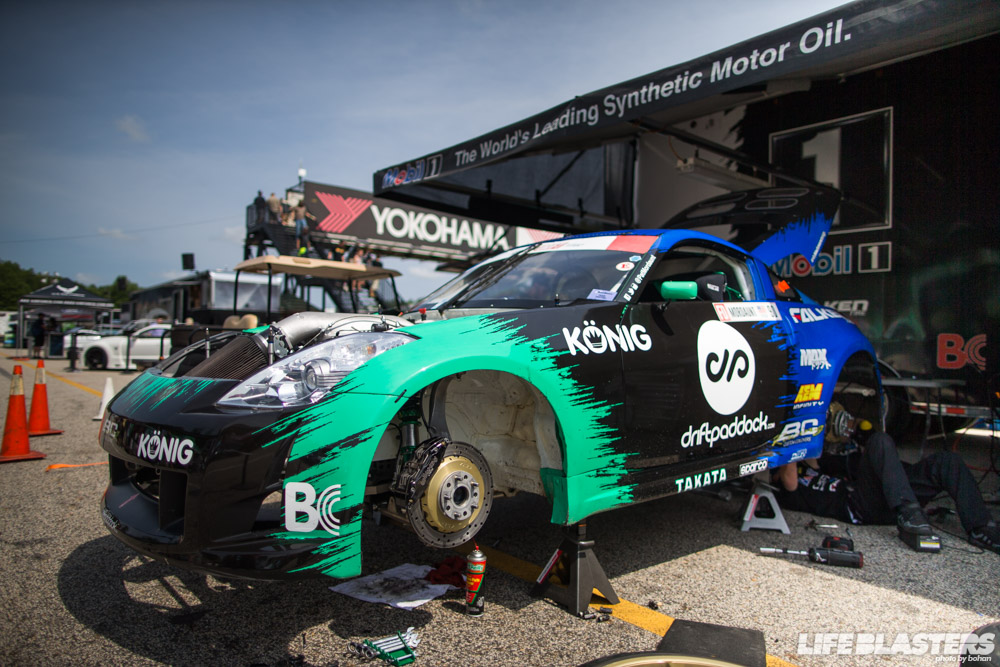 As the Top 32 approached on Saturday, expectations were high and the teams were making last minute adjustments and repairs to the cars.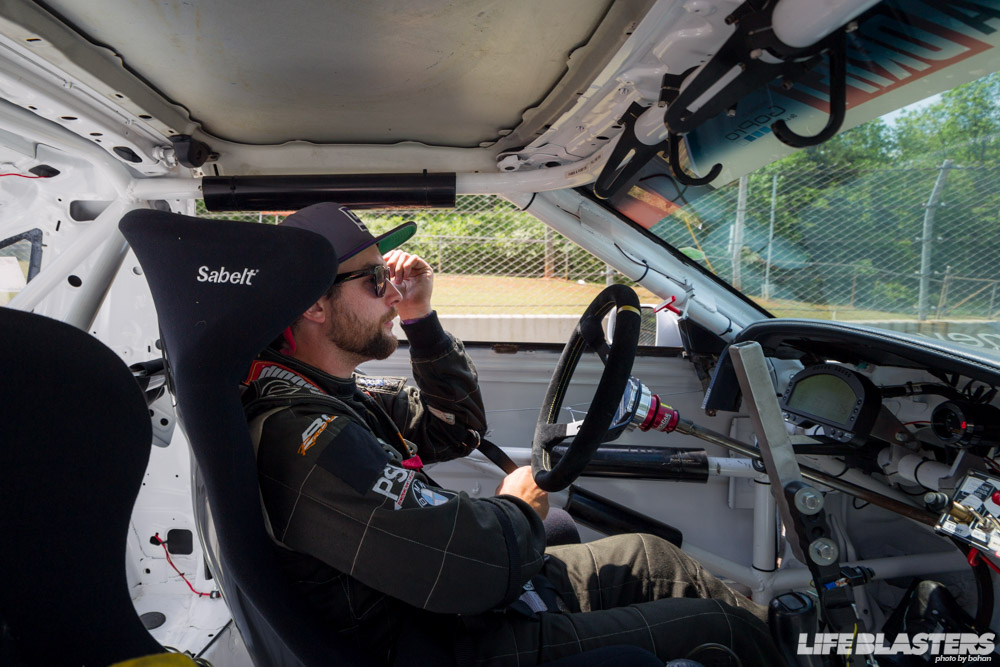 And finally the action started. Well, almost. DeNofa had blown the Supra's transmission so he had to sit back and watch as Pawlak took a bye run.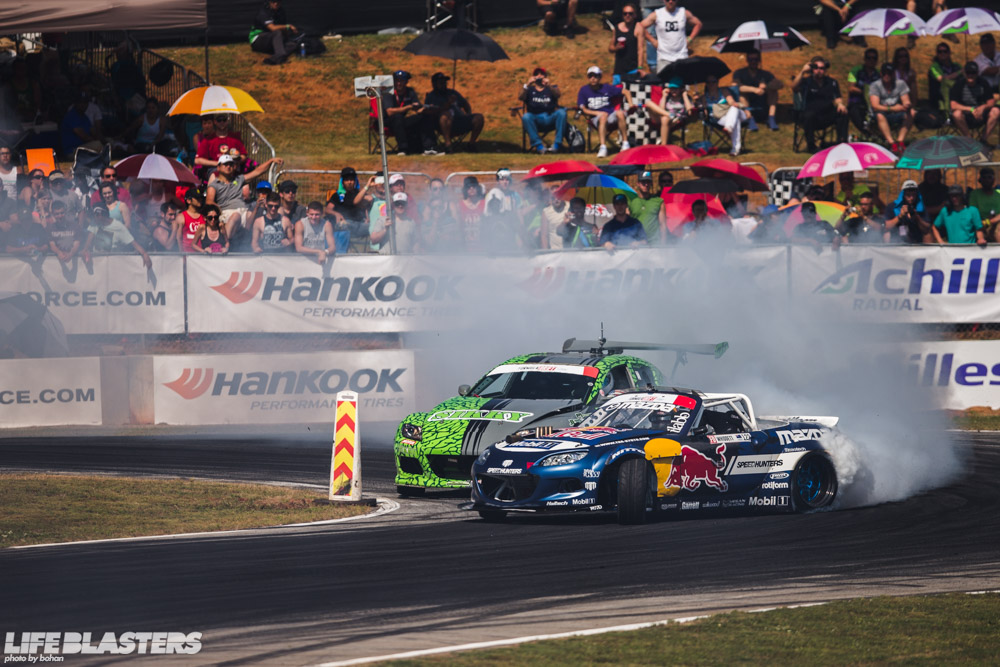 Mad Mike had to get through Rapper Dan Savage if he was going to match the hype his return had created. I thought it looked iffy, but he got the win and made it to the Top 16.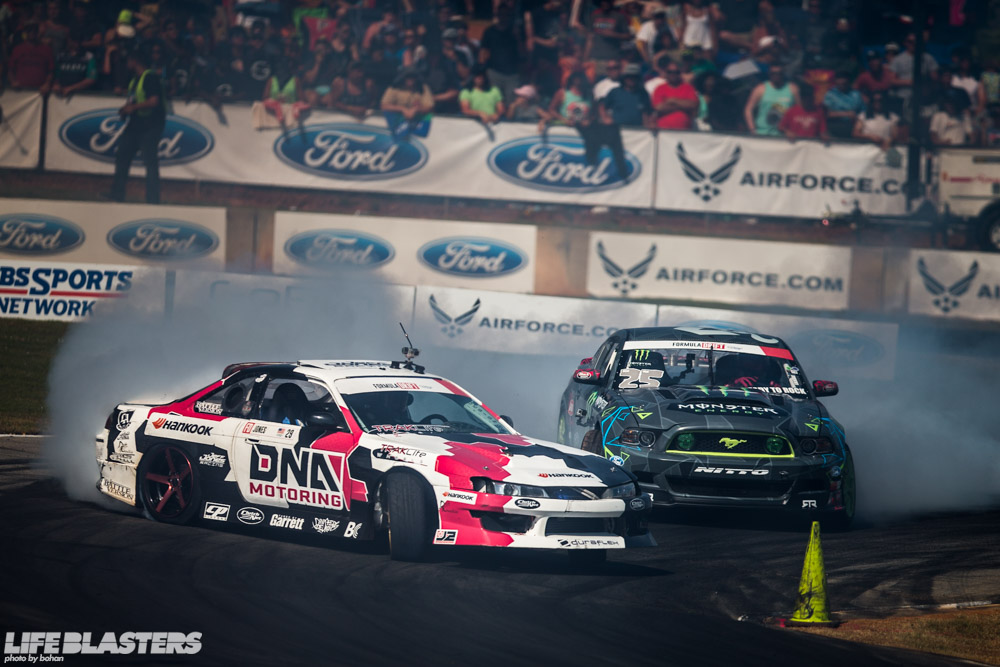 Ever since the incident with Aasbø in 2013, Vaughn Gittin, Jr., has garnered special attention at Road Atlanta. He got one step closer to meeting Aasbø again by defeating Jeff Jones.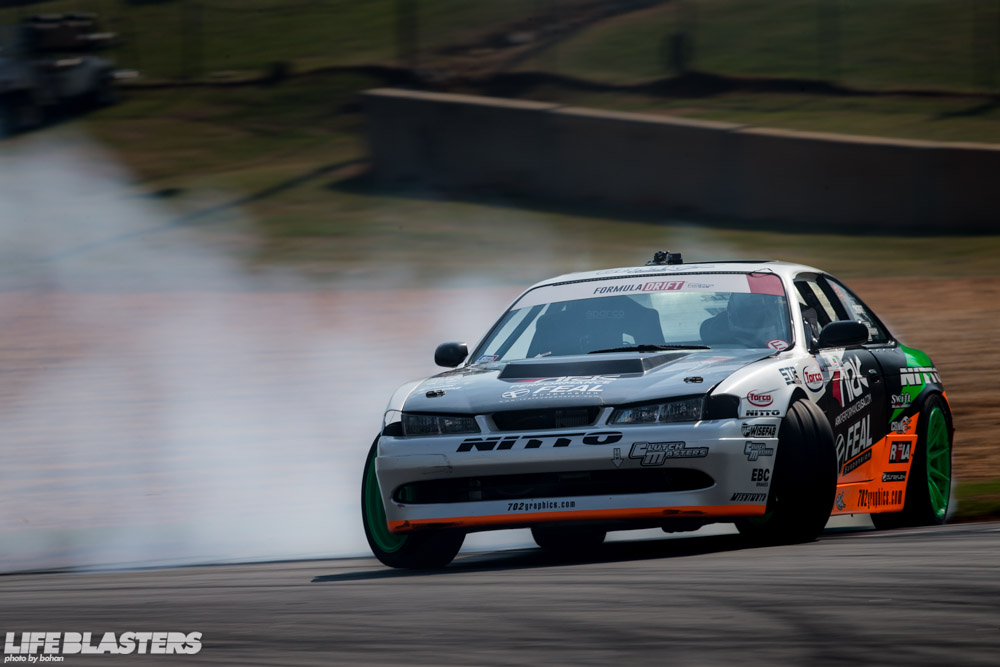 Odi Bakchis, coming off a second place finish at Long Beach, breezed into the Top 16 with a bye run when Jhonnattan Castro couldn't get to the line.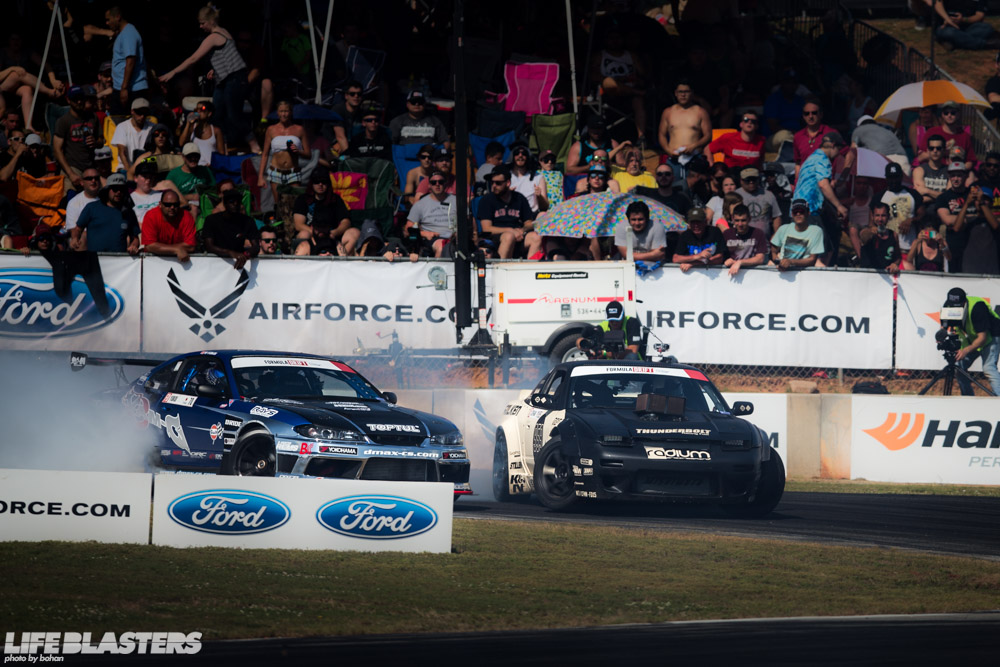 I was hoping Matt Coffman could maintain his reputation as an upset-king, but Mashashi Yokoi had gotten his car sorted since Long Beach and would have none of it.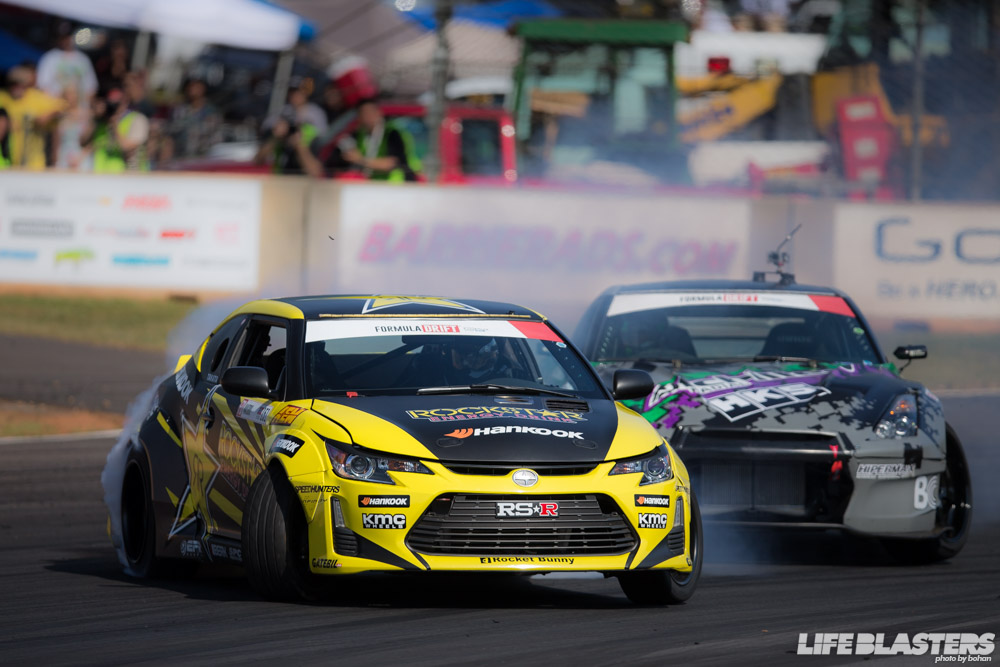 Aasbø vs. Saito was a strange battle to see in the Top 32, as these two generally wouldn't meet until much later in a competition. Remember last year, they met in the Final Battle at Irwindale. This time, Saito was in his new GT-R, had barely qualified, and had no chance of defeating the Norwegian Hammer.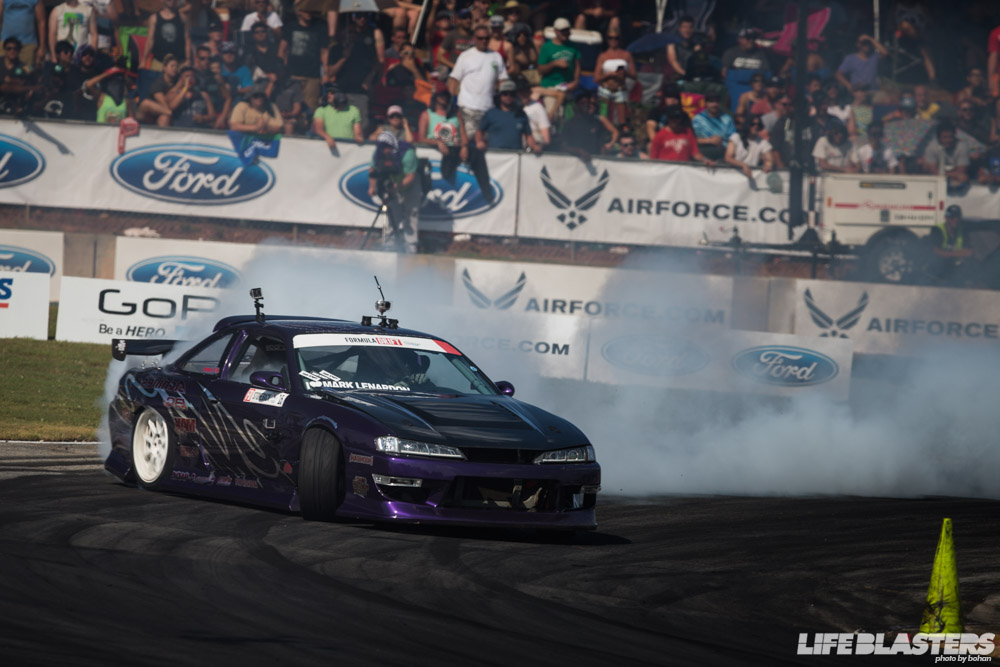 Tanner Foust had one last chance to make his comeback mean something and he couldn't pull it off. Geoff Stoneback proved the new generation is here to stay. I don't even know what happened. Foust just disappeared.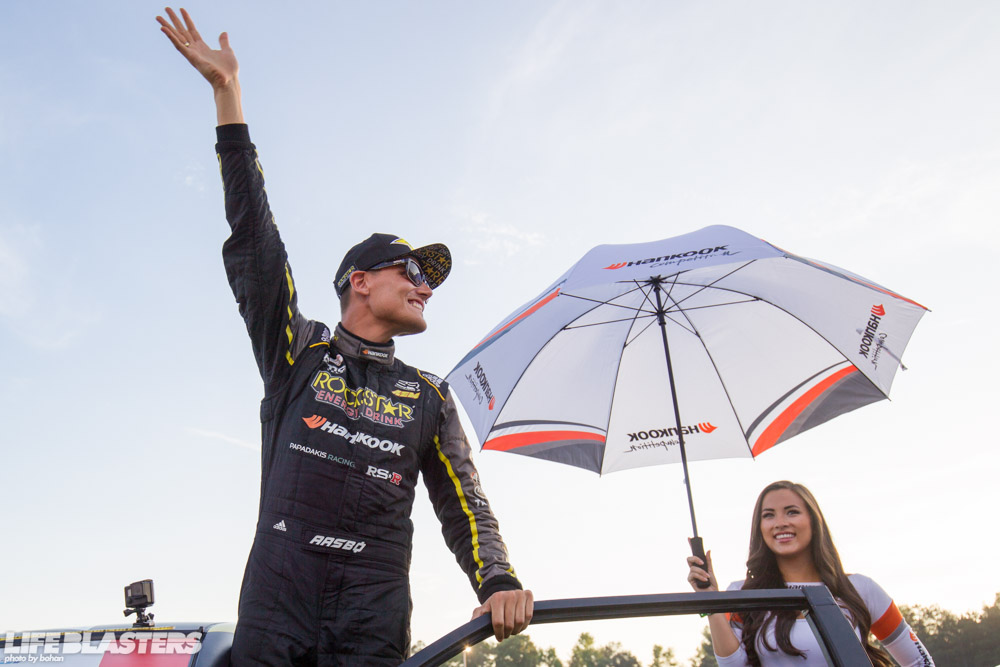 After a pleasant halftime break, the Top 16 drivers lined up for their introductions and we got to the real show.

Justin Pawlak was really laying down up until his battle with Pat Goodin, who had defeated Tyler McQuarrie in the Top 32. Goodin walked away with the win this time too. So much for American Muscle.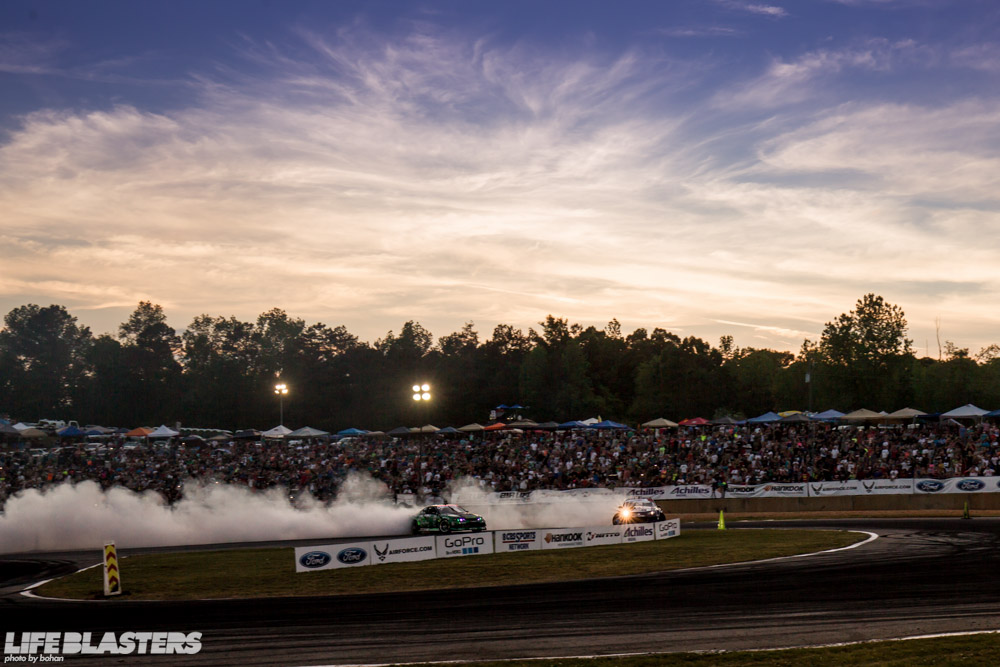 Wang put a stop to Mad Mike's progression, but it wasn't easy. This pair of crowd favorites went one more time before it was decided.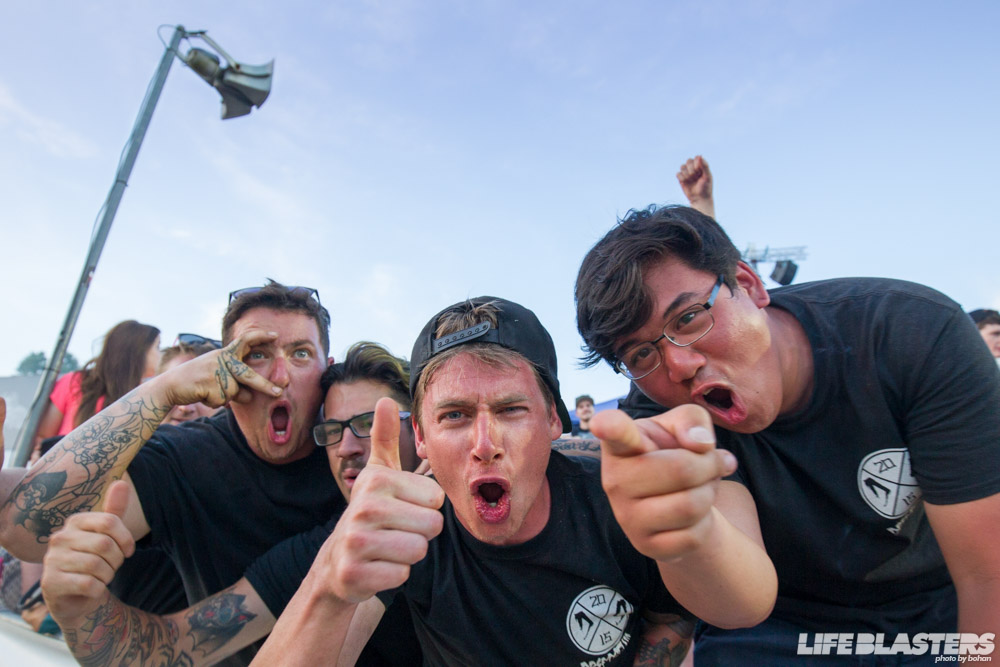 Even though Mad Mike was defeated, the crowd still loved him.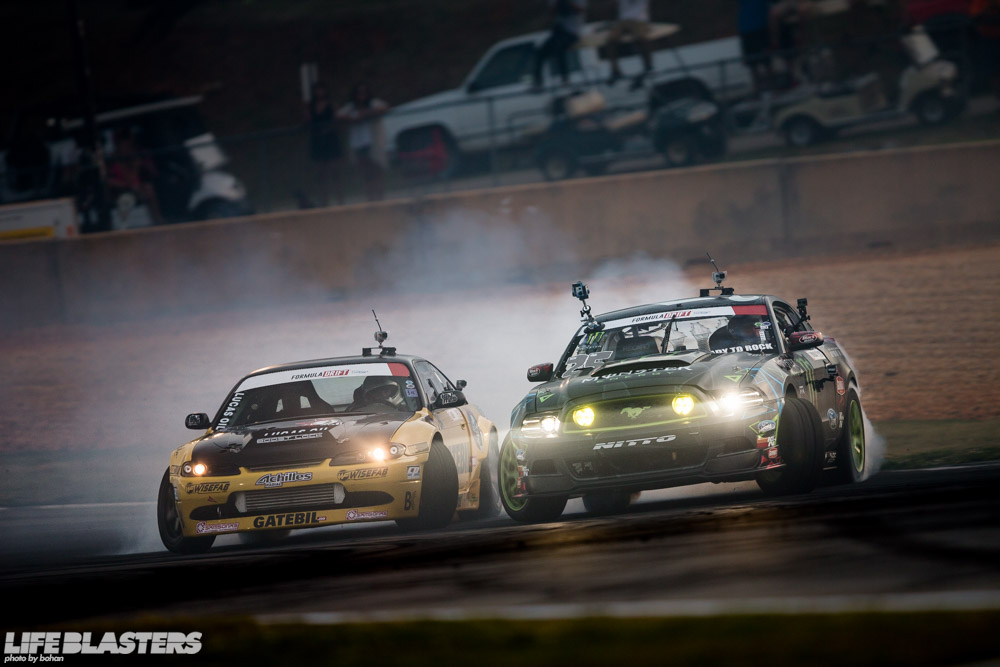 Kenny Moen is still a giant slayer, and he slayed Gittin once again, much to the disappointment of a crowd eager to see some more monster truck action.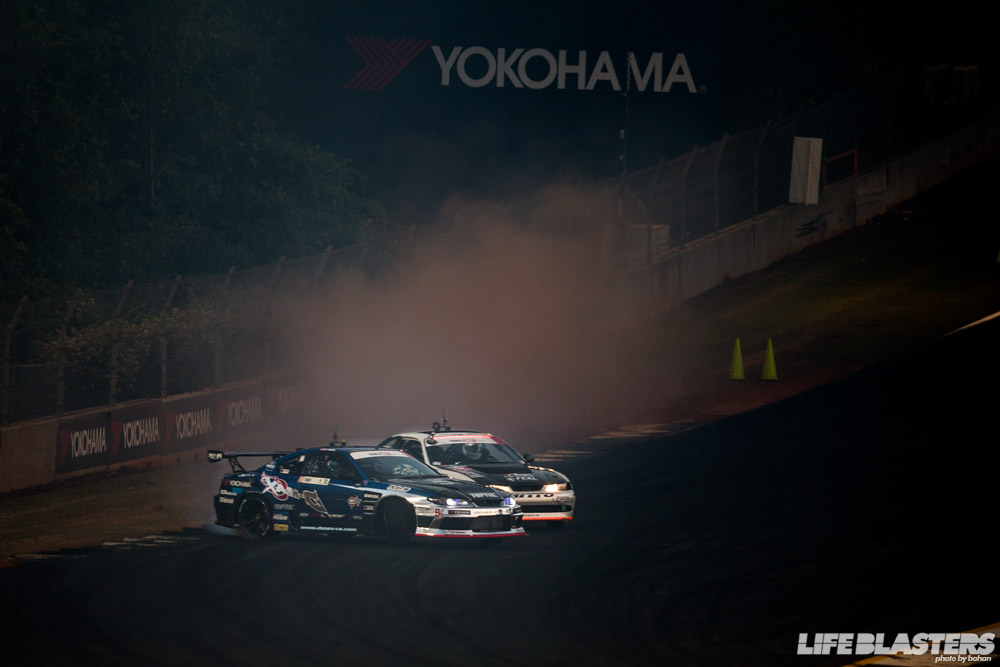 Yokoi couldn't shake Bakchis, who was smooth as ever and looking for a second straight podium.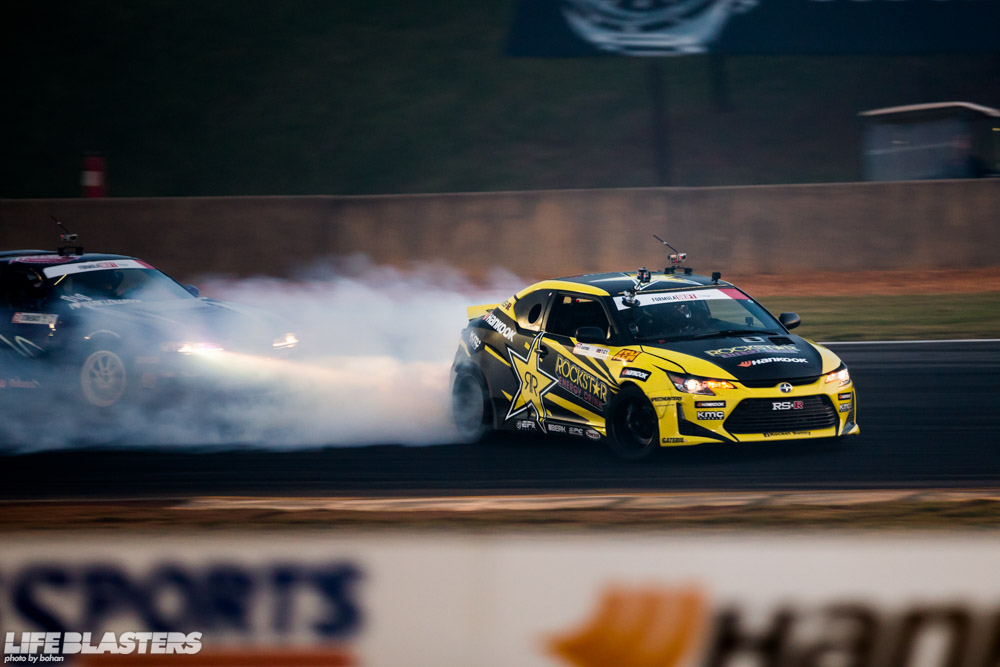 Stoneback ended not one, but BOTH, Rockstar drivers' weekends. The Norwegian Hammer fell to the sophomore driver, which severely impacted his championship hunt. Keep in mind Forsberg had five podium finishes in a row last year and still barely won the championship.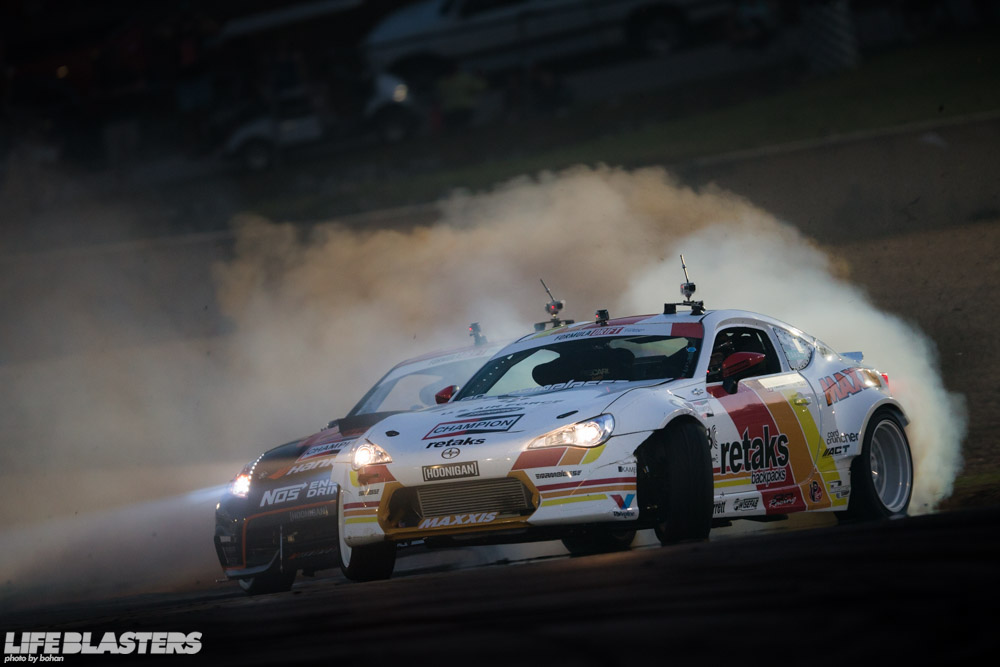 Speaking of Forsberg, after getting past Kyle Mohan in the Top 32, he then cruised by his buddy Ryan Tuerck in the Top 16.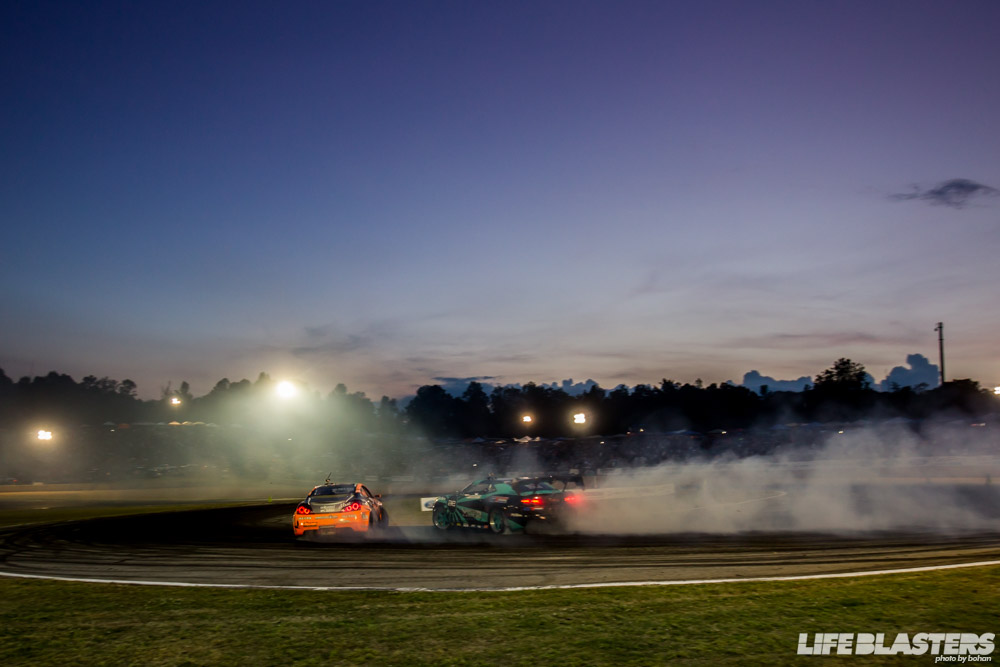 Conrad Grunewald had outperformed Dean Kearney's fast viper in the Top 32, but his momentum after winning Super Drift couldn't carry him past Top 16, where Charles Ng was ready and waiting.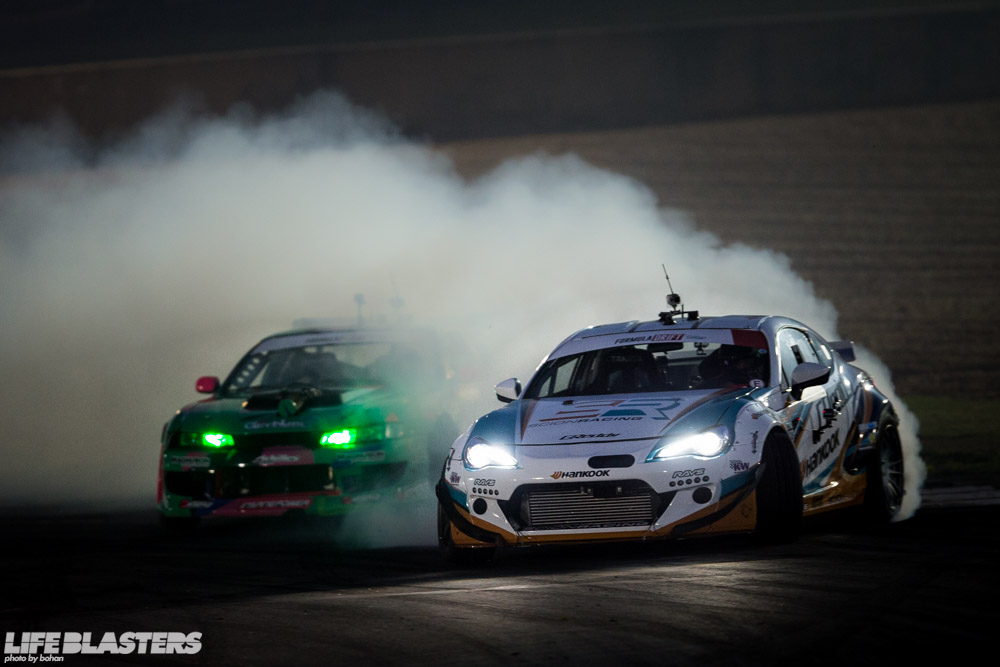 And to wrap up Top 16, Ken Gushi faced off against Alec Hohnadell for an easy win.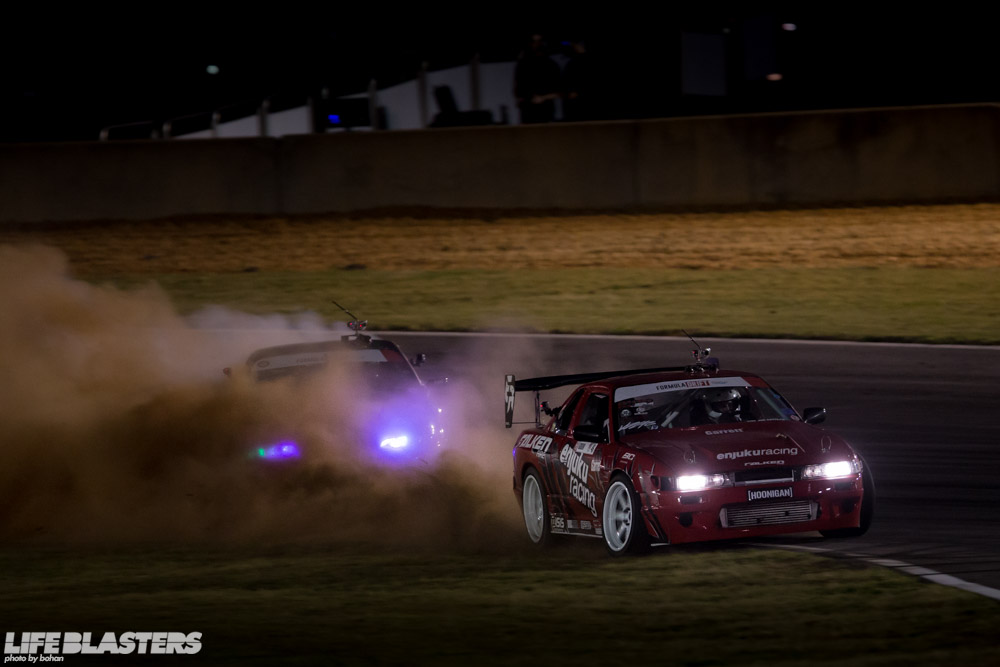 Wang was out for blood but Goodin made it easy, handing him the first spot in the Final Four.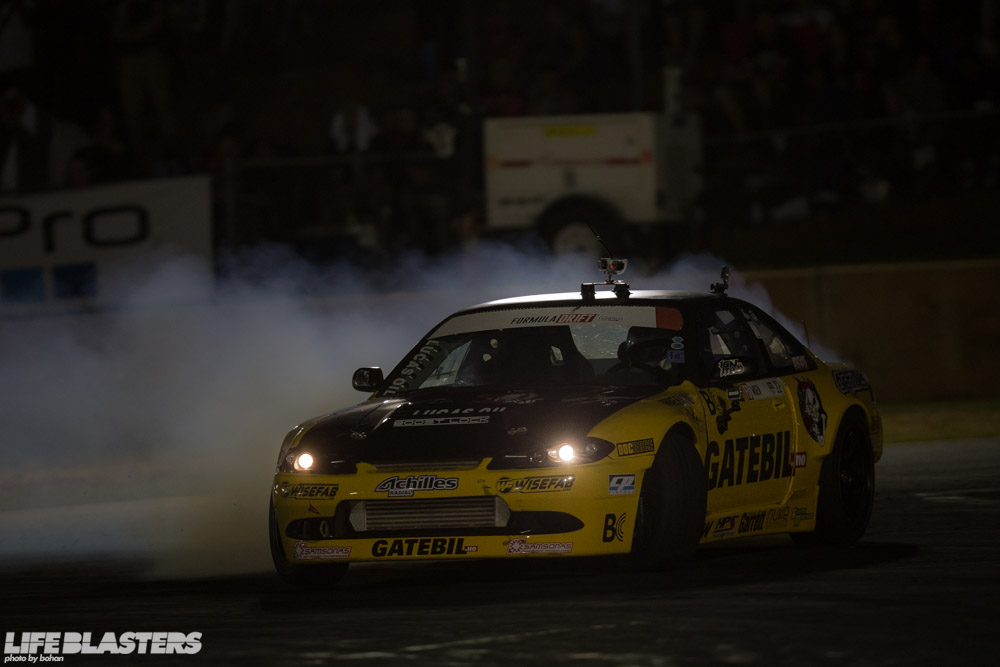 Moen was on a roll, but was only able to take Bakchis to a One More Time before finally losing. Bakchis had qualified higher than Wang so he was guaranteed to get on the podium for the second time in as many rounds.

Stoneback had a less than ideal chase run behind Forsberg, but Forsberg went all the way off the track when they switched places. The crowd was sure Stoneback had won again, and turned to chanting "Bullshit! Bullshit!" when Forsberg was announced as the winner. The reasoning was that Stoneback's follow run had been zero, just like Forsberg's, and so the judging was based solely on each driver's lead run.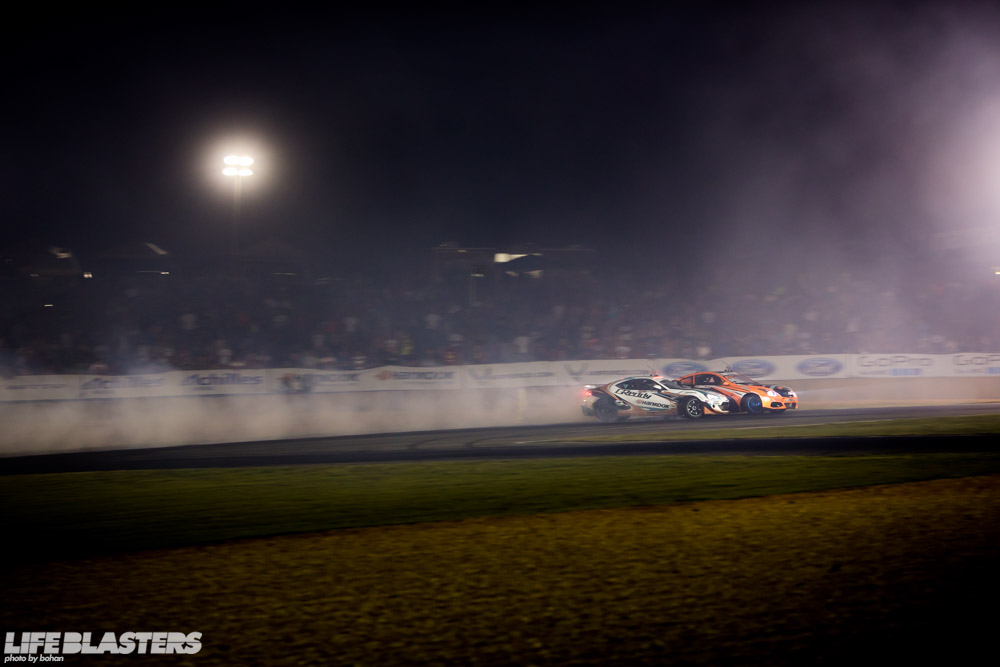 And Gushi was as smooth as ever, easily taking the win over Charles Ng. That put qualifiers 5, 6, 7, and 9 into the Final Four. None of the top four qualifiers had made it!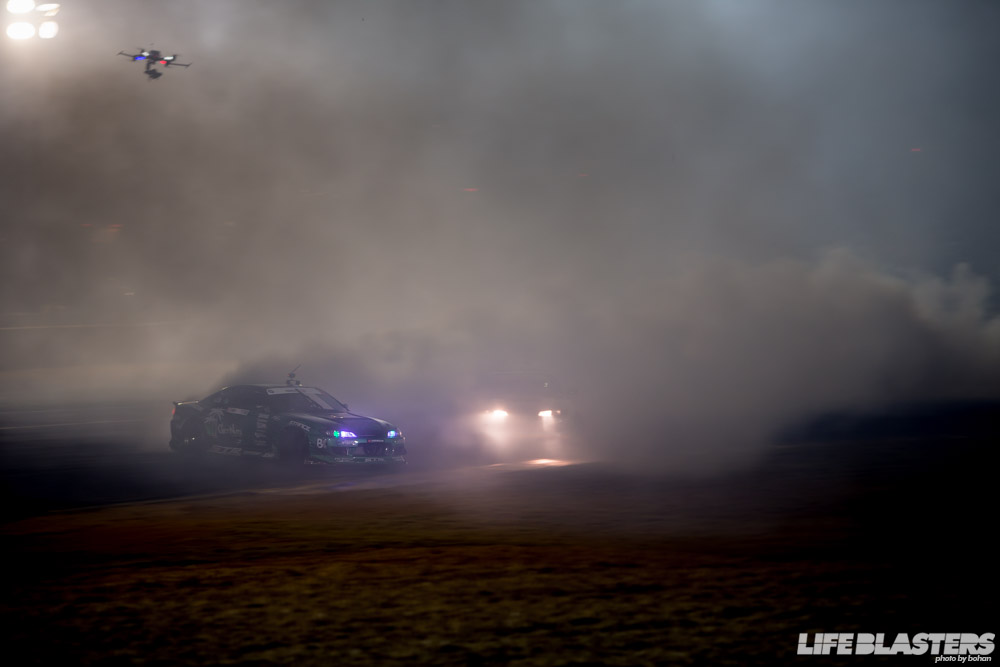 Bakchis led Wang down the hill and took a nice, wide line as Wang followed shallowly behind. Wang fell further and further back and straightened out as he entered the Horseshoe. There was no way to recover from that unless Bakchis made an even bigger mistake. When they switched places, Wang threw out just a crazy amount of angle, which affected his speed and line, allowing Bakchis to easily advance to the Final Battle.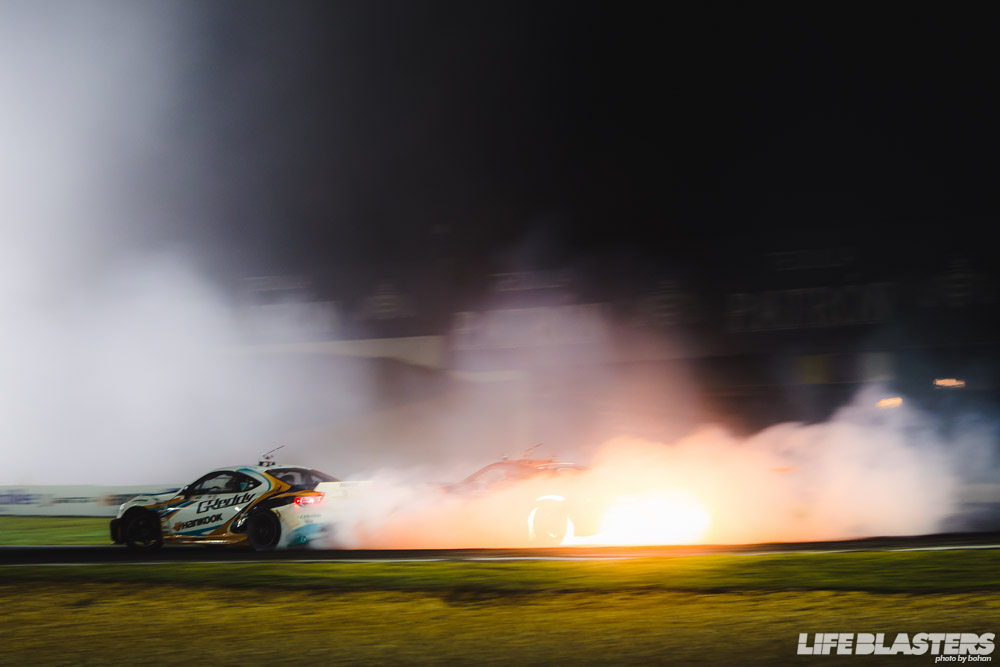 This is where things really heated up. As much as Gushi had been laying down consistent, solid runs, Forsberg was able to maintain proximity through the initiation, though he lost some angle heading up to the Horseshoe. As the pair passed the inner clip, Forsberg's car got lost in a massive fireball as his car had been dropping fuel which then ignited as his car backfired when he lifted off the throttle. Forsberg was cleared to run, and run he did. Gushi stuck to the defending champ with no mistakes and judges ruled that they go One More Time!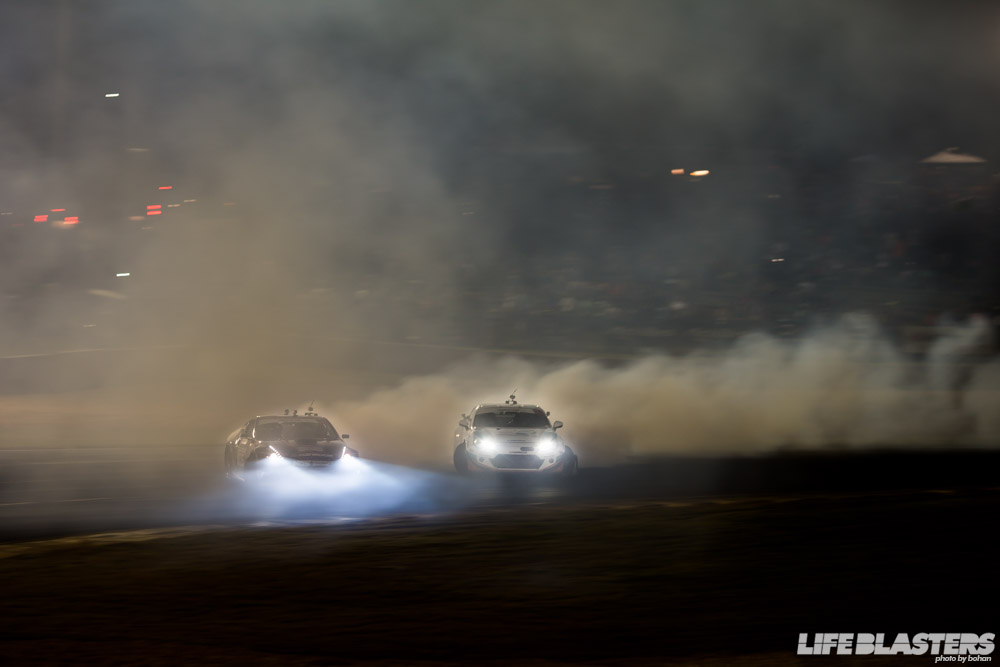 Gushi led Forsberg down the hill again and they cleared the first turn together and Forsberg straightened out, dragged his front wheels through the dirt after the transition and reinitiated coming up to the Horseshoe, then getting it back together and finishing up the run as Gushi was flawless in front of him. They switched roles and Gushi was absolutely killing the chase until dropping a tire off the outside of the final turn, bringing this battle to yet ANOTHER One More Time.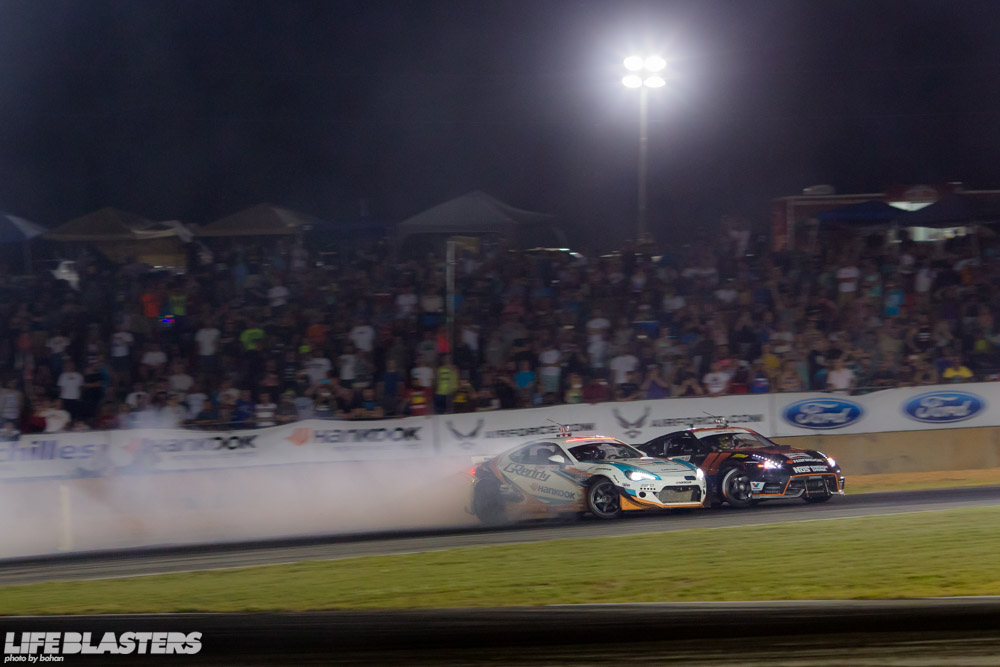 Gushi took over the lead for the third time and Forsberg followed with nothing to complain about. Gushi knew he had to be beyond perfect in order to win this battle, so he pulled a new trick out of his bag. Forsberg dropped one tire on the initiation, but then Gushi reeled him in going back to to the Horseshoe, getting so close that he almost got IN FRONT of the 370Z and then staying door to door throughout the horseshoe.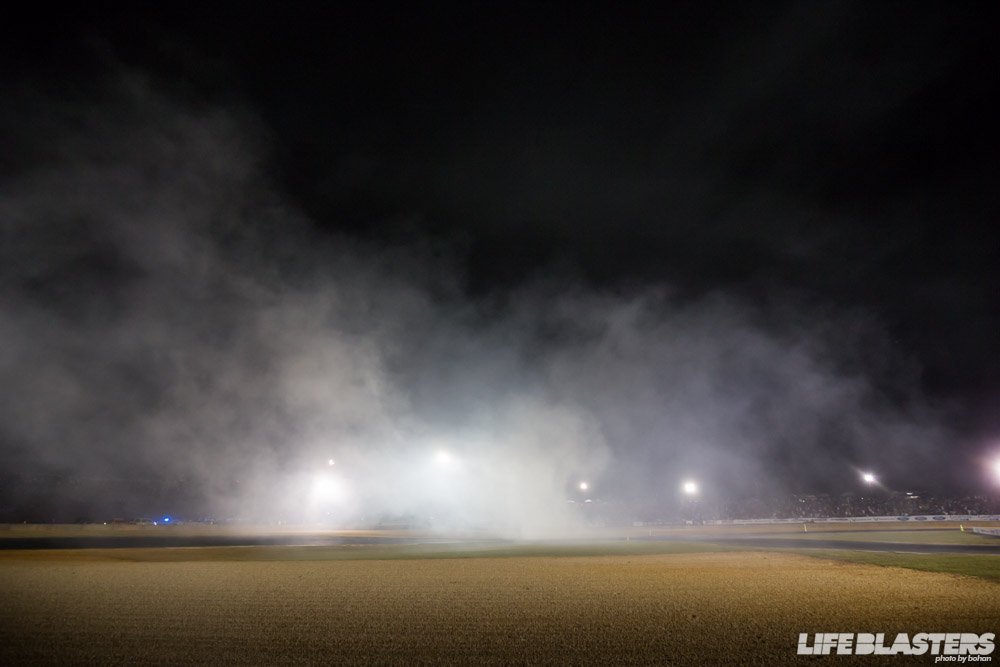 Gushi fell back toward the end, but the judges finally picked him as the winner, unanimously, and he moved on to face Odi Bakchis in the Final Battle.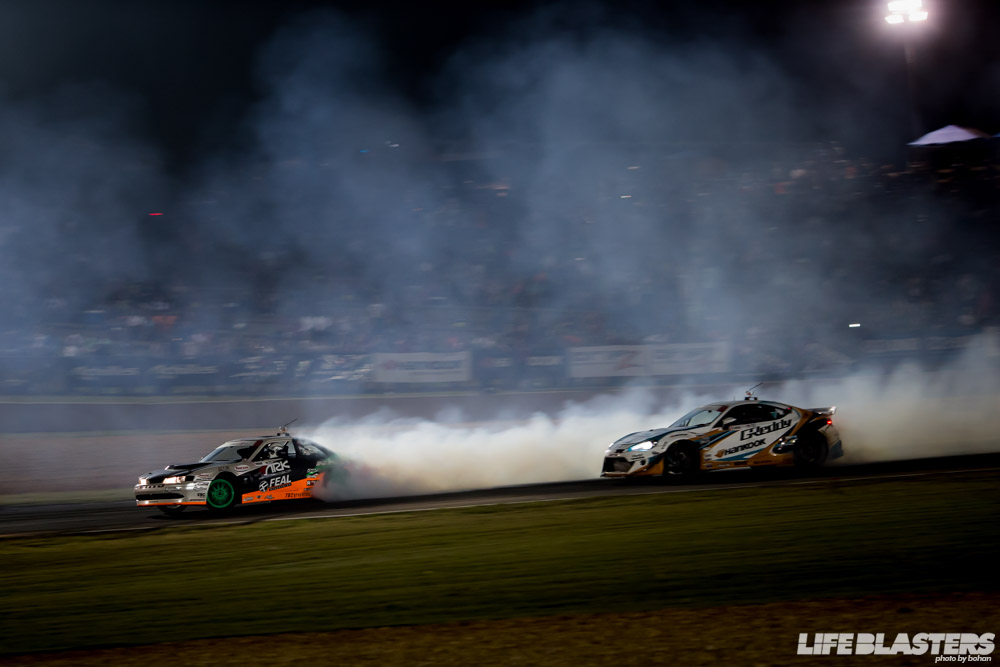 Is Bakchis really that fast? Gushi couldn't have been closer on the initiation, but got left in the smoke after the transition. He ran shallow and hit a cone as he tried to regain proximity and it wasn't looking good for the Gush.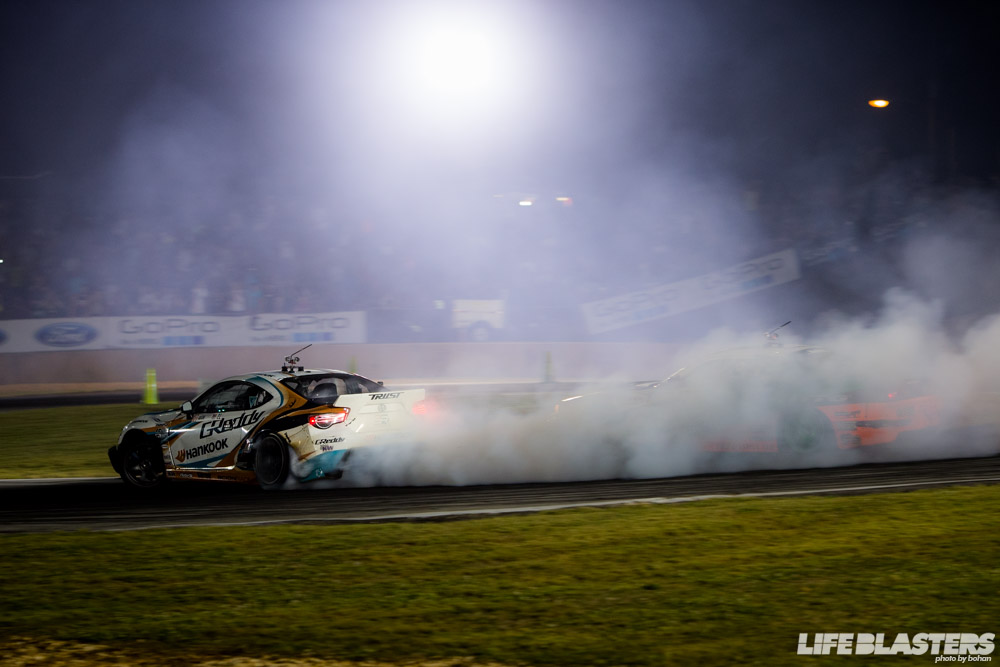 Just like Wang, when it was do or die, Gushi put it all on the table. Bakchis wasn't going to be easy to shake, and as Gushi came into the Horseshoe his left rear wheel was moving all over in the wheel well, with apparent broken suspension.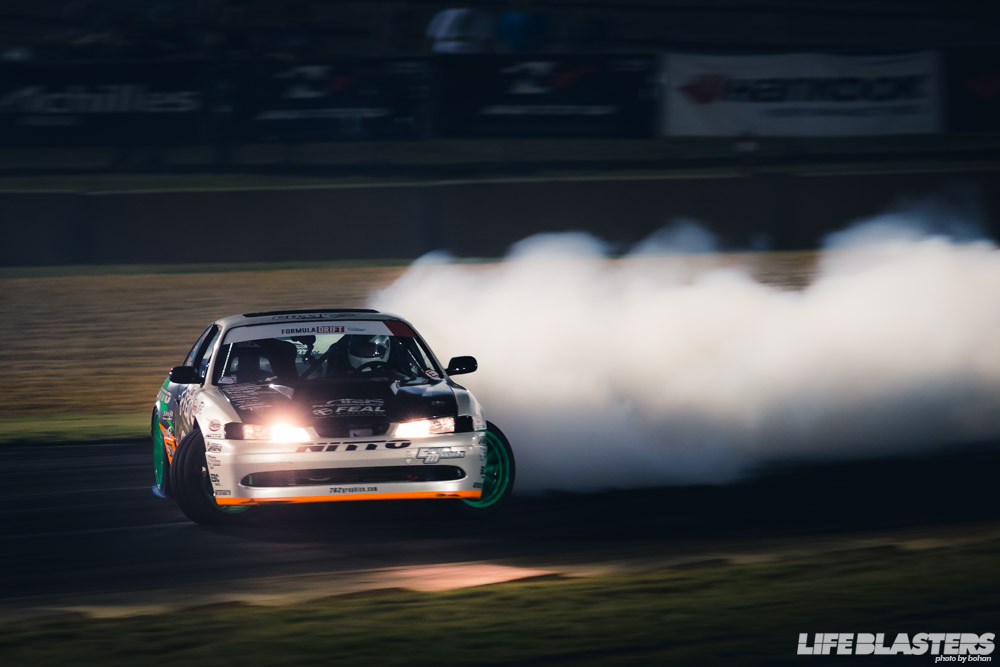 As often happens, the Final Battle was anticlimactic compared to a few of the earlier battles, but it was exciting to see Odi Bakchis earn his first ever win.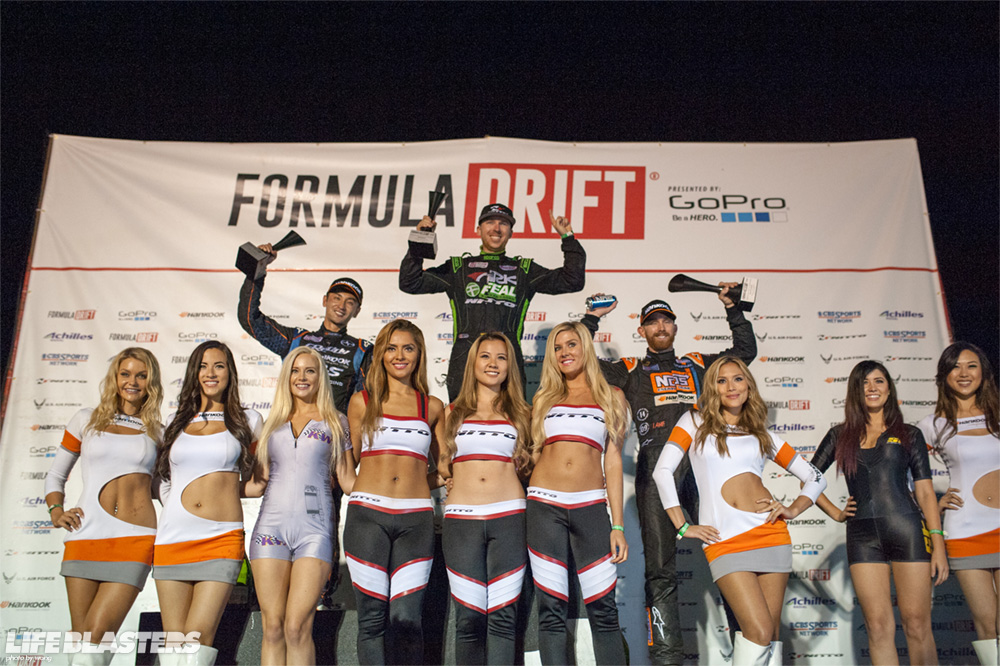 And with his win, Bakchis surged ahead of Aasbø in the overall standings. It's also the first time he's ever been the points leader.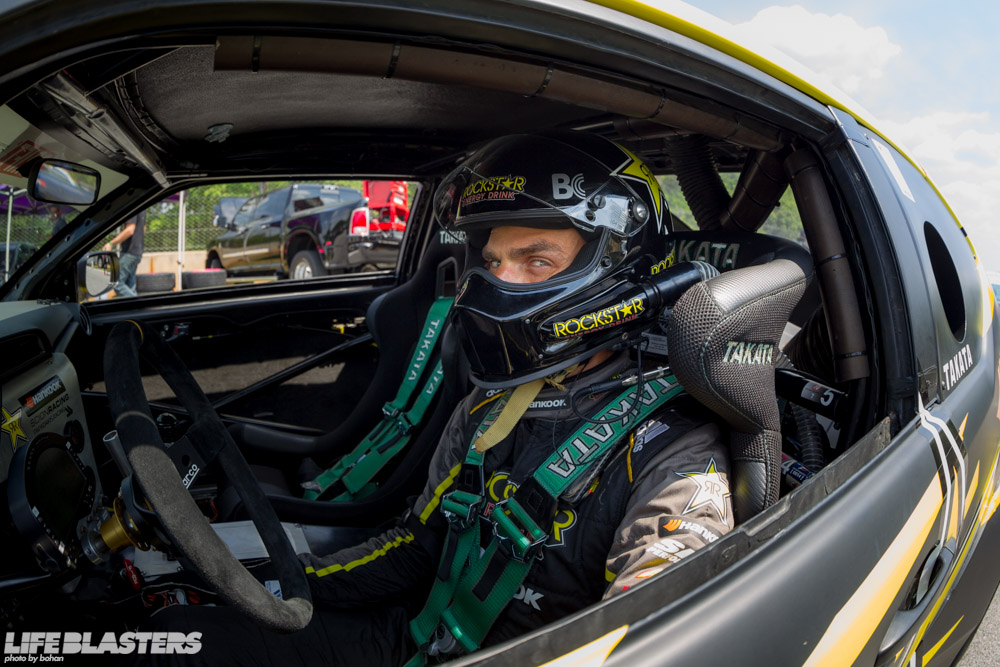 Aasbø is still hanging on to second place, and you know Orlando is going to be a battleground.
.:Bohan
Photos by Bohan & Wong
Click here to read the full article