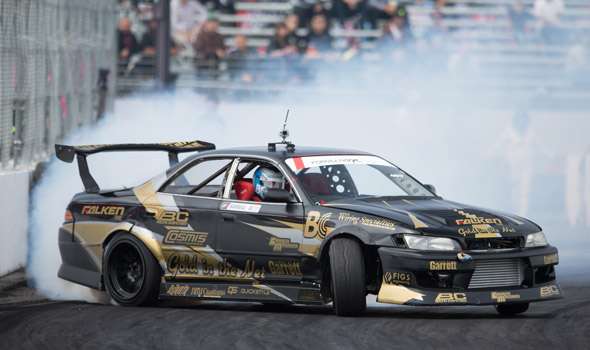 Vaughan, ON. – February 25, 2015 – Specialty vehicle importer Right Drive Inc. has partnered with 2013 Formula Drift Rookie of the Year Mats Baribeau for the upcoming Formula Drift season. Baribeau will be piloting a JZX100 Toyota Chaser provided by Right Drive.
"It was an easy decision to partner up with Right Drive. They are just a short drive away from our home base and them being the largest RHD dealer in Canada, I knew this would be a great fit with our program" states Mats Baribeau. "For 2015, we have been working extremely hard finding new partners for our program to allow us to build a car that will be competitive and reliable. We have shown that we can be competitive when everything is working correctly."
Right Drive Inc., now in its 8th year of business, is located near Toronto, Ontario and has earned a reputation for importing high quality, reliable right hand vehicles. The Canadian company has its sights set on expanding its brand into the developing US market and cites the partnership as an ideal means of entry.
"I have watched Formula Drift grow tremendously over the past 11 years. Much like our own company it has come a long way from grassroots beginnings" says Michael Kent, president and founder of Right Drive Inc. "Being a Canadian company that is trying to break into the US is not an easy feat. This is why we approached Mats. We can't think of a better driver to represent our company's message in Formula Drift. Not only can Mats compete in drifting, he plays hockey too. We just had to be a part of his program. It is one heck of a Canadian team."
Baribeau is one of only three Canadian drivers on the US based drift circuit and has earned the adoration of US fans with his right hand drive, 4 door Toyota Mark II.
"Mats is a talented driver who showcases his skills in an unconventional car. He stands apart from his competitors. This is why we felt that he was the perfect fit for our brand.  The Chaser is one of the coolest sedans ever built." states Kent.
Mats' 950hp 4 door Chaser will be one of the only right hand drive vehicles on the Formula Drift circuit. Unlike many of his competitors who opt for big V8 power, Mats kept and built the original JZ engine that is native to the car. This is something that also caught the eye of the Right Drive team.
"Our business success stems largely from our ability to source concourse vehicles that are well maintained, original and true. This is what has separated us from our competition and allowed us to grow year in and year out. Mats and his team stayed true to the JDM roots of the car which we appreciate." states Matt Lacroix, marketing manager at Right Drive.
When asked about his decision to pilot a JZX100 Chaser, Baribeau stated that "The chassis is very similar to what I am familiar with as I have been drifting a JZX90 Mark II since 2008. I didn't want to throw (away) the entire R&D that we have done, so staying with a chassis that our team knows inside and out was an easy choice to make."
The Right Drive/Gold in the Net Chaser is scheduled to debut at Round 4 of the 2015 Formula Drift Championships in Wall Township, New Jersey. Mats will be signing t-shirts and hats at the event to commemorate the debut.
For additional information contact Matt Lacroix – [email protected] – 1-877-398-8220.