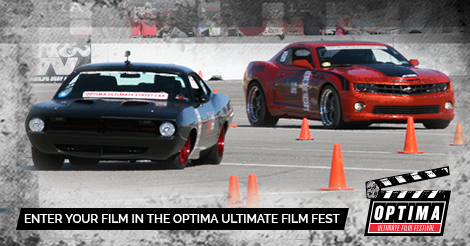 OPTIMA Ultimate Film Fest Details
Website: http://www.optimafilmfest.com
Why enter: Finalists will be shown at an exclusive event during SEMA. Industry leaders, influencers and media in the performance category. Selected films will appear during a one-hour special that will air on MAVTV.
You can use footage that you have used for other purposes, including broadcast and online use. The actual film submitted to OPTIMA Ultimate Film Festival, in its final edited version must premier at the OPTIMA Ultimate Film Festival. Sponsors can be included in the video, but cannot show OPTIMA competitors.
Deadline: All films must be submitted by 11:59PM CST, Monday, October 5th.
Finalists will be notified on October, 25th 2015.
Categories: Short film and action cam. You can submit one film per category for a total of two films.
SHORT FILM: Films in this category must feature a story or documentary about the performance vehicle enthusiast passion and hobby. The film should focus on the enthusiast lifestyle, performance vehicle(s), and how performance aftermarket parts empower that lifestyle. Films must be less than 10 minutes in length including opening and closing credits.
ACTION CAMERA FILM: Films in this category must feature a performance vehicle in a performance moment demonstrating the vehicle in action. Films in this category must be shot exclusively on POV action cams (e.g. GoPro, Ion, Contour, etc.) and must be no longer than two minutes in length including opening and closing credits.
Judging Criteria: The finalists will be judged and selected based on the following criteria: originality and creativity – 40%, film content and adherence to theme – 40%, and clarity/quality of the film – 20%
How to submit: You must review and accept the rules of the program at optimafilmfest.com
You can submit your film(s) via two avenues
U.S. Mail
File sharing online via the file sharing option on optimafilmfest.com or via WeTransfer, Google Drive, Dropbox or Hightail can be sent to [email protected]
When submitting your film via either option, you MUST provide your name, mailing address, phone number, email address and the name of your film.
Submission Specifications – U.S. Mail Please mail all submissions to:
OPTIMA Ultimate Film Fest c/o Gunpowder, Inc.
PO Box 180255
Delafield, WI 53018