I've been going to the Grand Prix of Long Beach since I was around 10 years old. In my 20's, my father had a condo right on Ocean Boulevard until the mid 2000's, and I would wake up to the sound of racing and the smell of heated brakes. Back in the day before I was even in junior high, it was easy to sneak in, and my brother and I used to tell the gate attendants that we were taking the water taxi to the Queen Mary. My father was engaged to a woman who was the catering manager there, so our story always seemed believable. Once we were in, we were free to roam around and experience motorsports for that one time a year. We were young and without adults in our company, so maybe the gate attendants were letting us enjoy ourselves. We don't do stuff like that anymore, although we did eventually make our way to the Queen Mary when we were ready to go home. Because of events like the Grand Prix of Long Beach being a part of my early years, motorsports is now a huge part of my life and completely worth the price of admission if I had a chance to go back and buy those tickets.
In 2006, Formula Drift took over the streets of Long Beach the weekend before the Grand Prix. It was a new sport for everybody, and the majority of motorsport enthusiasts frowned upon the idea of breaking traction and rapidly laying waste to a good set of tires. Many old time motorsport lovers weren't thrilled with the younger, hip crowd that drifting brought to the scene, and it took a while to attract many of the traditionalists to whom the Grand Prix of Long Beach appealed to. Year after year, the crowd of drift spectators has grown, and now those who watched from afar with a weary eye, are now sitting in the stands enjoying the heck out of the high speed smoke show that drifting had become.
Only one short week had passed between a very busy Formula Drift Round 1 – Streets of Long Beach and the Grand Prix weekend, and there were no complaints from me. I've been shooting the Grand Prix for about 8 years now, and I've seen many events come and go. My personal favorite series was Trans Am, which stopped running Long Beach after the Champ Car/Indy merge. I'm not the biggest fan of open wheel racing, so Trans Am leaving Long Beach was a bummer, until World Challenge and ALMS/IMSA sports car racing filled the void to my excitement. Real sports car racing is why I love the Grand Prix of Long Beach. Cars that are built on platforms readily available to the general public as road cars, are what I like to see racing!
In 2013, it was announced that Formula Drift would be running an evening event on the drift course the series lays rubber on the weekend before, and I was totally ecstatic. The invitational event was called the Motegi Racing Super Drift Challenge, and large purse of $25,000 was up for grabs by the event's top finishers who worked their way up through a tournament bracket based on the qualifying results of night 1. Fast cars all day and drifting at night in the gorgeous Southern California beach city of Long Beach, the closest thing to Monaco that most of us regular folk will ever get. There are many visually appealing evening venues on the Formula Drift schedule, but Long Beach is extra special to the eyes under lights. It's a treat, and it only happens for 2 nights a year.
The Motegi Super Drift Challenge is now on it's 4th year at the Grand Prix. This year, all competitors to the series were California locals, and even a 2016 Pro 2 rookie would make his Formula Drift debut before the first official Pro 2 event at Road Atlanta in May. Drivers and teams, some assembled of FD Pro-Am drivers working their way through the ranks, gathered in the Lifestyle Expo not far from the Pirelli World Challenge garage to spread the good word of drift happening at night. The 2 night roster: Fredric Aasbo, Odi Bakchis, Kyle Mohan, Mike Essa, Matt Field, Dean Kearney, Alex Heilbrunn, Jeff Jones, Justin Pawlak, Ryan Litteral, and Trenton Beechum, pictured above.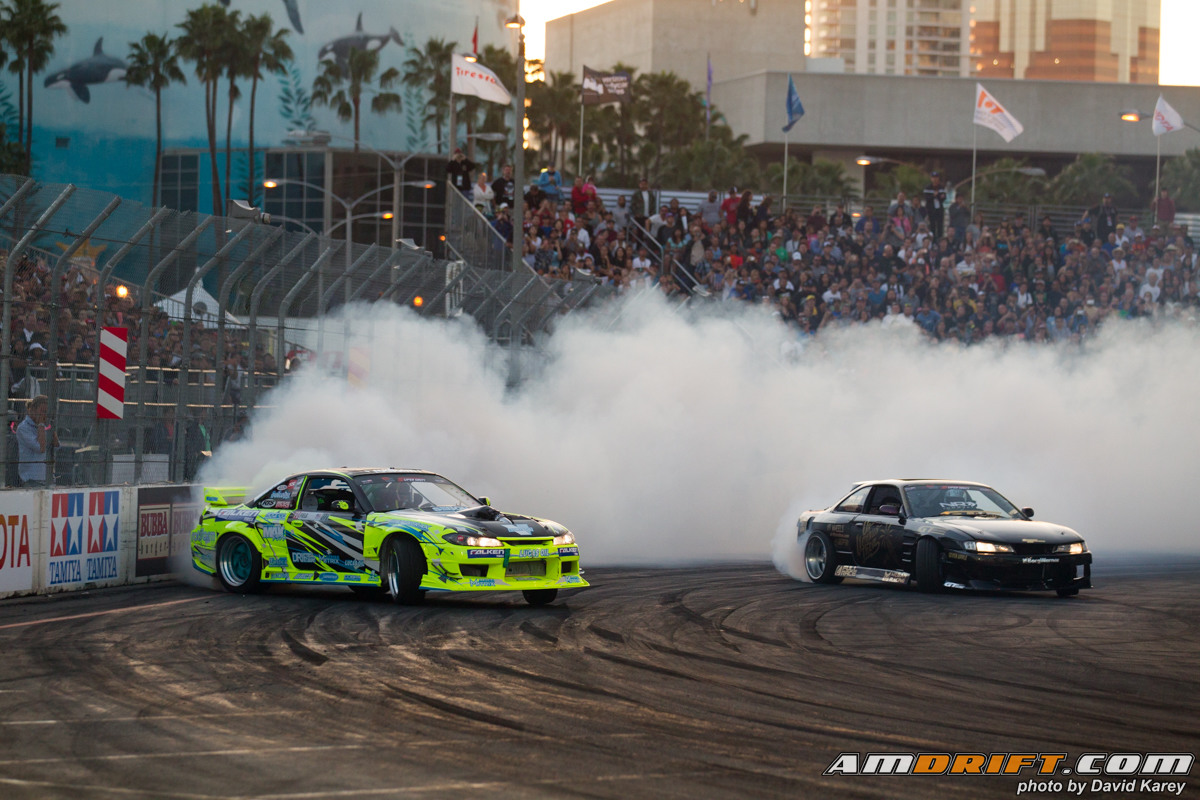 The International Motor Sports Association wrapped up qualifying of their sanctioned sports car series, appropriately named WeatherTech SportsCar Championship, and Super Drift Challenge practice was underway. The stands were absolutely jam packed, which in part was due to Friday being the "free day" in which free tickets were available to the public. A full crowd of people from all walks of life filled the stands, most who have never seen drift before as discovered by Formula Drift announcer, Jarod De Anda, after he asked to see hands of those who HAVE been to a drift event before. Hardly a hand was raised, and I knew the night was going to be exciting for many.