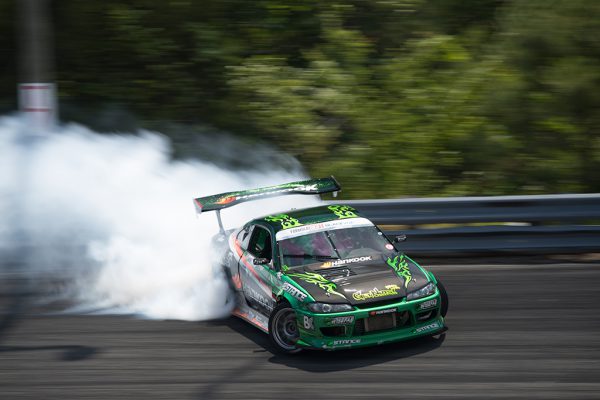 Over the past few days, there has been quite a lot of discussion regarding Forrest Wang and his departure from the Series. Formula DRIFT has held off on making a public statement because we first wanted to talk to Forrest and ensure we understood his perspective and view on the situation before addressing it. It's important to the Series that when we make public statements we do so with all the possible information available, and talking to Forrest was key before we made a public announcement. As of Tuesday, June 21st, we have had the opportunity to speak to Forrest. It was a very productive conversation. Media outlets, drifting reporters and fans have gone very far and deep in discussing the result of the Forrest Wang/Chris Forsberg head-to-head match, which has led many to believe that this incident was his core reason for leaving the Series. No matter what side you take on the topic, what's important regarding this message is our conversation with Forrest. 
Forrest is aware that Formula DRIFT has an open-door discussion policy with all participants in the Series, whether you are a driver, team member, media person or fan. In a Series as unique as ours, that has a wide array of auto manufacturers and tire manufacturers, along with an emphasis on competitive individualism, parity and fairness is an extremely important part of the equation. If there are ways that we can help make parity and fairness better, we always strive for that without trying to take away from what makes drifting fun and exciting. Taking into account all of the diversity in the Sport is certainly a challenge, but it's a challenge that we continuously work on because we feel it is important in the integrity of the Sport. We believe that Forrest understands that our intentions are to deliver the best possible drift series to the general public and that teams, drivers, sponsors and fans are all part of the equation. Without taking all those things into consideration, we couldn't have made it thirteen years in existence. Everyone plays a role to the success of the Series and the Sport they are involved in and Forrest's voice is an important one in understanding the perspective of his team and program. Communication is paramount and we are glad that our discussion allowed both sides to share perspective and shed light to the situation. 
After seeing the outcry from many regarding Forrest's decision to have New Jersey be his last event, Forrest has taken everything into account and reevaluated his decision to leave the Series. He has decided that New Jersey will not be his last event. He believes he still has a lot to offer. He loves drifting and feels that he still has plenty of opportunity to continue to make his mark on the Sport, and we wholeheartedly agree. We also agree that transparency and communication are vital to getting everyone on the same page, even if they disagree with our competitive philosophy. Our goal is to create battles that are as close as possible, while still allowing for personal style, flair and fairness. Everything we have built into our competition needs to take these things into account and drivers, such as Forrest, are a key factor to doing that. Our discussion with him allows both sides to work together for a common goal. With that said, one of the immediate actions we are going to take is to move Judge Ryan Lanteigne into the announcers booth to judge; in order to make sure the fans can get a judges perspective in real time. We believe this will alleviate some of the communication gaps that exist and lend additional transparency in the judging process. Since it is Ryan Lanteigne that conducts the Drivers Meetings, he will also be able to communicate exactly what is expected of the drivers directly to the public audience. Forrest is a supporter of this move. Secondly, Forrest has given us a number of suggestions for us to put on the agenda at our next Drivers Summit, which is being held the weekend of the Evergreen Speedway event. There we will discuss many different items and issues in the Series and this occasion allows for all participants to have their voice heard in order to build consensus. 
So in short, we are very excited to have Forrest back on the grid. He is a true asset to the Series and people deserve to see his talent flourish. 
Please also visit Forrest's social accounts as he has released a more detailed statement of his own.
See you all in Canada!
Jim Liaw, President – Formula DRIFT
Ryan Sage, VP – Formula DRIFT
Forrest Wang – Owner/Professional Drifter – Get Nuts Lab