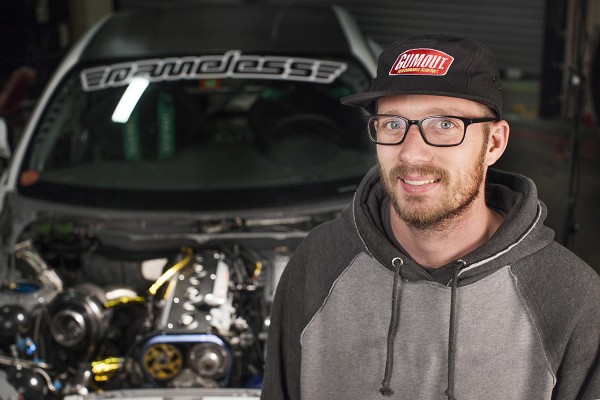 Ryan Tuerck's 900hp Gumout Scion FRS will have a new look for the 2016 Formula Drift Series season.  Gumout Performance Additives announced they will be a primary sponsor, bringing their sister company Black Magic Car Care along for the ride as well.
 "It's pretty cool to go into the year with a company like Gumout behind me.  We're both pumped to be working together, this is going to be fun," said Tuerck, Formula D winner at Orlando in 2015.  "They've really gotten in to their Formula D program and want to do even more moving forward, so to get behind me and the Scion and what I've been trying to build here, I couldn't be more stoked to get going.  We had a great year last year, we were in the championship fight at Irwindale; that only pushes us this year to take it a step further."
Gumout and Ryan Tuerck will release the 2016 Gumout livery later in February, ahead of the Formula Drift series opening event in Long Beach, California.
 "We're spending some time on the car design and how we release it," Tuerck explained.  "We've got some ideas we're throwing around right now for Gumout, some good stuff, so we'll keep everyone posted when we let it all out.  
"As for the Formula D and the season, the car itself really got sorted out last year, so this off-season we've worked on making more power, but also keeping the reliability that was so key last year.  It's tough, as the tires gain more and more grip each year, we have to make more and more power to drift."
 Gumout's line of science-based performance fuel additives will back Tuerck's run at the Formula Drift championship this year showing the Drift community how keeping engine parts clean is key to having a high performing engine.
"Gumout has been providing solutions to fuel related problems since  World War 2 and we continue to do that today by producing cutting edge fuel additives,"  said Rusty Waples at Gumout. "What we love about Ryan is that he's a gearhead on and off the track, and that means he'll be the ultimate voice of the Gumout brand to the drift fanatics.
"We both share a passion and that is that we only settle for the best of the best; for Ryan that's using the best parts & products that have been tested and proven to perform on the track. For Gumout it's about quality formulations that have also been tested and proven in the lab, on the street and on the track. We truly mean it when we say Science In. Performance Out.
"It's all on our website, so we welcome everyone to learn our history and be a part of our future."
Visit www.gumout.com to learn more and follow us on the Gumout Channel on YouTube for Ryan Tuerck and Formula D content throughout 2016.