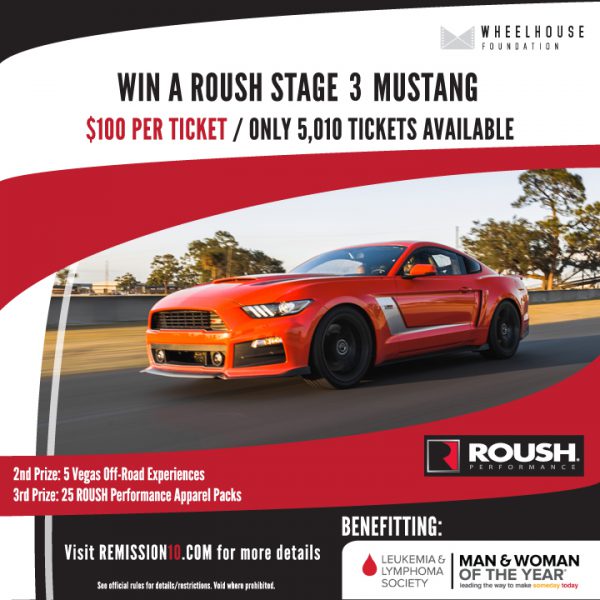 WIN a 670HP ROUSH Stage 3 Mustang to help find a cure for cancer! 
All proceeds benefit the Leukemia and Lymphoma Society!!!
We have partnered with ROUSH Performance and the Wheelhouse Foundation and are only selling 5,010 tickets at only $100 per ticket so you better buy fast before they are gone! Go to www.Remission10.com to buy tickets now!!
This spring, Scott Peterson is fortunate to be celebrating his 10th year in remission from Lymphoma and has accepted the nomination to run for the 2017 Man of the Year campaign benefiting the Leukemia and Lymphoma Society (LLS).  Man of the Year is a very ambitious 10 week fundraising campaign to fight cancer ending on June 3rd, 2017 and Scott has set a very lofty goal to raise more than $250,000 during this campaign.
In 2007, at the age of 26, Scott was diagnosed with Stage 3 diffuse large B-cell Non-Hodgkin's Lymphoma and given a 50% chance to live past 5 years, and a very slim chance of ever having children.  After going through extensive chemotherapy, he went into remission and is ecstatic to be celebrating a major milestone of 10 years this May with his wife, Jaci, and their two young daughters, Harper and Nora.  Since that initial remission birthday, it has been Scott's goal to give back to the organization that helped fund the research to save his life and the lives of many others.
Team Remission10 / Man of the Year Campaign benefitting the Leukemia and Lymphoma Society is excited to roll out a HUGE raffle as part of our fundraising campaign where one (1) lucky winner will win a 2016 ROUSH Stage 3 Mustang valued at over $75,000!!!
 ROUSH Stage 3 Mustang Raffle Details:
$100 Per Ticket / Limited to 5,010 Tickets
Grand Prize:

2016 ROUSH Stage 3 Mustang

670 Horsepower ROUSHcharged beast with an approximate retail value of over $75,000!!!!
2nd Tier Prizes:
5 Winners will receive a VORE (Vegas Off-Road Experience) Package valued at $765 each

5 laps on the short course track
Drift intro package with ROUSH Stage 3 Mustang
3 machine gun shooting package
Transportation to and from hotel
3rd Tier Prizes:

25 Winners will receive ROUSH Swag Packs that include a T-shirt, Hat, and other ROUSH Merchandise
If you don't have interest in winning the ROUSH Mustang but still want to donate and help find a cure for Cancer, please go towww.Remission10.com to learn more, make a tax deductible donation, and help support this amazing campaign!
Please consider supporting this great cause by purchasing a raffle ticket.  Someone is going to WIN this awesome car on June 3rd, the odds are good that it could be YOU!