July 13th, 2017
Michaels takes the Lead with Event Victory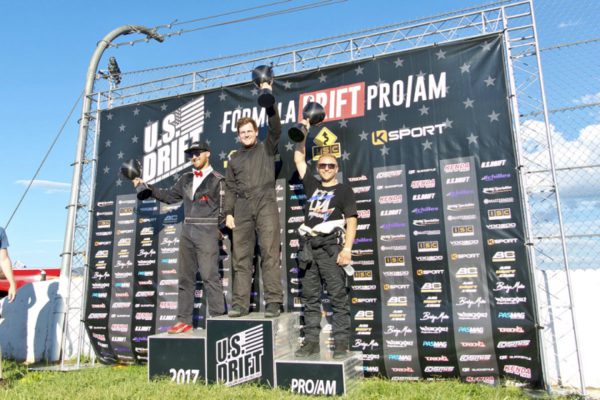 Glen Allen, VA – USDrift PRO/AM Series returned to Shenandoah Speedway in Virginia for the second event in their four event season. Noah Michaels, from Medino, OH in his LS6-powered Torqstorm Superchargers / Oddball Industries Nissan 240SX took the victory.
Shenandoah Speedway is a 3/8th-Mile oval track nestled in a valley between the Blue Ridge Mountains and the Massanutten Ridge providing a great, scenic backdrop for events. Twenty-one competitors from eleven states competed in the two-day event, and another few dozen attended the open track day event with Swing Set.
"Oval tracks are always a little intimidating to drivers, and then requiring them to run the high line next to the wall doesn't help," said Brian Eggert, event director at USDrift. "The course featured a high speed entry on the bank and then transitioned into the infield for the finish."
Tanner Munson, from Hinesburg, VT qualified first in his LS2-powered Munson Motorsports BMW M3, but had to bow out of competition before his first battle due to transmission issues. The Final Four placed 8th place qualifier Mike Perez, from Leesport, PA in his 2JZ-powered Onward Energy / FlagNorFail Toyota Supra against fifth place qualifier Nate Richards, from Londonderry, NH in his V8-powered Magnum Performance Turbos Nissan 350Z. Perez would take the win sending Richards to the Consolation Round. On the other side of the bracket, second place qualifier Kenric Meyer, from Jamison, PA in his LQ9-powered BC Racing BMW M3 was paired up with third place qualifier Noah Michaels. Michaels would advance and go against Perez in the finals leaving Meyer to battle Richards in the Consolation Round. Richards would take the win against Meyers earning third place. In the finals, Perez and Michaels would battle so closely that the judges voted 2-1 for a One More Time. In the second matchup however, Michaels would advance and take the top spot and earning himself his first win in USDrift.
The third stop on the 2017 USDrift PRO/AM Series will take place at VIRginia International Raceway, in Alton, VA on Saturday, August 19th. For more information please visit: www.usdrift.com. You can also find USDrift on popular social media outlets such as: Facebook: www.facebook.com/usdrift, Instagram: @usdrift, and Twitter: @usdrift.
2017 USDrift PRO/AM Series Round 2 Event Results:
Noah Michaels Torqstorm Supercharges / Oddball Industries Nissan 240SX  First Place
Mike Perez Onward Energy / FlagNorFail Toyota Supra                          Second Place
Nate Richards Magnum Performance Turbos Nissan 350Z                          Third Place
2017 USDrift PRO/AM Series Standings After Two Rounds:
Noah Michaels Torqstorm Supercharges / Oddball Industries Nissan 240SX  187 points
Mike Perez Onward Energy / FlagNorFail Toyota Supra                          184 points
Kenric Meyer BC Racing BMW M3                                                         170 points
Ben Williams Fresh Roots Mazda RX7                                                   148 points
Phil Oddo Nissan 350Z                                                                   132 points
Dustin Miles K1 Built Nissan 240SX                                                     116 points
Ricky Hofmann Onward Flipzco Nissan 240SX                                           5 points
Kyle Wood Nissan 240SX                                                                 105 points
Nate Richards Magnum Performance Turbos Nissan 350Z                          25 points
Brian Riccio Flipzco Nissan 240SX                                                      92 points