Top qualifier and event winner Fredric Aasbo scores maximum points
ST. LOUIS, Missouri (August 13, 2018) – Fredric Aasbo dominated the sixth round of the Formula Drift championship this weekend earning his second victory of the season. The Rockstar Energy Drink / Nexen Tire Toyota Corolla Hatchback driver earned the maximum possible points as the championship heads into its last two rounds.
"From the outside, a result like this can look like smooth sailing, but behind the scenes everyone was working really hard to be competitive at this new track," said Aasbo. "We were adding more grip every round and learning from each battle. To come away with maximum points feels absolutely amazing."
Aasbo immediately threw down the gauntlet at the Gateway Motorsports Park, qualifying first overall on Friday to earn a bye through to the Top 16, where he faced down Jhonnattan Castro.
"I wasn't sure that battle would go our way," said Aasbo. "We realized we had some more work to do after that and we pushed our setup into uncharted territory to get more speed out of the car."
The Gateway Motorsports Park sits just outside St. Louis, Missouri, and is a new addition to the Formula Drift series. A flat, fast road course, it quickly became clear that power and speed would be critical in the hunt for victory.
"You need a lot of grip to put down the power and carry good speed," said Stephan Papadakis, team owner. "At this track, that was the difference between pulling away on a lead run or losing ground during a chase. We had to work fast to dial in the car."
After advancing past Castro to the Great 8, Aasbo beat out Chris Forsberg to move into the Final 4. There, he met Piotr Wiecek, who proved a formidable rival.
Fans were on their feet as Aasbo and Wiecek pushed the limits through six head-to-head matches. Judges were undecided through two one-more-time calls before they finally awarded the round to the Rockstar Energy Drink / Nexen Tire Toyota Corolla Hatchback in an unanimous decision.
"We lowered the tire pressure again before the second One More Time," said Papadakis. "In that sort of situation, you have to do everything you can. You risk debeading the tire, but you can gain grip and speed. The Nexen tires performed really well, Fredric kept his lines clean, and it worked in our favor."
In the Final, Aasbo faced Matt Field. During Aasbo's lead run, Field made an error and made contact with the back of Aasbo's car before running wide off the track. Judges confirmed Field was at fault for the clash and all it took was for Aasbo to put in a clean chase to come away with the victory.
The win was an important one for the team. Championship leader James Deane had been pulling away from the field, but a blown motor during the Great 8 opened the door for a renewed points battle as the season heads into its final two rounds. With both the best qualifying run and event victory, Aasbo took maximum points this weekend and is now within 30 points of the leader.
The battle resumes in Dallas, Texas, September 14-15 and concludes a month later at Irwindale Speedway in Southern California.
Formula Drift enjoys a dedicated and engaged audience with sell-out crowds all season long. Grandstands at the new St. Louis event were packed by early Saturday, with fans clamoring to get close to the action from the first moment cars hit the track. This season, each livestream broadcast is averaging more than two million viewers.
Drifting is a high-skill, high-powered motorsport with an emphasis on car control. In the Formula Drift series, drivers compete in knockout heats on a closed course, sliding sideways in trials judged on speed and style. With origins in Japan, it is one of the fastest growing forms of motorsport in the world. An average of 2 million fans from around the world watched the popular live stream coverage from each round of the 2018 season. Broadcast coverage on the CBS Sports Network headlines packaged content that includes social channels Instagram, Facebook, YouTube, and Twitch.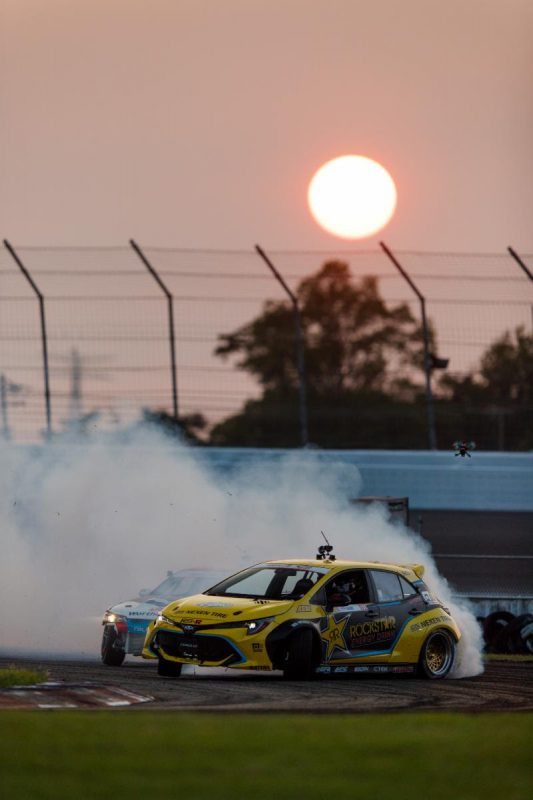 The Rockstar Energy Drink / Nexen Tire Toyota Corolla Hatchback takes victory at the new Formula Drift venue in St. Louis (PHOTO: Larry Chen/Toyota Racing).