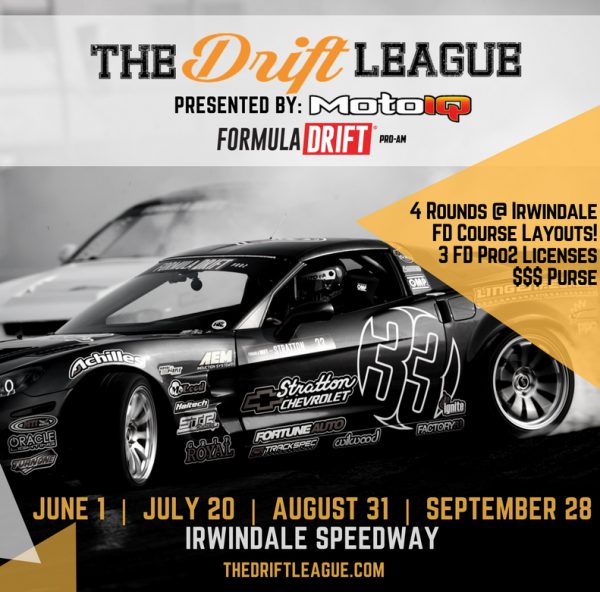 For Immediate Release:
GARDENA, CA, April 9, 2018: The Drift League (TDL) is a new Formula DRIFT sanctioned Pro-Am competitive drift series hosted by MotoIQ. TDL's objective is to help aspiring drifters prepare for the professional levels of drifting. Emphasis will be given to proper vehicle preparation, mechanical & safety inspections, and how to properly run a professional level drift program. The series will consist of four single day competition events which will be held at the House of Drift, Irwindale Speedway. The series is scheduled to hold its four rounds of competition on the following Fridays; June 1, July 20, August 31 and September 28.
Rule sets and judging criteria will be based off current Formula DRIFT's standards. Each round of competition will include practice time, qualifying and a Top 16 Competition. Course layouts for each round of competition will feature different track layouts from the official Formula Drift competition calendar.
TDL competitors will benefit from contingency programs and a cash purse at every competition – details will be announced at a later date. As an official Formula DRIFT Pro-Am Drift series, the top three competitors with the highest point's totals at the end of the season will each be granted Formula DRIFT PRO-2 licenses.
For more information about TDL, visit TheDriftLeague.Com or follow @TheDriftLeague on Instagram and Facebook.