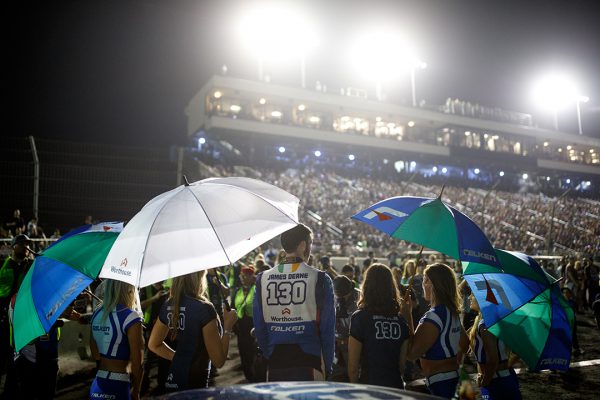 At the start of the year, Formula DRIFT was delighted to confirm its return to The House of Drift at Irwindale Speedway in Southern California for the Final Round on October 12/13, 2018. And today we're happy to announce that tickets for the event go on sale Saturday 6/30/18 at 9:00AM PST / 12:00PM EST on formulad.com/schedule
The O'Reilly Auto Parts Title Fight presented by Rain X is guaranteed to be the best yet in the series' 15-year history thanks to the incredibly close competition this season. The first four FD events have produced four different winners and the drivers know they have to perform at the highest level at every round and on every run. The close competition also means the title race is wide open, with five drivers within 100 points (or one win) of each other.
The entire Formula DRIFT organization is delighted to be returning to Irwindale because of its wonderful atmosphere thanks to the amphitheater created by the half-mile banked oval and the stadium seating. The popularity of the Final Round means tickets always sell-out in advance. Therefore, we recommend that Formula DRIFT fans purchase their tickets early to avoid disappointment.
As always, the Final Round takes place on Saturday night under the Irwindale spotlights. Tickets are available for Thursday and Friday practice as well. Fans additionally get to enjoy the on-site car show, vendor area, team paddock and more.
Jim Liaw, President of Formula DRIFT, is very excited to be returning to Irwindale: "Keeping track of the status of Irwindale Speedway over the past few years has been a rollercoaster ride as a change of ownership and redevelopment was threatened. But with the current management saving the track at the eleventh hour and securing a long-term agreement with the property owners, it gave us the opportunity to sign a three- year deal. We are delighted to continue ending our championship at the House of Drift, and this season is looking like it will be as exciting as ever."
In the meantime, the 2018 Formula DRIFT season continues with Round Five: Autozone Throwdown presented by Rain-X takes place in Monroe, WA on July 20-21. Visit formulad.comfor event details, ticket purchases, driver profiles and Livestream information.