CARSON, California (April 2, 2019) — Papadakis Racing and the Rockstar Energy Drink / Nexen Tire Toyota Corolla Hatchback make their return to Formula Drift this weekend with champion driver Fredric Aasbo behind the wheel.
The 2019 season begins this Friday and Saturday on the streets of Long Beach. Aasbo won the Long Beach opener last year on the way to a second-place result in the championship. He scored a total of six podium results in 2018, including two outright wins.
"We had a season to be proud of and fell short of the championship by an incredibly slim four points," said Aasbo, the 2015 Formula Drift World Champion. "It feels like we have some unfinished business with the Rockstar Energy Drink / Nexen Tire Toyota Corolla Hatchback and we're ready to get back out there and battle."
2019 Series Profile: https://www.youtube.com/watch?v=xRMyY3-hieI
The team has spent the off-season upgrading its competition vehicle, focusing on evolving the suspension and handling characteristics of the rear-wheel drive converted Rockstar Energy Drink / Nexen Tire Toyota Corolla hatchback. First introduced at the start of last season, the vehicle produces 1,000 nitrous-boosted horsepower from its four-cylinder turbocharged Toyota 2AR engine.
It features a four-speed dog-engagement transmission, a Borg Warner EFR turbo, AEM Infinity-8 fuel injection and RS-R suspension. It will ride on Nexen N'fera SUR4G tires and special new Motegi Racing wheels that will be unveiled for the first time on Friday.
Team owner Stephan Papadakis said he's excited to get back into competition. "We do everything we can to get the team and the car dialed in the off-season and the first race always feels a little like you're a bunch of kids going back to school," said Papadakis. "You get to see how everybody has grown and evolved their programs and get a feel for how the competition is going to shake out."
Papadakis has also been working on his PapadakisRacing YouTube channel, finding a strong audience for his regular content uploads focusing on the technical side of racing and vehicle performance.
The team will be out at Long Beach for the first time this season on Tuesday as part of the Long Beach media day event.
Aasbo joined the team in 2011 in a Scion tC powered by a four-cylinder turbocharged engine. The 2019 hatchback, which debuted last year with Toyota at the New York International Auto Show, is the team's fourth build for the manufacturer.
Drifting is a high-skill, high-powered motorsport with an emphasis on car control. In the Formula Drift series, drivers compete in knockout heats on a closed course, sliding sideways in trials judged on speed and style. With origins in Japan, it is one of the fastest growing forms of motorsport in the world.
ABOUT FREDRIC AASBO: Known for his flat-out style, champion driver Fredric Aasbo has achieved 100-plus podium finishes on three continents over the past decade of competition. He is the most winning driver in Formula Drift history.
Aasbo returns to the Formula Drift series in 2019 for a full season in the Rockstar Energy Drink / Nexen Tire Toyota Corolla Hatchback, while also running a select season of events in Europe in the Rockstar Energy Drink / Icom Toyota 86-X, and drifting championship events in Asia.
Aasbo made his U.S. debut at a global drifting invitational in 2008 and turned heads as the winner of the 2010 Formula Drift Rookie of the Year title. Since then, he has charged through the drifting ranks around the world and is both a fan favorite and championship winner.
Originally from Ski, Norway, Aasbo now splits his time between his native country and Southern California. He campaigns a full international season, with competition stops in the USA, Canada, Europe, and Asia.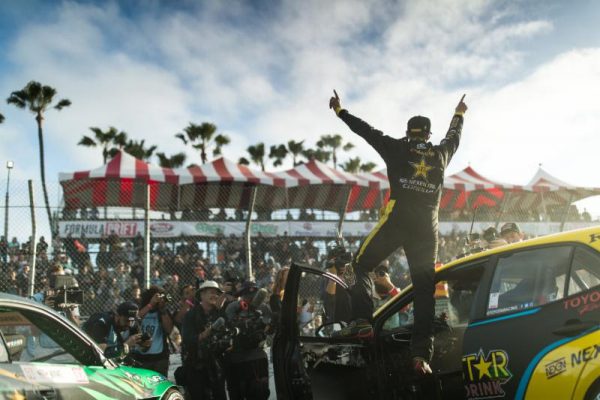 Fredric Aasbo scored victory at last year's Long Beach season opener.
(Photo: Larry Chen / Toyota Racing)