Driver earns hard fought second-place in St. Louis
MADISON, Illinois (August 11, 2019) — Fredric Aasbo and the Rockstar Energy Drink / Nexen Tire Toyota Corolla Hatchback fought hard to a second-place result in St. Louis, coming out of the weekend with a slim lead in the Formula Drift championship points. With two rounds remaining in the competition season, Aasbo has a one-point advantage over two-time defending champion James Deane.
"What an incredible weekend of competition," said Aasbo as he stepped off the podium, trophy in hand. "I wasn't sure how I felt about this new course layout at first but the more I drove the track, the more I started loving it. And going into Top 8, and Top 4 and then the Finals, I had some of the most fun I've had behind the wheel in years."
It was the second year for the series at World Wide Technology Raceway, but drivers faced an all-new track. The European-style track configuration featured a series of tight corners linked by short straightaways and many competitors struggled to find a flowing line. Crashes were frequent.
After qualifying second and advancing past Taylor Hull in the opening Round of 32, the Round of 16 saw Aasbo make an uncharacteristic mistake, catching a curb and spinning out while chasing rival Justin Pawlak. The error could have ended the weekend for Aasbo but, in a stunning reversal, Pawlak also spun out before the finish line. Judges awarded the match to Aasbo based on the strength of his lead run.
"When I saw Fredric spin out, I thought the weekend was over," said team owner Stephan Papadakis. "Everything that happened after that felt like a gift."
In the Great 8, Aasbo faced a high stakes battle with Aurimas "Odi" Bakchis, who started the weekend just two points behind Aasbo in the championship standings. With everything to lose, neither driver held back. The competition was so close that judges called for a one-more-time rematch. After a second thrilling battle, it was Aasbo who edged into the Final 4.
"That was probably the best chase run I've done in a long time," said Aasbo. "Odi came back over afterward and said it was one of the coolest battles he's done and it really warmed my heart because this is what we dream of doing as drift drivers."
Next up on the competition ladder was Toyota teammate Ryan Tuerck, who has proven formidable competition this season as he and Aasbo have twice found themselves one-two on the overall podium. It was Aasbo who advanced this time, to meet two-time defending champion Deane in the Final.
There, Aasbo was so focused on delivering a result that he pulled the shifter straight out of his car as he grabbed for third gear on his lead run. He completed the run in second gear but it cost him just enough speed to lose the match and he had to settle for second place.
"It's clear for everyone to see that James is on a mission to back up his two championship titles," said Aasbo. "But we're hungry: we're driven. And we're certainly not going to make it easy for him."
The 2019 championship season has been a nail-biter, with a strong field of contenders. So far, there have been five different winners in six rounds. Aasbo took back-to-back podiums in Atlanta and New Jersey to climb to the top of the standings and has held a slim lead ever since.
Two championship stops remain on the championship calendar this season. On September 13 and 14, teams will compete in Dallas, Texas, home to Toyota's USA headquarters and a track where Aasbo last won in 2014. He finished third there in 2018. Before then, the Papadakis Racing squad will visit Road Atlanta in Braselton, Georgia, August 23-25 for a weekend of cutting loose at Grid.Life.
Drifting is a high-skill, high-powered motorsport with an emphasis on car control. In the Formula Drift series, drivers compete in knockout heats on a closed course, sliding sideways in trials judged on speed and style. With origins in Japan, the sport's growing popularity has meant that livestream and content views for Formula Drift have topped 5.7 million or more for each round.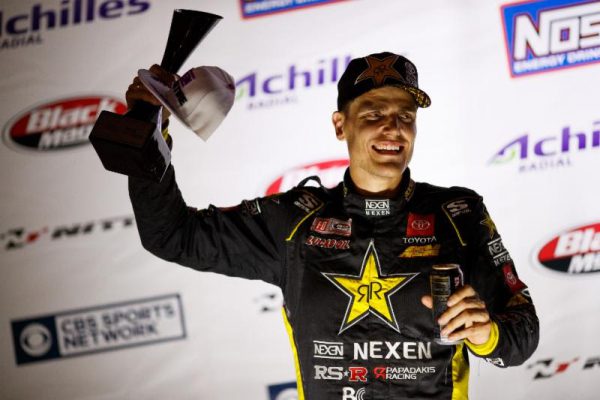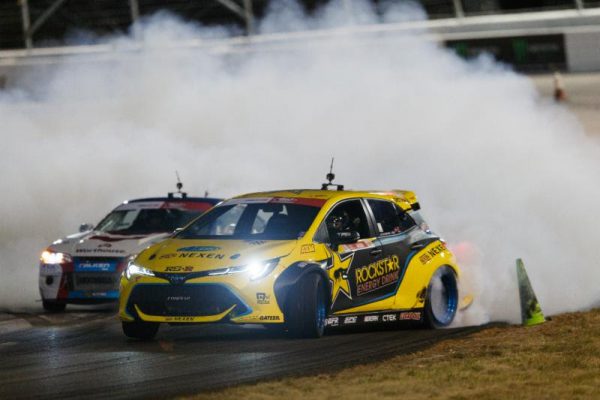 Fredric Aasbo is in first place in the 2019 Formula Drift championship with two stops remaining on the calendar. (Photo: Toyota Racing)