June 7-8 marked the annual invasion of the north by Taylor Hull and the rest of the field of Formula Drift. The battle takes place at Wall Speedway on the eastern coast of New Jersey. Fans lined all the way to the road each day to witness the spectacle. The adrenaline fueled crowd was unfazed by the venue selling out to standing room only on Saturday and the event did not disappoint them.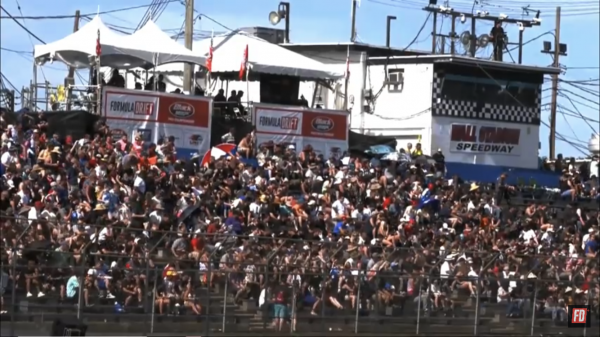 Thursday Taylor began practice with two uncommonly bad laps that were off line and slow. Tamarah Hull, his spotter and wife observed what some other drivers were doing different and helped Taylor implement changes to his initiation which changed everything. The Cadillac looked dialed and Hull had finally gotten comfortable when the first practice was over.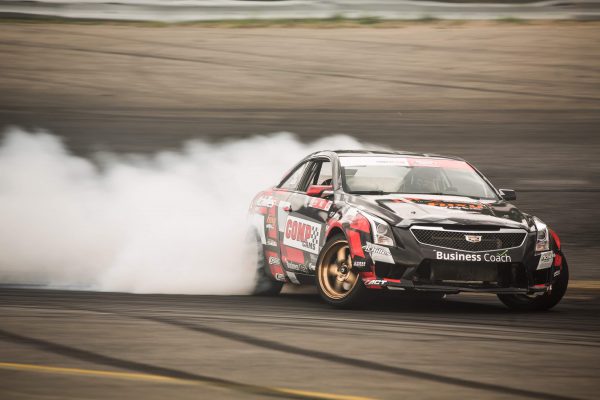 Following the first session, a change was made to the track layout. This was not because the series or drivers requested it, rather because the track itself was coming apart. Hull had to relearn the layout along with all the other drivers and adapt once again. Taylor was able to complete Thursday practice with the only issue being some contact with Vaughn Gittin. There was no real damage, and the team was ready for Friday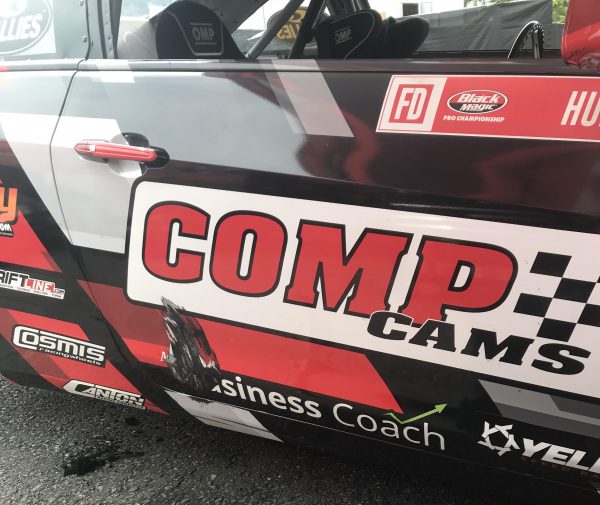 Friday, the team unloaded early and set up the booth where many new entries for the NSR drift spec cam giveaway from Comp were submitted and new customers were able to gather information on Yellowspeed coilovers through conversations from the displays.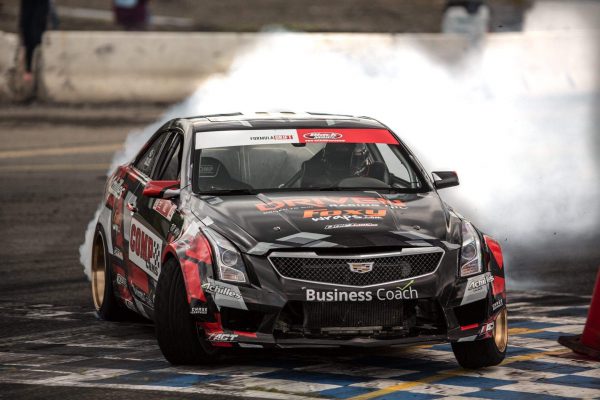 Friday was also a day to celebrate for the team, because in three years of coming to New Jersey to compete, 2019 was the first time the car had made it through Thursdaypractice without having a major engine issue. There would be no such terrible luck in practice or at any point this year at Wall.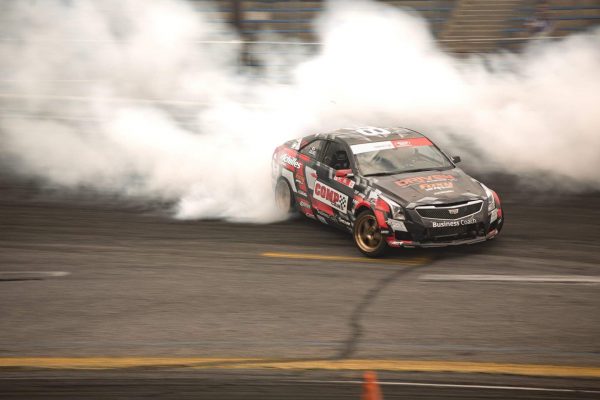 Qualifying began in the early afternoon and Taylor received scores of 82 and 84 respectively, landing him in 27th and into the top 32. Hull has this to say following qualifying. "I felt like I put up a pretty solid run in qualifying. This is the first time this year I am disappointed with my score. Qualifying is so important in determining who you go against and we're going to have a tough draw again. I think our Cadillac is fast so I am up to the challenge, I just have to find a way to qualify higher."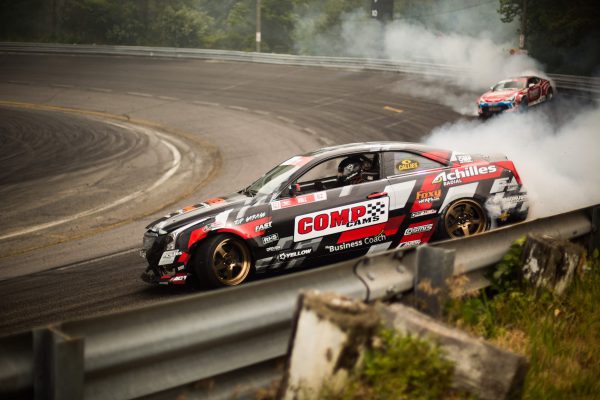 Hull got some good practice in Saturday morning and made final tire pressure adjustments on his Achilles 123's. His draw was indeed a challenging one; current points leader and winner of two rounds in 2019, Odi Bakchis. Taylor and Odi had battled once before, in Texas 2018 where there was some contact and Bakchis was awarded the victory. Hull was out to prove a point that he is capable of beating someone atop the list in Formula Drift this time.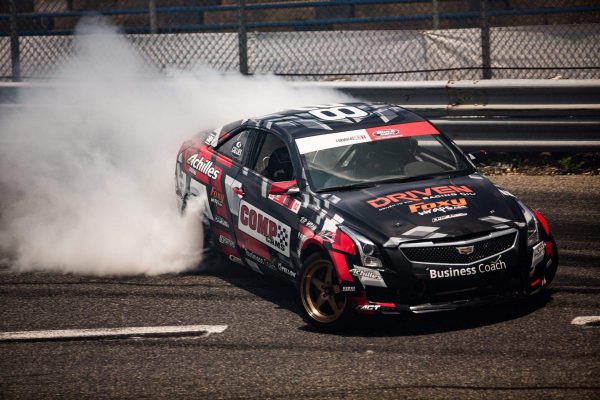 The battle started with Odi's teal and blue S14 leading first. He had a lead run that checked all the boxes for the judges for each scoring zone. Taylor was not far behind at any point though, he was able to navigate the smoke emitted by Bakchis and stay within striking distance for the duration of the run. When it was Hull's turn to lead, he also had a solid lap, filling the zones and getting close to all the front clips. He had deep angle in several areas, making the most of the new front end adjustments made between rounds. Odi was right on his door though, the points leader put his Nissan in all the right places and when the judges verdict came down, Odi was victorious.
Hull was in high spirits following the battle commenting "That was a lot of fun! Odi and I never really got to battle in Texas last time, so it was great to get two clean laps and just get to battle it out. He drove great in the lead and was right there in his chase, so he deserved the win for sure. I think I really need to focus on qualifying higher to help increase our chances of moving forward. Going out in 32 is not what we strive for obviously, but it was nice that Jersey didn't claim my engine this year. This is the first time I've gotten to at least battle at this place and it was fun. Seattle is next and that is probably my best track historically. I have it circled on the calendar so I hope we can go out there and put on a show!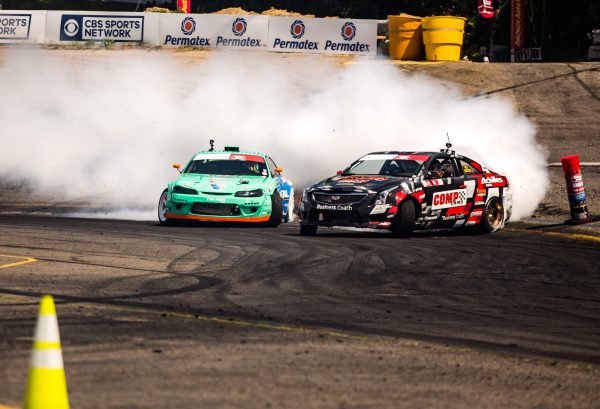 Taylor's next event will be Formula Drift round 5 in Monroe, Washington July 19-20. He would like to thank the fans, his partners and his crew for all their continued support! Photo credit will go to Frank Mirabelli.
Comp Cams
Achilles Tire
My Business Coach
Fuel Air Spark Technology
Callies Racing Products
Yellowspeed USA
Magnuson Superchargers
Racing Head Service
Driven Racing Oil
Drift Line
Cosmis Racing Wheels
Driveshaft Shop
Canton Racing
Top Garage
Foxy Wraps
JE Pistons
Advanced Clutch Technology
OMP Racing
Thunderbolt Fuel
The Firm
Chase Graphics
Aloha Green Tea Hawaii
Asphalt Anarchy