By Joey Redmond
10. Taylor Hull Needs his Groove Back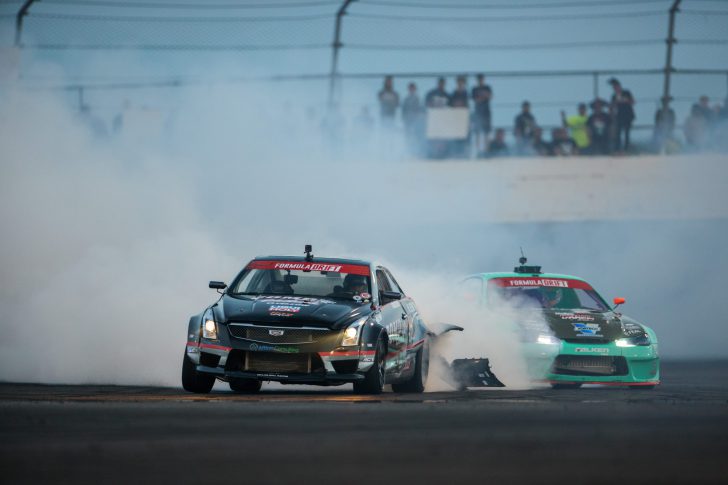 It was just last season that Taylor Hull was the talk of Formula Drift as he pushed the big stars of the series around to OMT battle after OMT battle and went down every time with a fight. His 2021 Formula Drift season has started out much quieter, but we got to see a great glimpse of his hot tandem hands against Odi Bakchis in the Top 16. It was really a battle that belonged in the Final Four as these two guys laid everything out each time they had to run to try and push for a victory. Hopefully we can see more of this Taylor Hull at the end of the month when Formula Drift rolls into Evergreen Speedway.
9. Another New Venue and Fans Deliver!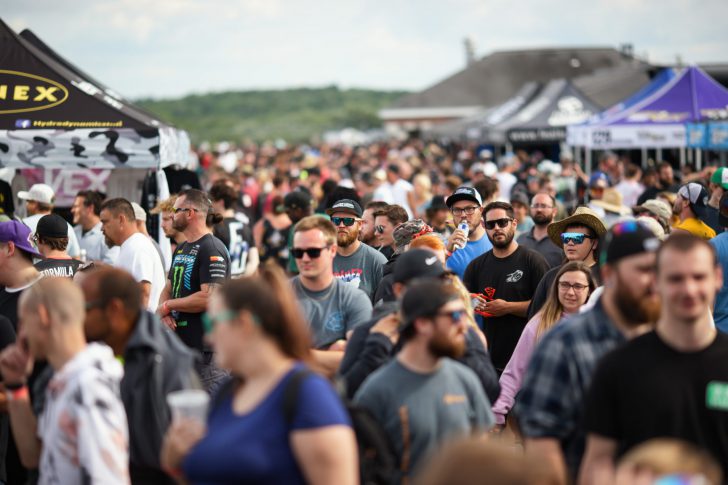 The Formula Drift team took off to Erie, Pennsylvania to a quiet track known as Lake Erie Speedway. The track entertained and put on a great show while fans packed it in spite of the bad weather in the area all weekend. It was great to spread the series to a new region and bring the excitement of Formula Drift to some fans who had never seen Formula Drift run in person yet.
8. Rookie of the Year Race is Tied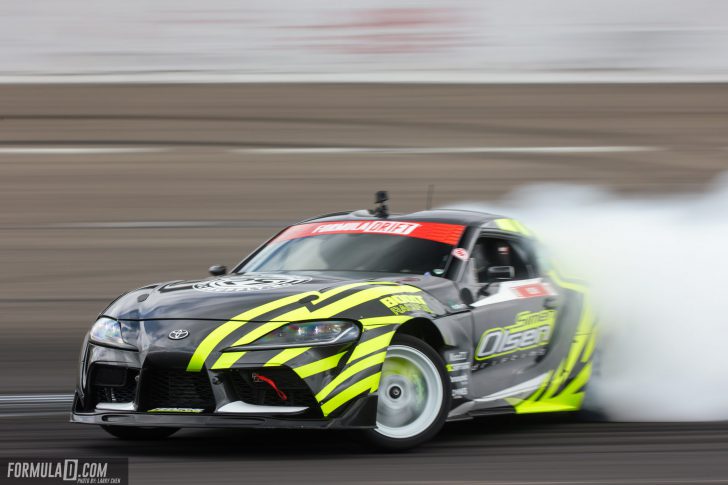 The young gun Branden Sorensen has tallied up 174 points after 4 rounds of Formula Drift and he is now tied with the new Norwegian on the scene, Simen Olsen. They have four rounds left to battle it out and claim the ROTY for the 2021 Formula Drift season. If one of them can land a solid Great 8 finish that could push them into the lead for the season as they keep swapping back Top 32/16 finishes between the two of them.
7. Adam LZ Tops Qualifying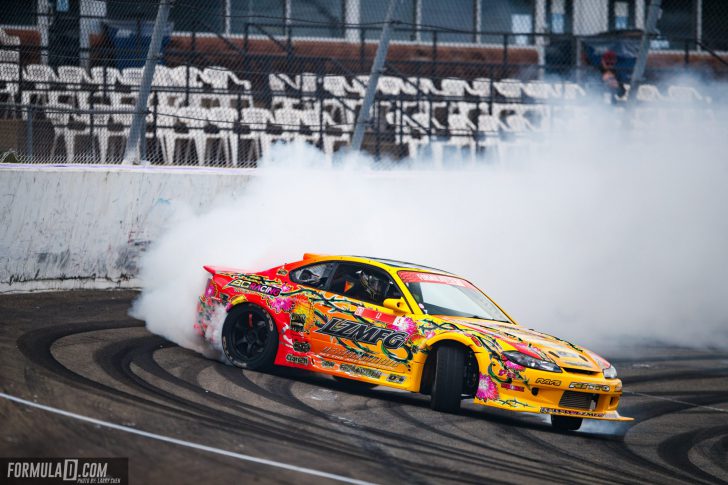 The qualifying session happened in wet conditions and saw many top pros put down a zero for the first run and they were forced into the Last Chance Qualifier laps. Adam LZ delivered an aggressive and smooth lap in the rain earning him a solid first place finish and a bye run into the Top 16. Sadly, the Top 16 found him going against Chelsea DeNofa who was unstoppable on the night.
6. Dylan Hughes Performs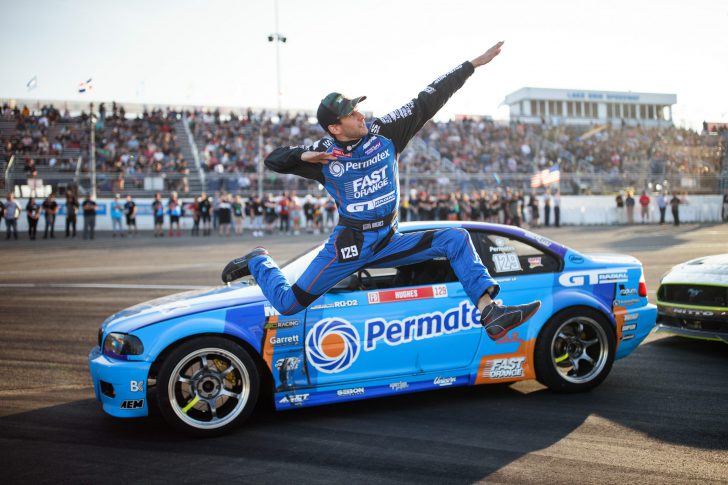 Dylan really came out to Lake Erie Raceway with a dialed and set BMW. It was on display right away as he managed to defeat Ken Gushi in the Top 32 round of Formula Drift. Dylan seemed like he could make his first podium run until he found Matt Field in the Great 8. Dylan put up a tough fight but couldn't put up a battle against Matt Field to take him out on the night. Dylan Hughes has been pretty consistent this season and finds himself in 12th place overall in the Formula Drift Championship and only 132 points behind Matt Field who still holds the Formula Drift Championship lead.
5. Did Rome Charpentier really spin twice on purpose?!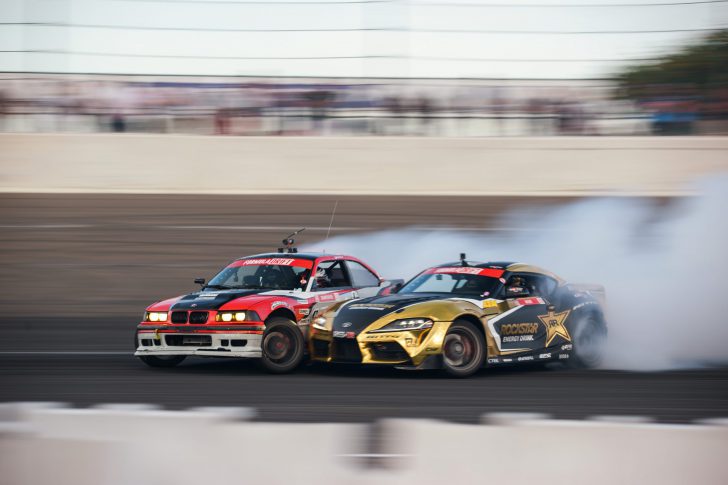 The judges sure seem to be confident the answer was yes. I really put some time into the two incidents that occurred in the Top 16 battles between Rome Charpentier and Fredirc Aasbo. In the first run, they inspected Rome's car damage and you can see where the damage was on his door which doesn't help his case. Then, if you watch the video closely, Rome before he spins, looks backwards at Aasbo before going off course in the other direction. It was tough to see the first time around but even tougher to watch on the second battle as he managed to do it all over again. The judges ended up siding with Fredric Aabo being able to advance and assigned fault of the OMT spin to Rome Chapentier.
4. Making the Case of Odi Bakchis.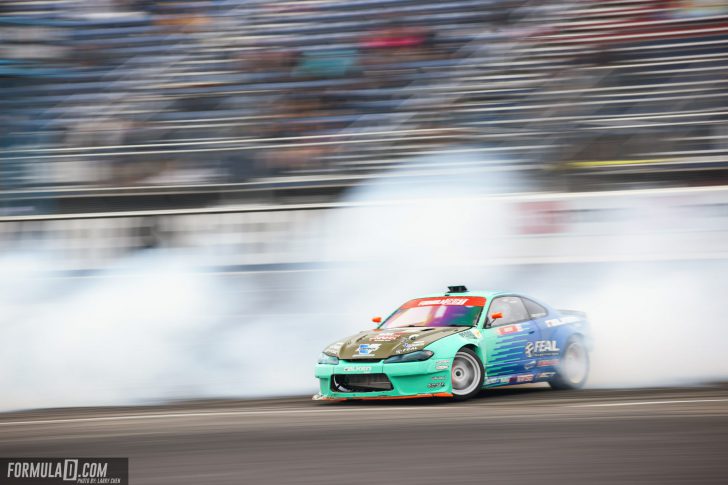 Odi Bakchis had an interview after his loss against Vaughn Gittin Jr. in the Great 8 implying his car was pushed off course and he had nowhere to go or nothing to do other than slide off the track. It was a really tough call to make for the judges with the camera angles provided. I have to wonder if the whole Rome Charpentier debacle (covered in #5) didn't happen first, the judges might have favored Odi Bakchis more in this particular case. A little recency bias took something that was probably more of a 50/50 as a call and pushed it to 60/40 in favor of Odi Bakchis at fault seems to be a highly probable scenario.
3. Matt Field Gambles Early but Finds Podium Anyway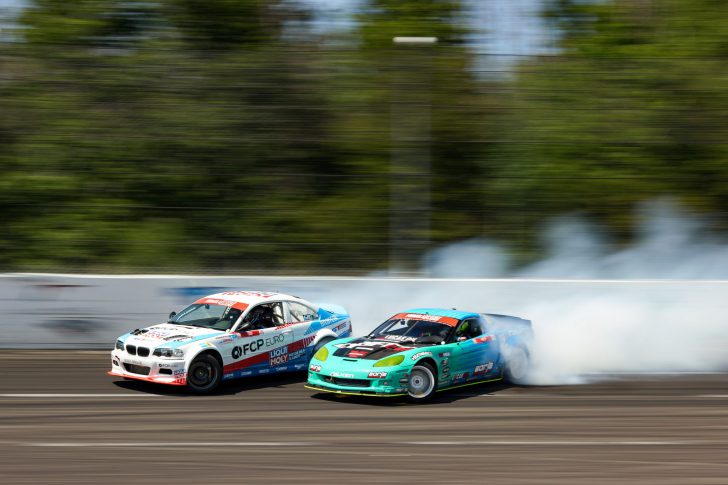 Matt Field and his team made a wild call to use his Competition Timeout in the Top 32 before he turned a wheel on the course. The team had swapped out a steering rack and didn't feel like the new suspension settings were correct. They rolled the dice and called the only Competition Timeout they can use before battling Dai Yoshihara in the Top 32. It was a gamble worth calling as he advanced to the Final Four and then lost to Chelsea DeNofa. Even with his defeat, Matt Field sits in first place in the Formula Drift Championship currently with a 19-point lead.
2. Fredric Aasbo Proves that Never Lift Works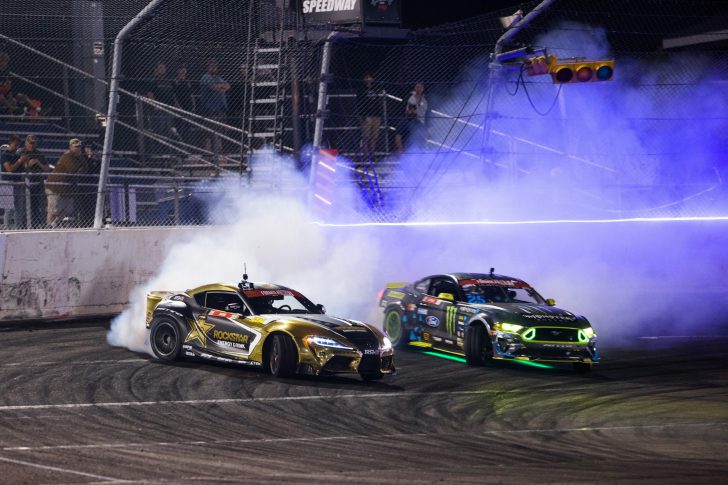 Fredric Aasbo suffered a mechanical failure in the second lap of his battle with Vaughn Gittin Jr. in the Final Four when he initiated on the bank. He could easily have let out of the gas and tried to figure out what was wrong with the car and take the logical loss in the tandem battle. He stayed in it and then Vaughn Gittin Jr. managed to straighten out on his own resulting in the lap being an incomplete. Once the lead driver stops being in drift, the lap is then dead and cannot be judged any longer to avoid collisions and chase drivers from continuing to drift on course. The judging really came down to the first lap and that gave Fredric Aasbo an advance into the final round at Lake Erie Speedway. Sadly, he couldn't repair the car in time and gave Chelsea DeNofa a free pass to first place on the night.
1. Chelsea DeNofa on Top Again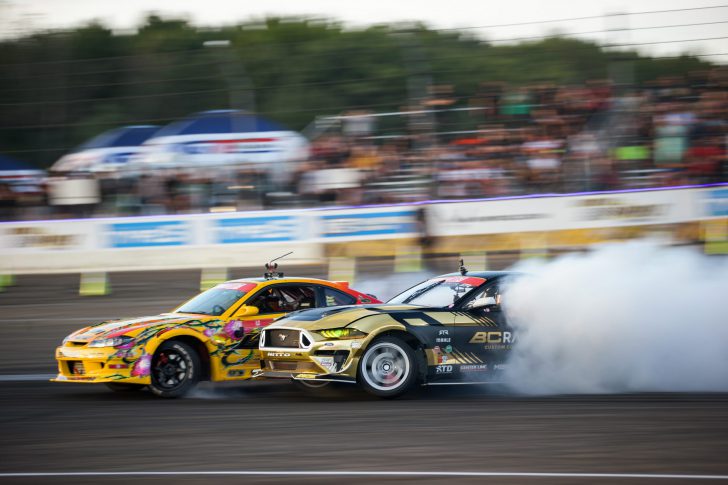 An incredible performance at Lake Erie Speedway displayed the dominance and consistency of Chelsea DeNofa again during the 2021 Formula Drift season. This victory marks the fifth career Formula Drift win in the history books for Chelsea DeNofa. The battle against Matt Field in the Final Four was very important for him to win so he can manage to keep Matt Field as close as possible in the Championship race this season. The series is on the way to Evergreen Speedway in Monroe, Washington at the end of this month. Matt Field and Chelsea DeNofa have both never won an event here. However, third place driver Fredric Aasbo who sits closely behind them in points has managed to win here only once back in 2015!