By Joey Redmond
10. Dylan Hughes Most Improved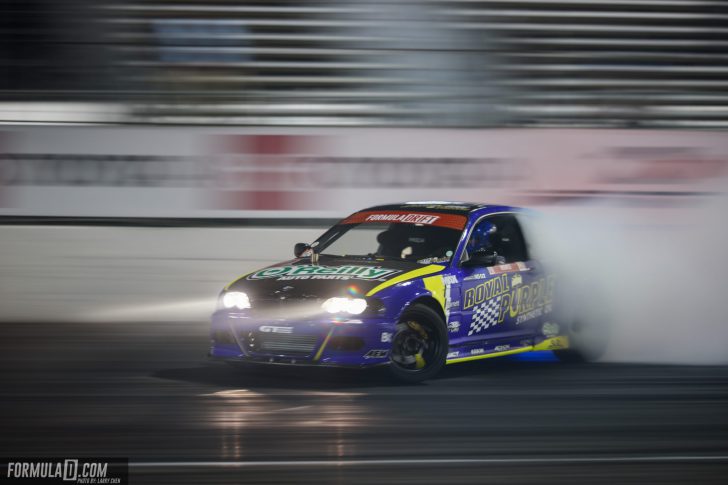 Dylan Hughes pushed his way into Top 16 after defeating "Rad" Dan Burkett in the Top 32. He faced off against Ryan Tuerck and was unable to beat him with his BMW this round. Dylan Hughes ended the season just 67 points behind Ryan Tuerck in the Championship standings and really established himself in the new generation of drivers coming up into Formula Drift this season. He finishes the 2021 Formula Drift season in eight place and that is his first career Top 10 finish!

9. Simen Olsen Lands Rookie of the Year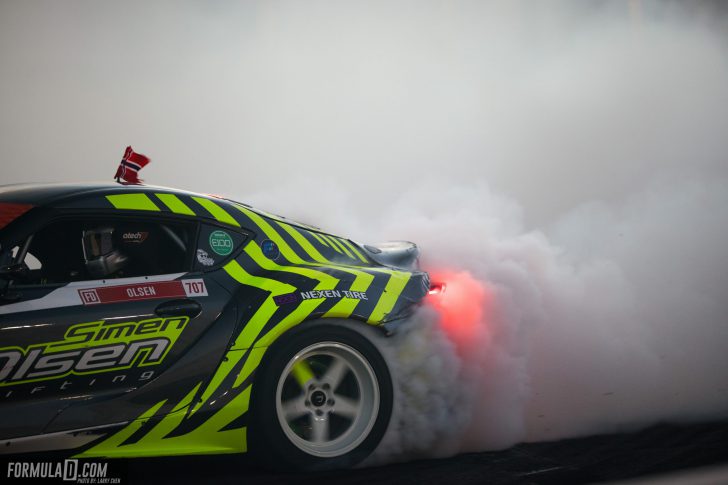 The Rookie of the Year race this season has been a really close one that had to finally pick a winner at Irwindale Speedway. Simen Olsen defeated Dai Yoshihara in the Top 32 which gave him just enough points to knock out Branden Sorensen and Jonathan Hurst who finished tied 17 points behind Simen Olsen. Simen Olsen is from Hovag, Norway and he helps cement the Norweigan domination Formula Drift has witnessed this season in his Toyota Supra.
8. Kyle Mohan Pushes Top 16 Again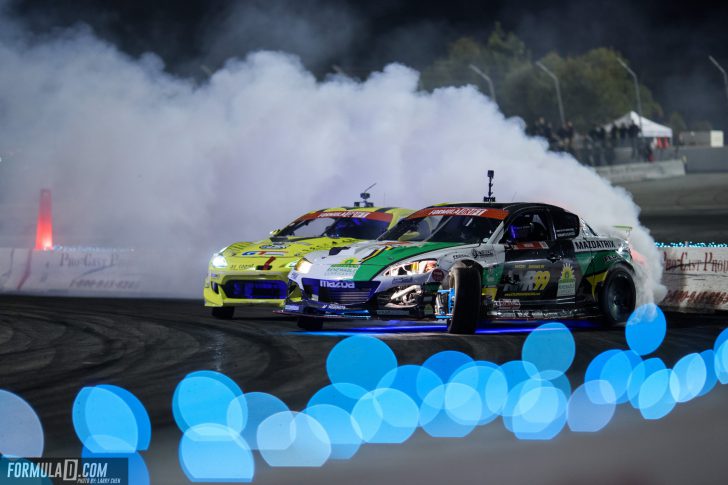 Kyle Mohan has really struggled at the early end of the Formula Drift season, but he has really swung the pendulum in the other direction at the end of this year. He had a Top 32 battle against Adam LZ, who was in a rented S14, and took home a victory after a really solid lead run performance. He then had a great battle with Kazuya Taguchi but fell short and finished his night with a second Top 16 performance in a row.
7. Daijiro Yoshihara's Last Ride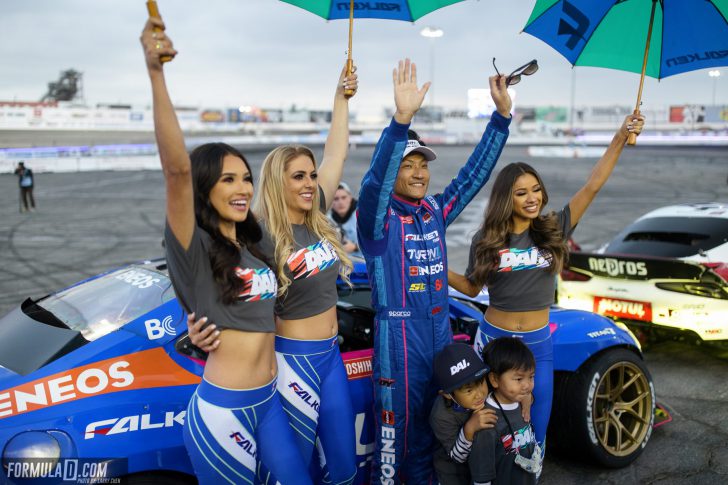 Daijiro Yoshihara retired at the end of the night at Irwindale Speedway. He was one of the three remaining drivers who has competed at every event since the Formula Drift series started in 2004. He qualified seventh in his very last event but was defeated early in Top 32 against rookie Simen Olsen to end his long and amazing Formula Drift career. Dai Yoshihara was the 2011 Formula Drift Champion and is the fifth most winning Formula Drift driver of all time with 8 victories and 28 podiums in his amazing career.
6. Ryan Tuerck Drops to Champion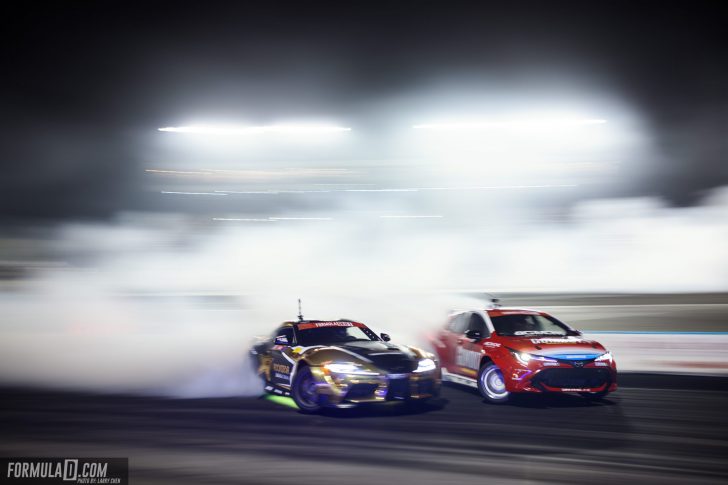 Ryan Tuerck had another season where he looked really great but fell short of being Championship level competitive. His Toyota Corolla suffered some hard crashes early in events, but his team always manages to get the car back in action quickly. Ryan Tuerck took out Dylan Hughes in the Top 16 and then was set to face off against Fredric Aasbo. If Ryan Tuerck defeated Aasbo in the Great 8 it would put Aasbo's Championship hopes in serious jeopardy, so it was a high stakes tandem battle. Ryan Tuerck couldn't make it happen on the night and finished his 2021 Formula Drift season in sixth place, only 111 points short of the Championship spot.
5. Vaughn Gittin Jr. Says Goodbye for a Little Bit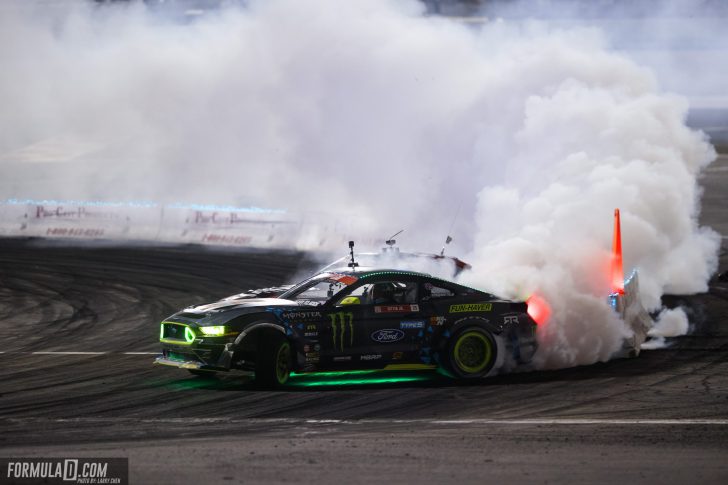 Vaughn Gittin Jr. announced he is stepping away from Formula Drift for a little bit but made it very clear this is not a retirement. He is coming off the 2020 Formula Drift season where he won his second Formula Drift Championship and had quite a successful and memorable 2021 season. He had some amazing battles early on at Irwindale but showed clear dominance until his Final Four battle with Fredirc Aasbo. These two have had some legendary battles in Formula Drift but nothing was going to stop Fredric Aasbo on his big Championship day in the Toyota Supra. This set Vaughn Gittin Jr. in third place on the night. Vaughn Gittin Jr. steps away from Formula Drift for now as the second most all time winning driver in Formula Drift series history with 12 victories.
4. Chelsea DeNofa Early Loss Hurts Big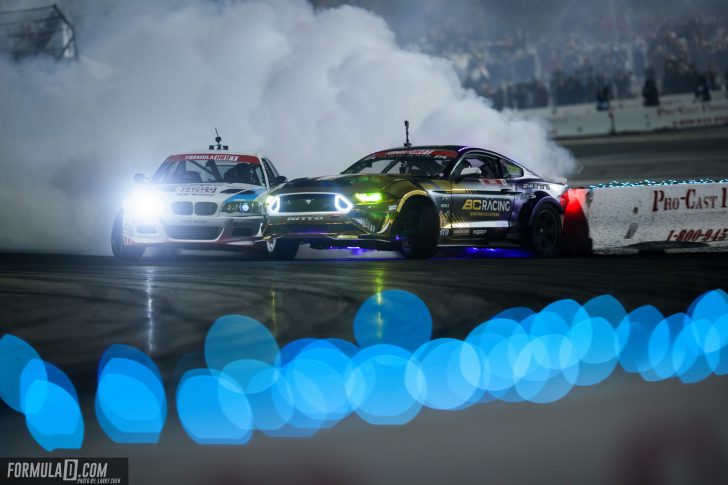 Chelsea DeNofa started the weekend off being so close to taking home his first Formula Drift Championship. His qualifying score was just a 70 and set him up with a harder bracket than his Championship rivals. His Top 16 battle against Michael Essa was one for the ages. The judges sent the battle into a second One More Time call and after that, the judges still couldn't agree who won and had a split decision win for Chelsea. This put him in the Great 8 against Matt Field who took him out and confirmed his position of not being champion. Chelsea appeared to get lost in the smoke behind Matt Field in the chase battle and was pushed off the line to finish his battle. He finished the season in fourth place and 43 points behinds Fredric Aasbo which seems crazy considering he won three events.
3. Matt Field Comes So Close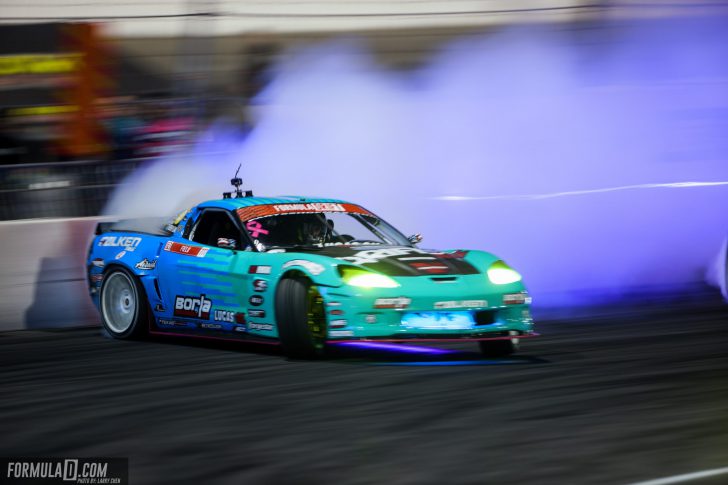 Matt Field was the third major contender for the Formula Drift Championship at Irwindale Speedway. Matt Field had a wild road to get into the Final Four including defeating Travis Reeder, Justin Pawlak, and then Championship Rival Chelsea DeNofa before making it into the Final Four. Once Fredric Aasbo made it into the final round, he was unable to win it all any longer, but he still put on a Championship performance on the night. He found himself taking on Odi Bakchis in a Frenemies battle which resulted in car to car contact that the judges faulted Matt Field on in the Final Four. This allowed for Odi Bakchis to take a trip to the finals and putting Matt Field fourth on the night and finishing the season second overall.
2. Odi Bakchis Wins Irwindale Speedway Again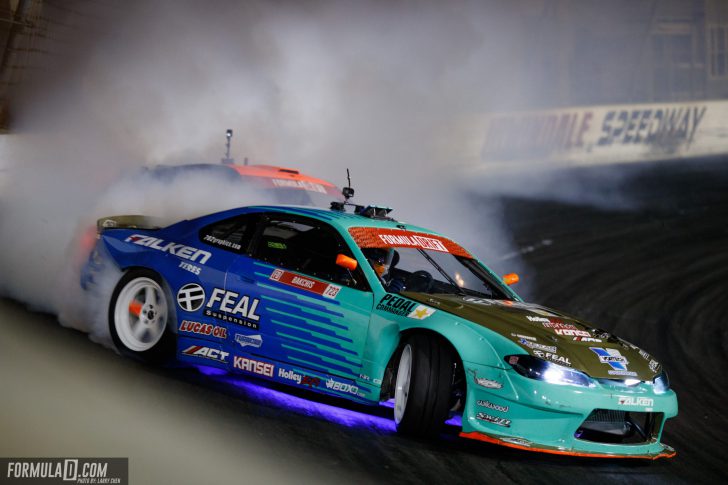 Odi Bakchis has now won Irwindale Speedway two years in a row and finished the season with his third victory of the 2021 Formula Drift season. Odi Bakchis has cemented his name as one of the new generation Formula Drift drivers who will compete for the Championship year after year. He took on Jeff Jones and then Chris Forsberg and beat them both to find himself in the Final Four with Matt Field where he earned another win. Odi Bakchis looked like a man on a mission and then took out the newly minted 2021 Formula Drift Champion Fredric Aasbo in a solid final battle. Odi Bakchis is quickly becoming the kingmaker of Irwindale Speedway with two back to back victories at the venue. He just needs to find himself a little closer to the Championship in 2022 and lock it up with a third Irwindale victory next season.
1.Fredric Aasbo Wins his Second Championship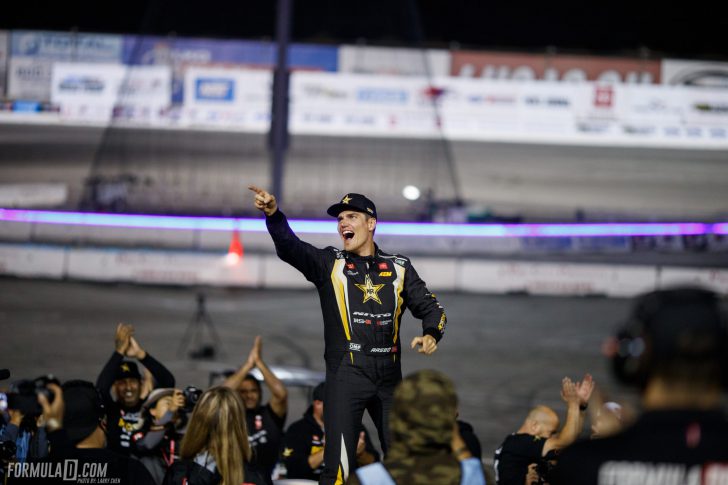 Fredric Aasbo was a man on a serious mission this weekend at Irwindale Speedway! He qualified first and earned a bye run into the Top 16 to kick things off on Friday. Fredric Aasbo took out Ryan Tuerck in the Great 8 and then Vaughn Gittin Jr. in the Final Four to be confirmed the 2021 Formula Drift Champion! Fredric Aasbo has the most victories in Formula Drift history with 16 events won and is now a two-time Formula Drift Champion. Next season he can look to tie Chris Forsberg and James Deane as the only their time Champions in the series history. Fredric Aasbo shows no sign of slowing down as his driver and performances continue to be top notch round after round. The Formula Drift Championship points really reward consistency over winning events. Fredric Aasbo only won one round of Formula Drift this year while beating Odi Bakchis and Chelsea DeNofa for the title who both managed to win three events in the 2021 calendar. A huge congrats to Fredric Aasbo and the entire Papadakis Racing team for a hard-fought victory!