Formula DRIFT driver and Samuel Hubinette Racing teammate Andrew Comrie-Picard took the victory at the Oregon Trail Rally this past weekend.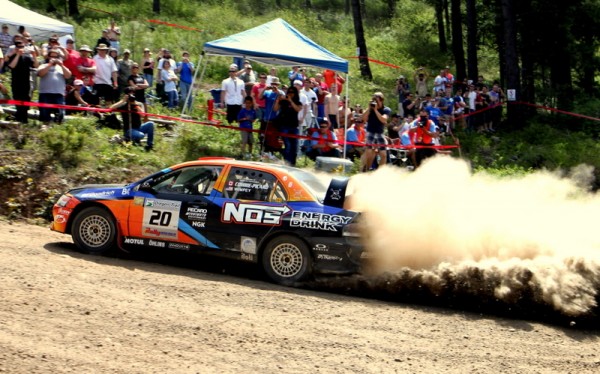 Portland, Oregon (ACP RACING) – North American Rally Champion Andrew "ACP" Comrie-Picard and the NOS Energy Rally Team won the long and difficult Oregon Trail Rally this weekend, scoring victory with a strong and steady drive in an event that saw both close competition and some major crashes. The team led almost the entire event on the way to the win.
"It's a great result," said Comrie-Picard, "everything went according to our strategy and the win is an important one at this point in the season. It's great that the car, the team, and our partners are all working so well."
Comrie-Picard and co-driver Jeremy Wimpey, in their NOS Energy Mitsubishi on BFGoodrich tires, started off the three-day event with a strong performance at Portland International Raceway and took a narrow lead into the first night over rivals Ken Block (Ford/Pirelli), Dave Mirra (Subaru/BFGoodrich), and Antoine L'Estage (Mitsubishi/Yokohama).
Early on the second day of competition, in the Hood River region of Oregon, Block set two fastest times and briefly overhauled Comrie-Picard for the lead, but on the next stage rolled the car and was unable to continue. The same corner had claimed Mirra with a roll earlier in the day. L'Estage cracked a wheel and dropped back in the field but was able to claw back to third place overall by the end of the competition.
William Bacon, in a Mitsubishi Evolution similar to Comrie-Picard's, put in a steady and fast drive with no major problems to finish second, 44 seconds off the winning time.
"We just went out with a pace in mind and stuck to the plan," said co-driver Wimpey, "we pushed a bit on the first night to get the lead then paced ourselves for the next two days to be where we needed to be at the end."
The event included a wide variety of road characters and surfaces, from tarmac and mixed tarmac stages on Friday, to twisty, technical, and rough gravel stages on Saturday, to very fast, smooth, and silty stages on Sunday. Hot weather tested the endurance of cars and teams.
The result vaults Comrie-Picard past Block and into to a tie for fourth place with Dave Mirra in the Rally America Championship.
Rally car racing is considered the extreme sport of automobile racing and is often described simply as "real cars, real roads, real fast." This all-season motorsport sees drivers and their co-drivers take modified road cars to the limit as they achieve blistering speeds over courses that cover hundreds of miles of gravel, dirt or snow-covered roads.