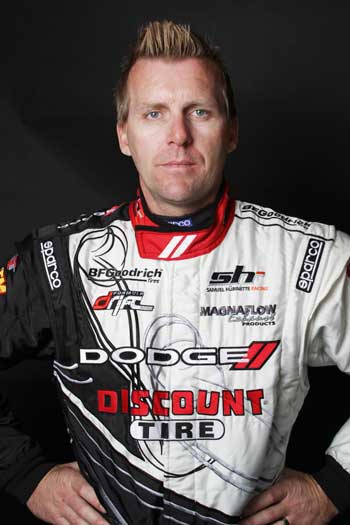 Long Beach, Calif. – March 15, 2012 – The 2-time Formula DRIFT champion, Samuel Hübinette has announced today that he will not be returning for the full 2012 Formula DRIFT pro championship season.
After 8 seasons with the Series, Hübinette will not be competing in the full Formula DRIFT schedule due to sponsors' changing interest. Team Samuel Hübinette Racing will continue to participate in Formula DRIFT international demos and is still working on participating in some Pro Championship events. Hübinette will concentrate on other racing opportunities for 2012.
"Two of our main sponsors changed their marketing direction, so we decided that the best thing to do with the Dodge Challenger SHR drift car is to focus on doing demos. For competition, we're pursuing opportunities in rallycross and off-road truck. We hope to run a round or two of the Formula DRIFT competitions for 2012, but won't know for sure until things settle down," said Samuel Hübinette, professional driver and team owner of SHR. "It has been such a good time to be part of the Formula DRIFT Series from day one and to be the inaugural Series champion means a lot to me. Drifting and Formula DRIFT has given me many opportunities in my career including stunt driving in movies and car commercials. "
In 2011, Hübinette drove in both Formula DRIFT and the Traxxas TORC Series ending up with a few conflicts that resulted in missing a couple rounds in Formula DRIFT. The highlight of the season was gaining a first qualifier spot in the Samuel Hübinette Racing Dodge Challenger at the —– round. With 2 championships and 9 event victories, Hübinette maintains the record for most Formula DRIFT victories.
"We will miss having a competitor like Samuel this season," said Jim Liaw, president and co-founder of Formula DRIFT. "We know that when the funding and sponsorship re-align, Samuel will be able to return to the Series and continue to be a competitive driver."