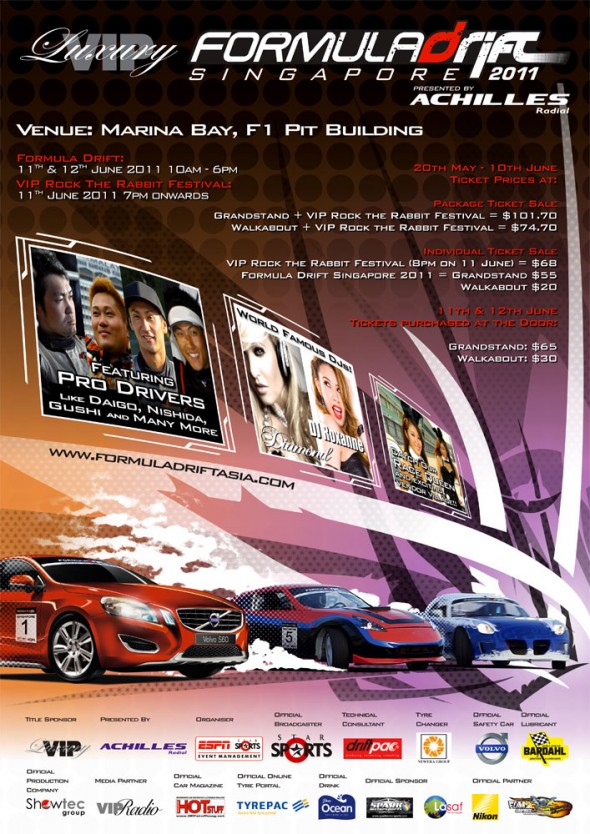 May 19, 2011 – Singapore – For the first time, motorsport fans in Singapore can look forward to a thrilling combination of howling engines, screaming tyres, and an electrifying line-up of party beats and entertainment acts as the fourth edition of the VIP Formula Drift Singapore Presented by Achilles Radial returns on 11 and 12 June 2011 at the iconic F1 Pit Building.
In addition to showcasing the region's top drivers, this year's event aims to elevate the spectators' experience with an exciting mix of the best drifting action and entertainment. Organised by ESPN STAR Sports Events Management (ESS) with the support of Title Sponsor VIP Luxury, Formula Drift fans can expect more than just a motoring spectacle with an exciting line-up of musical artistes, promising to keep everyone's engines revving late into the night.
This is the first time that VIP Luxury is involved with a sporting event, and is looking to make an impact with the drifting event, which has already established a strong following in Singapore. VIP Luxury will be going all out to make sure that guests are entertained throughout the evening, with VIP Rock the Rabbit Festival, pulling out all the stops by bringing down the world famous Playboy Playmate DJs, DJ Roxanne Dawn and DJ Diamond to keep fans entertained for the entire night.
Nick Leese, Chairman of VIP Luxury said, "We are all extremely excited about our new partnership as it combines the energy, attitude and atmosphere that we aim to achieve at all of our VIP Luxury parties. The audience will not be disappointed with what we have lined up for them, and it will definitely set the bar in the sporting scene!"
The Playboy-themed festival will also kick off with a casting call for all prospective Playboy Bunnies, as well as a VIP fashion show and Playboy Art Gallery. The festival will also include a special art gallery dedicated to the legendary Playboy Magazine Covers, as well as interviews with celebrities. VIP guests will have access to the Mansion Hospitality Suites, getting the full Playboy treatment.
"All of us at ESS are eagerly looking forward to this year's VIP Formula Drift Singapore 2011 Presented by Achilles Radial and feel it will be the best one yet with this elite group of world-class drift drivers," said Mr. Harvey Davis, Vice-President, ESS Events Management Group. "At the same time, we have seen how well entertainment and motorsport have gelled together and we hope that our partnership with VIP Luxury will make for a unique spectator experience that will elicit a greater sense of excitement and energy next month, and elevate the Singapore leg into a prominent event in South East Asia.."
VIP Formula Drift Singapore 2011 Presented by Achilles Radial has established itself on the region's sporting calendar, attracting top drifting talents and interest from all across Asia. This year's event continues its strong global flair with more than 45 drivers coming from Singapore, Malaysia, Philippines, Indonesia, China, Japan, Thailand, Hong Kong, and New Zealand. With top international drivers such as Japan's Robbie Nishida, Australia's Joshua Boettcher and last year's Formula Drift Asian Champion Tengku Djan Ley, the 'Prince of Drift', from Malaysia, this year should be one of the most competitive in the event's history.
The Singapore event is the first of a four-leg series for Achilles Asian Drift Series which will be followed by events in Indonesia in October, Thailand in November and the year-end Grand Finale this December in Malaysia.
For more information please visit http://www.formuladriftasia.com/