GOODYEAR FORMULA DRIFT MALAYSIA REVS UP FOR ANOTHER EXHILIRATING SHOWCASE
Holding event at the Dataran Merdeka to bring Motorsport fans closer to the thrilling drift action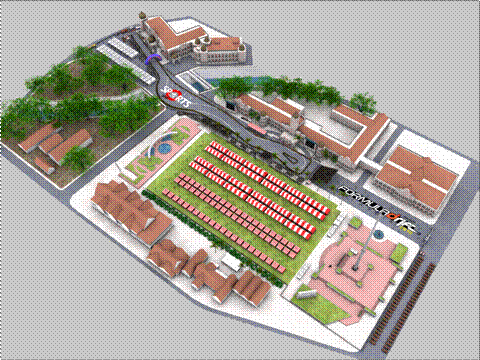 25 October 2010 (Kuala Lumpur) – Counter steers, over steers, 'donuts' and screeching tires return to Kuala Lumpur as the adrenaline-pumping action of the Goodyear Formula DRIFT Malaysia 2010 returns to Malaysia on 18-19 December 2010
Following a successful event last year, ESPN STAR Sports (ESS) and Title Sponsor Goodyear Malaysia have today announced the return of the second edition that will be held at the rare and historic site of Dataran Merdeka to bring the event closer to Malaysian motorsport fans.
Spectators this year can look forward to catching up to 50 competitive drivers from across the Asia-Pacific region pushing their rear-wheel-drive cars to the limit with impeccable precision and vehicle control. This year's edition will see the return of some familiar international faces such as Ryuji Miki from Japan and Daniel Woolhouse from New Zealand as well as local crowd favourites, Ariff Johanis, Azrina Jane, Michael Gan and Hanizam bin Hazmah from Team Goodyear. This combined with a host of fresh faces from the region will surely elevate the standards of professional drifting to new heights in Malaysia.
"We are thrilled to stage another spectacular Goodyear Formula Drift Malaysia event after such a hugely successful showing last year. The high calibre of world-class drivers is testament to the elite level of competition and we're excited to bring the event closer to spectators at Dataran Merdeka," said Harvey Davis, Vice President, Event Management Group, ESPN STAR Sports.
Goodyear's involvement in drift began three years ago with the Goodyear Speedfest in Bukit Jalil in 2007. Since then, its support for the fastest growing motorsport in Asia and Malaysia continues to grow through its sponsorship of Formula Drift Singapore (2008-2010), Formula Drift Thailand (2009-2010) and closer to home Goodyear Formula Drift Malaysia for the second consecutive year.
"Drift in the ASEAN region is one of the fastest growing motorsports in the region today and we're delighted to be renewing our affiliation with Formula Drift. This year, Team Goodyear Malaysia will be drifting using Goodyear's Ultra High Performance (UHP) tires – the Eagle F1 Asymmetric tire – designed to enhance driving performance by providing maximum traction especially when taking corners," said Nasution Abdul Rahman, Managing Director, Goodyear Malaysia.
"Goodyear has always had a rich heritage in racing. Its legacy is derived from an association with different forms of racing all over the world for over 100 years which has enabled Goodyear to extract significant learning, relative to tire performance that can be ultimately passed on to our consumers. We are proud to be showcasing the results of these learning at Formula Drift Malaysia," he added.
YBhg. Datuk Seri Ahmad Fuad bin Ismail, Mayor of Kuala Lumpur also commented at the press conference saying, "I am extremely pleased to see events such as Goodyear Formula DRIFT event take place once again on Malaysian shores. Not only does this increase the profile of our country in hosting international events and as a major motorsport hub, it energisers our sporting calendar and indirectly contributes to our tourism initiatives which benefits not only sports fans but the entire country."
Goodyear Formula DRIFT Malaysia has become a highlight on the sporting calendar, attracting regional interest and talent, as well as world-class drivers hailing from Singapore, Malaysia, Philippines, Thailand, Indonesia, China, Hong Kong, Japan and New Zealand. Fans in Malaysia can expect a thrilling experience as top-class drivers burn up the course two-at-a-time, often only inches apart, featuring aggressive side-by-side action, nail-biting power slides and spectacular drifting along a series of tight corners as powerful engines roar and tires bellow smoke.
The Goodyear Formula DRIFT Malaysia will be the climax of the three-part Formula DRIFT Series, which blasted off with the Formula DRIFT Singapore ProAm Series 2010 in April, followed by the upcoming Goodyear Formula DRIFT Thailand on November 20 – 21, to be held in Bangkok. For more information, log on to the official Formula DRIFT web site www.formuladriftasia.com.
The Goodyear Formula DRIFT Malaysia is organized by ESS and supported by Goodyear as the Title Sponsor. The event is supported by BHpetrol as Main Sponsor, MYEG as Presentation Sponsor, and Mazda as the Official Car, brought to you by Bermaz/Prima Merdu – the official franchise holder and importer. ESPN STAR Sports is the official broadcaster for the Goodyear Formula DRIFT Malaysia, and highlights will be aired across its networks, covering 24 countries to a cumulative reach of more than 300 million viewers in Asia