Casio Announces Inaugural Sponsorship of  Formula Drift Star, Ken Gushi, and His Team in the 2012 Singapore leg to be held in June. 
Limited-edition G-Shock watch will be launched to celebrate Casio's first sponsorship of a race team in Singapore.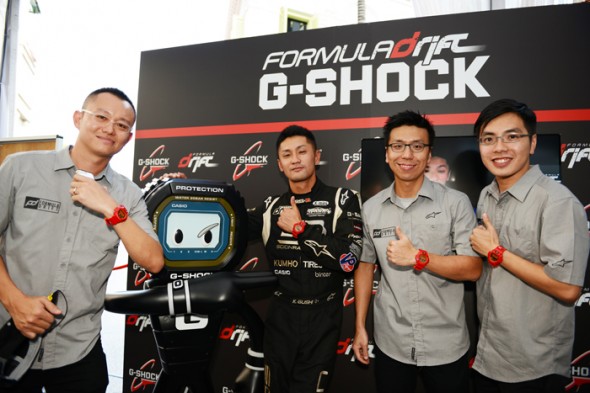 Singapore, May 2012 – Casio Singapore Pte Ltd is proud to be the main sponsor of Ken Gushi, one of the top competitors in the drifting arena, and his team, the G-Shock – Kumho Tires Drift team, in the upcoming 2012 Formula Drift Asia race which will see the Singapore leg flag off on 30 June 2012 at Changi Exhibition Center. In conjunction with the first sponsorship of a race team for the leading timepiece brand, Casio Singapore is excited to commemorate this collaboration with the launch of a limited edition G-Shock, the Casio G-Shock DW-6900CB-4DRIFTDS.
"Casio G-shock is thrilled to make our inaugural sponsorship to support Ken Gushi and his team in the Asian series of the 2012 Formula Drift competition, as we believe that he is a brilliant representation of the G-shock brand identity, as an up and rising young personality displaying absolute tenacity to beat the odds in his career. We have strong faith that he will be able to outdo himself in this year's race and Casio is glad to be a partner in his climb to the top spot on the podium", said Mr Takaya Hideki, Managing Director of Casio Singapore Pte Ltd.
"We are really excited about this unique collaboration between Formula Drift Asia and G-Shock. G-Shock has always been the leader in combining fashion forward wristwear with on-track athletic performance, a combination that is very much in line with the Formula Drift lifestyle. It is also fitting that one of our top pro drivers, Japanese-American Ken Gushi will be representing G-Shock as their brand ambassador for Formula Drift Singapore. Ken's cool California cred and aggressive driving style on the track embodies all the values that have made G-Shock the clear choice among extreme athletes today. I am sure that the collaboration model will be a sure-fire hit among Formula Drift fans worldwide as we celebrate our fifth year in Asia", enthused Mr Marcus Lim, Co-Founder of Formula Drift Asia (Driftpac).
"I am very excited and honoured to have Casio's support in the Formula Drift Asia race this year as I have always found the brand's G-Shock watches to be an ideal accessory for sportsmen and those frequently on the go, like myself, as the timepieces are strong in withstanding rough situations and are known for their water/shock-resistance and durability. Their trendy and vibrant designs are also very attractive, allowing for a tough watch with practical qualities without compromising on style", said Mr Ken Gushi, on this partnership with Casio.
Ken Gushi, armed with almost a decade of experience as a Formula Drift driver, launched his professional driving career at the age of 15 and has made his mark in prominent races such as the D1 Grand Prix of Japan and the Formula Drift Championships of the United States. Having seen his fair share of wrong turns on the race track, Ken's stellar performance at the Formula Drift Asia series in Singapore in 2011 landed him a spot on the podium as the second runner-up and displayed his resilience as a professional driver, a quality that is reflective of the G-shock brand positioning of portraying toughness and durability.
Likewise, recognised for its strength, adaptability and water/shock-resistant qualities, the Casio G-shock complements the fast-paced and active lifestyle of Ken and his team, cementing the relationship between the brand and the drivers both on and off the race track.
To mark the partnership, a Casio G-shock DW-6900 piece, specially designed by local streetwear label, Flesh Imp, will be introduced to the market for fans and collectors alike.
Keeping with the red, black and white colour theme of the Formula Drift race, the straps of the digital timepiece feature the Formula Drift and Driftpac logo prominently. Inspired by the "stickerbomb" sports culture whereby many different stickers are pasted on a car over a period of time to create a random yet one-of-a-kind design, the watch design by Flesh Imp combines elements of drifting and street culture to create a unique timepiece for the occasion.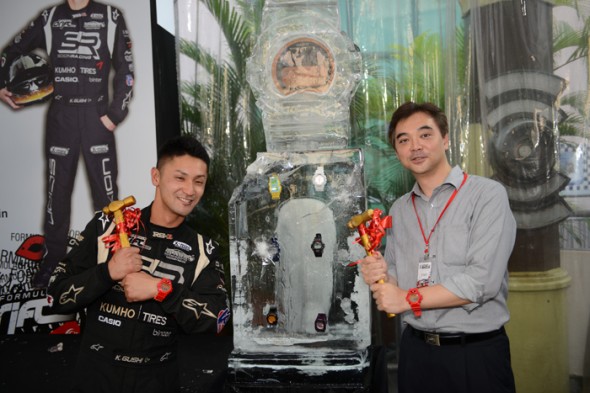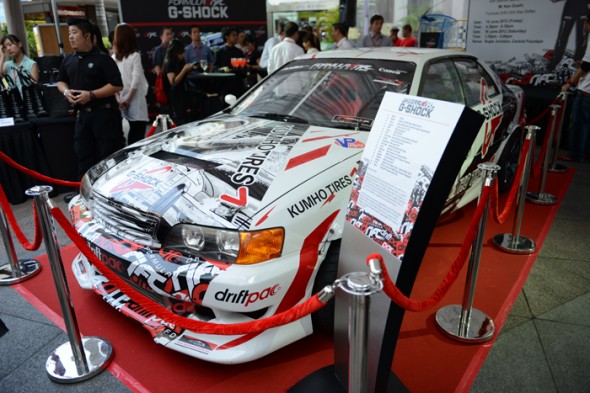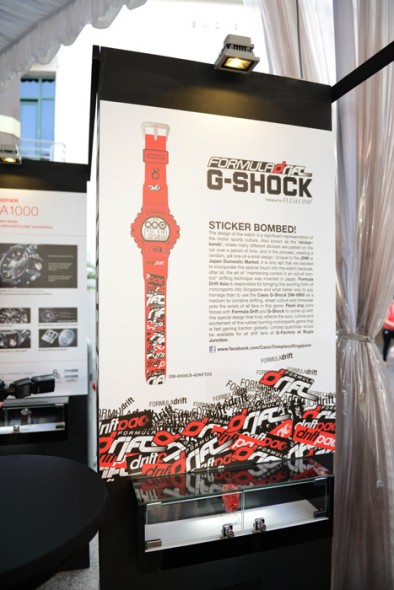 [Photos: Driftpac/Adrian Wong]