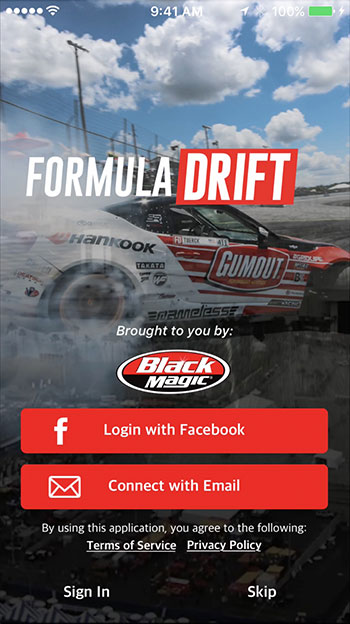 Long Beach, Calif. – March 30, 2017– Formula DRIFT has announced the launch of a new app available now for iOS and to come on Android devices. The app will be an all-in-one hub for Formula DRIFT.
"We are excited to introduce this brand new mobile app that will include everything an FD fan would need right in their pocket," said Ryan Sage, Vice-President and Co-Founder of Formula DRIFT. "The app will also provide easy ways to earn free stuff for, just being a fan!"
The mobile app will contain information from the Formula DRIFT website including FD news, stats, driver roster, standings, a social media hub in an easy to use, all-inclusive application.
Additional features include:
– Live scoring alerts and stats
– Exclusive Formula DRIFT content
– Breaking news alerts
– Ability to purchase tickets
– Geo-fencing to support on-site programs for sponsors
– The new Formula DRIFT fan rewards program
"Formula DRIFT has an incredibly passionate, young fan base, and we are excited to deliver a new and better way for Formula Drift to engage those fans," said Laurence Sotsky, founder and CEO, Hopscotch. "Their new app will not only help activate their fans and sponsors directly on their mobile devices, it will also transform their fan's race day experience."
The Formula DRIFT app can be downloaded now in the App Store for iOS devices.
For more information visit, www.formulad.com and find Formula DRIFT on Instagram @formulad, Facebook www.facebook.com/formuladrift, Twitter @FormulaDrift, and Snapchat – formula_drift. Tune into Formula DRIFT on CBS Sports and check your local listings for airtimes.