[youtube]http://www.youtube.com/watch?v=xy8ubkCWvfA[/youtube]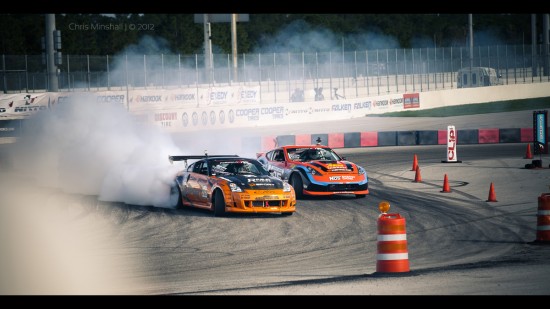 For Immediate Release
January 31st, 2013
Team KSPORT USA/Ksport Racing and driver Corey Hosford have partnered with Chris Forsberg Racing to increase their combined competitive efforts for the Formula Drift 2013 Championship title.
Hosford and the KSPORT USA/Ksport Racing team will receive pre-season support and technical assistance from championship Formula Drift team Chris Forsberg Racing. Using their competitive experience with the Nissan 350Z chassis, CFR will help revamp the KSPORT USA/Ksport Racing 350Z for its sophomore year of competition.
KSPORT USA/Ksport Racing and Chris Forsberg Racing will also share their combined pit crews and collective track knowledge throughout all seven events in the 2013 FD season. "I'm very excited about this opportunity," Hosford related. "I've always looked at Chris (Forsberg) as a mentor of mine."
Forsberg added, "I'm very happy to add Corey to our program. He has a very charismatic and positive attitude and is an excellent driver. I see a lot of potential in forming an alliance with Corey and Nick Jackson (of Ksport) and bringing on the Team KSPORT Racing Nissan 350Z. Our combined efforts should create opportunities for faster development and shared resources."
Chris Forsberg has been competing in the Formula Drift series for almost a decade and has secured three Championship titles in that time. For more information on Chris Forsberg, visit www.chrisforsberg.com
The 2013 Formula Drift Championship series will be Corey Hosford and KSPORT USA/Ksport Racing's second full season of drift competition. For more information on the KSPORT USA/Ksport Racing, visit www.ksportusa.com. Ksport USA and Ksport Racing are subsidiaries of Autoline Industries, an Arizona Corporation.