Ford Returns as Official Partner of Formula DRIFT;
Introduces Formula DRIFT Media Center Powered by Ford Performance
Long Beach, Calif. – March 19, 2015 – Ford has expanded its involvement in professional drifting as an official partner of Formula DRIFT with the introduction of the new Formula DRIFT Media Center Powered by Ford Performance. The center will be available to all credentialed media guests and will feature amenities such as lockers, refreshments, working space, and live streaming broadcast, and will debut at Round 1: Streets of Long Beach on April 10-11.
"We are excited to have Ford back in the series as an official partner and even more excited in their initiative and investment that will help introduce a brand new media center to our sport," stated Ryan Sage, co-founder and vice-president of Formula DRIFT.
Ford will have significant presence at events with displays in the vendor paddock and signage throughout the venues. Ford will continue to make an impact on the track supporting drivers Vaughn Gittin, Jr., the 2010 Formula Drift champion, and Justin Pawlak.
The Formula DRIFT Media Center Powered by Ford Performance will be a custom media center that will travel to all seven rounds of the Formula DRIFT Championship. The new media center will also include WI-FI, a food and beverage area, and two on-site media managers. A photo rendering of the media center is below.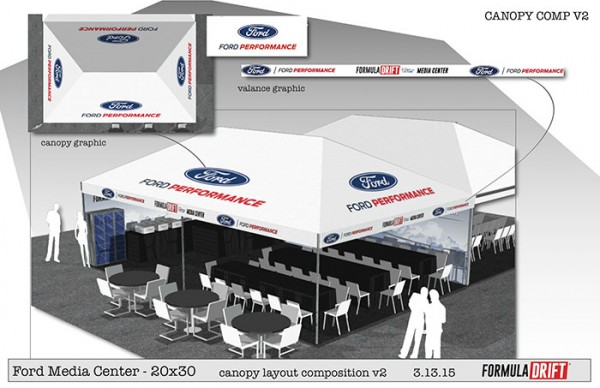 "We're proud to support the journalists and media guests with an on-site place they can consider 'home' while working Formula DRIFT events. They have a tough job to do and we are confident the enhanced media center will help them do it even better," said Mickey Matus, Marketing and Communication Manager at Ford Performance. "Our partnership with this series is key to connecting with its young audience, and it's a relationship that we value highly. We're really looking forward to this expansion of the partnership."
Tickets are now available for Round 1: Streets of Long Beach on April 10-11, including reserved seating, 2-day ticket packages, and VIP tickets and can be purchased through www.formuladrift.com, Ticketmaster outlets, and the Long Beach Convention Center box office.